Against The Grain: Bills Were Right To Bench Manuel
Bills head coach Doug Marrone made a gutsy call to bench his first-round pick and he should be lauded for it.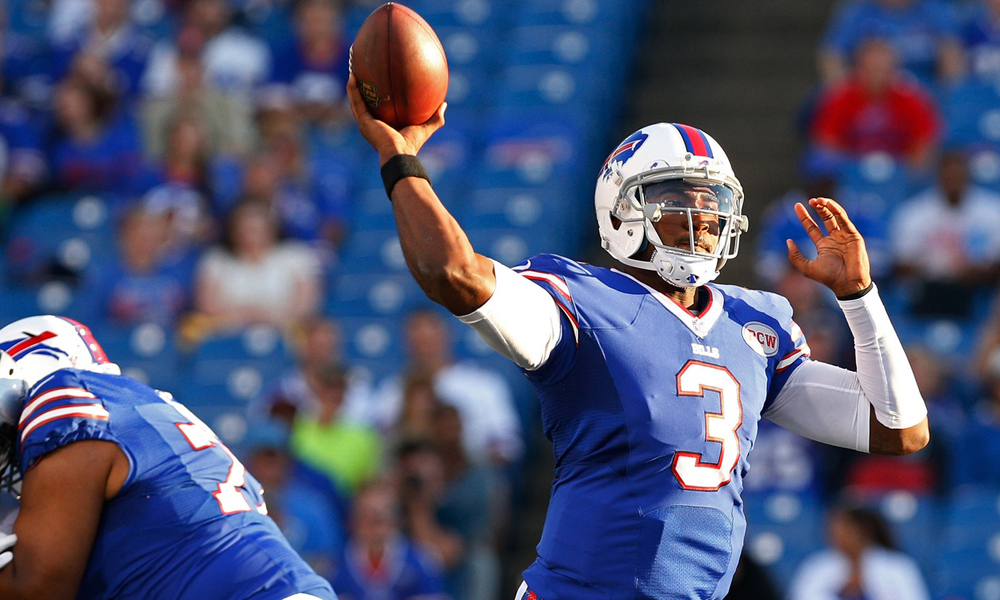 When the Buffalo Bills made the switch from second-year pro E.J. Manuel to veteran Kyle Orton, many felt they made the move too quickly and that Manuel never received a chance.
It's easy to take the stance that Buffalo is a rebuilding team that just spent a first-round pick on a quarterback, so they should give that quarterback a legitimate shot to develop. Many have quoted Peyton Manning's 3-13 record in his first season and the fact he led the NFL in interceptions. Then they point to Manuel's record being better and the fact he has fewer turnovers.
Not all statistics are created equal.
The worst thing an NFL front office can do isn't making a mistake with a first-round draft pick. That happens to every team.
The worst thing an NFL front office can do is not admitting when a mistake was made. The Bills are rectifying that.
It didn't take a road victory over a first place team in Orton's first start to come to the conclusion that the Bills did the right thing. As tough as it is to digest that Orton is a better option than Manuel, that's simply the case.
ESPN's Adam Schefter reported over the weekend that Florida State head coach Jimbo Fisher was honest to NFL teams about his former quarterback, Manuel.
"Jimbo Fisher was glowing about EJ Manuel as a man, but very open and honest with teams about how limited he felt Manuel was as an NFL QB," Schefter tweeted.
When you know that your quarterback isn't the player that's going to take you to the promised land, it's best to make a change, assuming you're trying to get to the promised land. Bills general manager Doug Whaley and head coach Doug Marrone shouldn't be admonished for wasting a first-round pick on Manuel, they should be praised for having the guts to move on from a quarterback who simply isn't good enough to be a starter.
Rookie wide receiver Sammy Watkins seemed to prefer Orton to Manuel after the former's first practice as the starter.
"He reads it quicker, the ball is coming out faster," Watkins said of Orton.
It's true that oftentimes young quarterbacks improve with more reps. The problem with giving those young players more reps is that at times you're hurting the rest of the team by not playing the best guy. Whaley and Marrone drafted Manuel. The easy decision would be to play him and take the losses that come with it in the name of young player development.
But Marrone knew that was unfair to the rest of his team.
"It's not all E.J.'s fault but we need to get better production out of that position," Marrone said. "It gives him a chance to step back for a moment… He'll have to have thick skin."
The long-term solution at quarterback is likely not on the Bills' roster. It's a good thing that the Bills realized that before they wasted any more reps on their former first-round pick.
Buccaneers admit mistake, boot Aguayo
In the NFL, it's always better to admit a mistake than to compound it. For the Buccaneers, the decision to burn a 2016 second-round pick on kicker Robert Aguayo has proven to be a mistake. The Buccaneers made the definitive admission of their error on Saturday, cutting Aguayo. He exits with $428,000 in fully-guaranteed salary [
more
]
Source: Mike Florio of ProFootballTalk
Powered by WPeMatico
Did Bucs put too much pressure on Aguayo?
After the Buccaneers surprised everyone by taking a kicker with the 59th overall pick in the draft, G.M. Jason Licht explained the move by heaping superlatives on the player. "I was very excited along with my staff and coaches about Roberto for a very long time," Licht told PFT Live in May 2016. "It's not [
more
]
Source: Mike Florio of ProFootballTalk
Powered by WPeMatico
Broncos holding their breath on Derek Wolfe
Only two days after losing Billy Winn for the year with a torn ACL, the Broncos are now sweating out another potentially serious injury along the defensive line. Via multiple reports, Broncos defensive lineman Derek Wolfe was carted off the field during practice on Saturday. It's being described as a right ankle injury by coach [
more
]
Source: Mike Florio of ProFootballTalk
Powered by WPeMatico