In the NFL, it's always better to admit a mistake than to compound...
More Headlines
Headlines

As football fans try to shift their brains back to legalese more than a year after #Deflategate ended, many are having a hard time understanding why the league could suspend Ezekiel Elliott for committing domestic violence if he was never arrested or charged. The distinction is fairly simple. The league's in-house justice system operates... [Read More]
The Latest Chats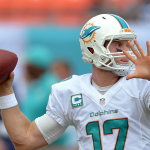 Mark Gunnels hosts his weekly NFL Chat at 1:00 PM EST...

NFL NEWS
Insiders On Facebook