Amari Cooper leads 2015 rookie class in pursuit of equaling 2014 NFL Draft...
More Headlines
NFL Wire News

The Sports Xchange NASHVILLE — To play or not to play. That seems to one of the questions facing the Tennessee Titans regarding Marcus Mariota and the preseason finale against the Minnesota Vikings on Thursday night. Titans coach Ken Whisenhunt said in his Sunday press conference and again after Monday's practice that he wasn't... [Read More]
The Latest Chats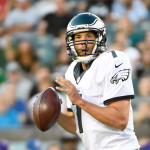 Join Devon Jeffreys of Football Insiders for his weekly chat to discuss the National Football League on Wednesday at 11 a.m. ET. September has finally arrived and the start of the 2015 season is......

Insiders On Facebook