Per a source, the defending NFC Champion Seattle Seahawks are working out Oklahoma...
More Headlines
NFL Wire News

The NFL will start research and development on Monday into New England Patriots coach Bill Belichick's idea to add cameras to the goal line to assist with replay, Albert Breer of NFL Media reported Sunday. At last week's owners meetings in Phoenix, Belichick reportedly criticized the NFL for not wanting to pay the cost... [Read More]
The Latest Chats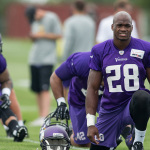 Discuss all of the latest NFL topics with Football Insiders' managing editor Charlie Bernstein. ...

Insiders On Facebook