In an effort to create more salary cap space, the Cowboys are expected...
More Headlines
NFL Wire News

The Senior Bowl is like any other all-star game. It caters more to the fans than scouts, with coaches more concerned with divvying up playing time than actually winning the game. That doesn't mean that scouts weren't watching the North's 34-13 victory, however. They want to see if the players who stood out all... [Read More]
The Latest Chats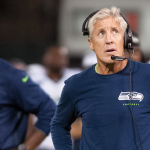 Michael Lombardo hosts his weekly NFL Chat on Friday at 2:00pm EST....

Insiders On Facebook