Nick Foles was lined up under center more than usual during the Eagles'...
More Headlines
NFL Wire News

DENVER — Wide receiver Emmanuel Sanders took a bow in the end zone after each of his touchdown catches. Quarterback Peyton Manning provided the encore performance. Manning threw for three touchdowns, all to Sanders, and the Denver Broncos pulled away to beat the San Diego Chargers 35-21 Thursday night. Manning, who became the NFL's... [Read More]
The Latest Chats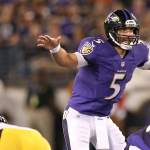 Pat Donovan will answer your questions about all things NFL each Thursday at 3:00pm. ...

NFL NEWS
Insiders On Facebook