Kansas City Chiefs outside linebacker Justin Houston was a guest this morning on...
More Headlines
NFL Wire News

TEMPE, Ariz. — The New England Patriots conducted their first practice since arriving in Arizona for Super Bowl XLIX, a two-hour session Wednesday that coach Bill Belichick saw as significant for getting his team back on a regular schedule following two days without practices. "This Wednesday is kind of like a regular Wednesday, tomorrow... [Read More]
The Latest Chats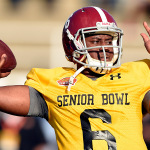 Join Bo Marchionte for his weekly chat session on Tuesday. ...

Insiders On Facebook