The Chiefs have added another tight end to the mix. The NFL's daily...
More Headlines
NFL Wire News

The Sports Xchange New England Patriots quarterback Tom Brady's appeal of his four-game suspension reportedly will not be heard by the deadline Wednesday. The appeal was supposed to be heard within 10 days of filing, according to terms of the collective-bargaining agreement, but sources told The Associated Press that a hearing has not been... [Read More]
The Latest Chats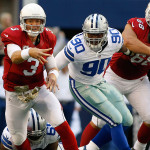 John Owning hosts his weekly chat on Tuesday at 5 p.m. EST....

Insiders On Facebook