The Chiefs have added another tight end to the mix. The NFL's daily...
More Headlines
NFL Wire News

The Sports Xchange The NFL has rejected the NFL Players Association's request that commissioner Roger Goodell recuse himself as the arbitrator in Tom Brady's appeal of his four-game suspension stemming from Deflategate. The NFLPA made the formal request for Goodell to recuse himself on Tuesday, but ESPN's Adam Schefter reported Friday that it was... [Read More]
The Latest Chats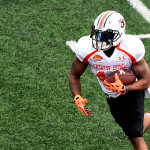 Michael Lombardo hosts his weekly NFL Chat on Friday at 2:00pm EST...

Insiders On Facebook