Simeon Rice is apparently bitter. And obviously delusional. Watch Rice, in the video...
More Headlines
NFL Wire News

The Philadelphia Eagles will part ways with starting outside linebacker Trent Cole, perhaps as early as Wednesday, according to CSNPhilly.com The two sides had discussed reworking Cole's contract — the 32-year-old was due to earn $10 million in base salary next season — but could not come to terms. Cole played 10 seasons with... [Read More]
The Latest Chats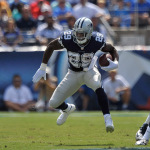 Devon Jeffreys will be here to answer your NFL questions this and every Wednesday at 11 a.m. ET. ...

Insiders On Facebook