The easygoing personality is still there. So are all four of Blake Bortles'...
More Headlines
NFL Wire News

The Sports Xchange Green Bay Packers tight end Andrew Quarless was arrested Saturday after firing a gun following an altercation in Miami Beach, Fla. Miami Beach police said Quarless, 26, and another man got into a verbal altercation when they approached a car filled with several women. Quarless exited his black Porsche Panamera and... [Read More]
The Latest Chats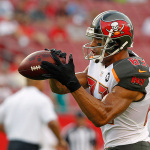 Michael Lombardo hosts his weekly NFL Chat on Friday at 2:00pm EST...

Insiders On Facebook