In the NFL, it's always better to admit a mistake than to compound...
More Headlines
Headlines

Bengals running back Joe Mixon wasn't listed on the first three rungs of the Bengals' initial depth chart, but he got in Friday night's game before quarterback Andy Dalton, wide receiver A.J. Green and the rest of Cincinnati's starters left the game. Jeremy Hill was on the field for the first snap, but Mixon... [Read More]
The Latest Chats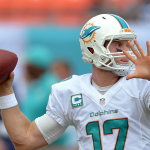 Mark Gunnels hosts his weekly NFL Chat at 1:00 PM EST...

NFL NEWS
Insiders On Facebook