Cardinals safety Tyrann Mathieu returned to practice Monday with a cast on his...
More Headlines
NFL Wire News

There is only one playoff spot to be determined in the NFC, and the sixth entry comes down to a pair of six-win teams in a win-or-else finale in Atlanta next week. Multiple division championships and playoff positioning will be on the line in Week 17. Five NFC teams, all with 11-4 records, are... [Read More]
The Latest Chats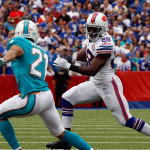 Michael Lombardo hosts his weekly NFL Chat on Friday at 2:00pm EST....

NFL NEWS
Insiders On Facebook