Redskins quarterback Robert Griffin III will start Sunday's game in Minnesota, sources within...
More Headlines
NFL Wire News

Dallas Cowboys quarterback Tony Romo missed his third straight day of practice with a back injury on Friday and could be a game-time decision. Coach Jason Garrett said Romo will need to move around better before Sunday's game against the Arizona Cardinals in order to be able to play. The Cowboys have a short... [Read More]
The Latest Chats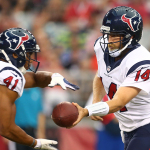 Michael Lombardo hosts his weekly NFL Chat on Friday at 2:00pm EST....

Insiders On Facebook