Simeon Rice is apparently bitter. And obviously delusional. Watch Rice, in the video...
More Headlines
NFL Wire News

Quarterback Josh McCown chose the Cleveland Browns over the Buffalo Bills on Friday, reportedly agreeing to a three-year contract. His agent, Mike McCartney, tweeted news of the agreement: "Excited for Josh McCown agreeing to terms with the Cleveland Browns." The deal is for three years, according to FOX Sports, NFL.com and ESPN.com. McCown, a... [Read More]
The Latest Chats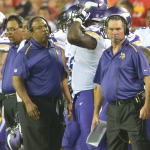 Michael Lombardo hosts his weekly NFL Chat on Friday at 2:00pm EST....

Insiders On Facebook