Nick Foles was lined up under center more than usual during the Eagles'...
More Headlines
NFL Wire News

SAN DIEGO — The San Diego Chargers know the better team won in the Denver Broncos' 35-21 conquest on Thursday. "Give them credit, they played a good game," Chargers coach Mike McCoy said of the Broncos. It was the Chargers' second loss in five days and dropped them to 5-3. They get some time... [Read More]
The Latest Chats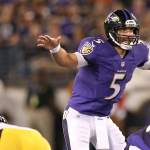 Pat Donovan will answer your questions about all things NFL each Thursday at 3:00pm. ...

Insiders On Facebook