Only two days after losing Billy Winn for the year with a torn...
More Headlines
Headlines

Player representatives to the union voted Friday to implement testing for human growth hormone for the 2014 NFL season. HGH testing was originally agreed upon in 2011, but the players have balked at the science in the testing and the appeals process for positive tests. They also approved a league proposal to significantly increase... [Read More]
The Latest Chats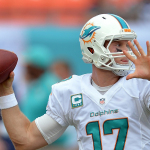 Mark Gunnels hosts his weekly NFL Chat at 1:00 PM EST...

NFL NEWS
Insiders On Facebook