Only two days after losing Billy Winn for the year with a torn...
More Headlines
NFL Wire News

The Oakland Raiders signed linebacker Bojay Filimoeatu to their active roster from the team's practice squad, the team announced Saturday. Filimoeatu originally signed with Oakland as an undrafted free agent in May, and was waived by the team at the end of training camp before signing to the practice squad two days later. He... [Read More]
The Latest Chats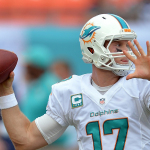 Mark Gunnels hosts his weekly NFL Chat at 1:00 PM EST...

NFL NEWS
Insiders On Facebook