Only two days after losing Billy Winn for the year with a torn...
More Headlines
NFL

Suspended Denver wide receiver Wes Welker will not be in uniform for the Broncos game Sunday against Kansas City. Despite the NFL Players Association on Friday approving on a new drug testing policy, "significant unresolved issues" remain, according to NFL spokesman Greg Aiello. Those issues needed to be resolved and an agreement needed to... [Read More]
The Latest Chats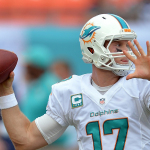 Mark Gunnels hosts his weekly NFL Chat at 1:00 PM EST...

NFL NEWS
Insiders On Facebook