Only two days after losing Billy Winn for the year with a torn...
More Headlines
Headlines

Washington Redskins owner Dan Snyder made it clear that he still supports NFL commissioner Roger Goodell, who has come under fire for his handling of the Ray Rice situation. Snyder issued a three-sentence statement Saturday backing Goodell as many have called for the commissioner to resign or be fired. "Roger Goodell has always had... [Read More]
The Latest Chats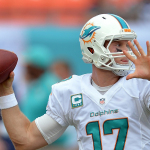 Mark Gunnels hosts his weekly NFL Chat at 1:00 PM EST...

NFL NEWS
Insiders On Facebook