Only two days after losing Billy Winn for the year with a torn...
More Headlines
NFL Wire News

LANDOVER, Md. — Washington leaned on its defense and backup quarterback Kirk Cousins to lift the Redskins to a 41-10 victory over Jacksonville, but the celebration was muted based on the likely serious injury suffered by quarterback Robert Griffin. After the game, head coach Jay Gruden said Griffin suffered a dislocated left ankle. Griffin... [Read More]
The Latest Chats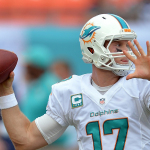 Mark Gunnels hosts his weekly NFL Chat at 1:00 PM EST...

NFL NEWS
Insiders On Facebook