Youth Movement An annual December Event
Who is on the QB carousel.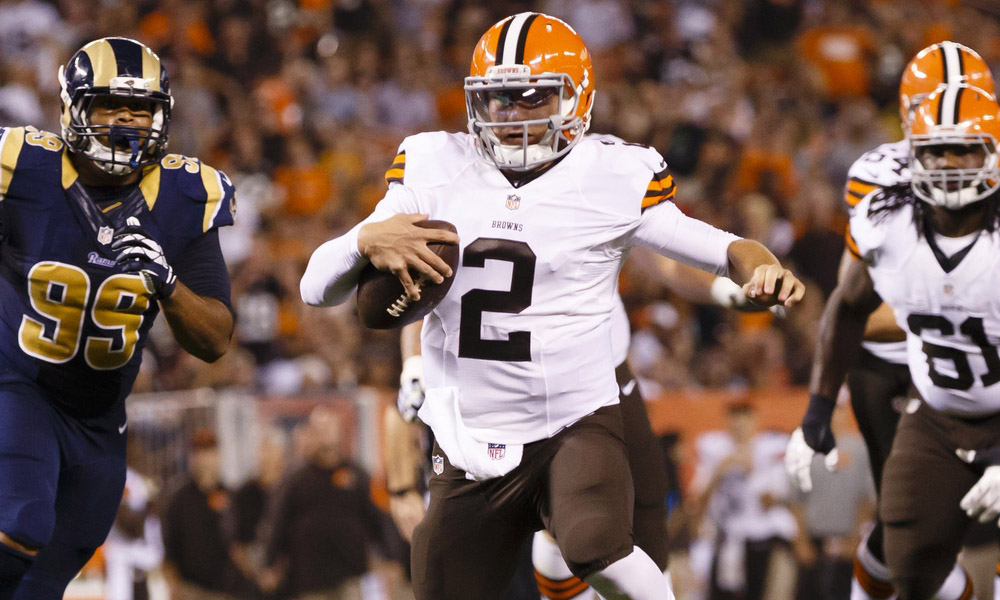 With Thanksgiving gone and Christmas awaiting, a number of teams each year are quite thankful that the end of the season is nearing.  And with that nearing, turning to the "young guns" to see what they have in their holsters, is the annual rite of passage for the underachieving teams in the league.
Rarely does the list of teams moving to a rookie QB or other unproven passer include teams with winning records with only three games to play, but the Cleveland Browns have decided their inept offense needs a "Johnny Jolt" and are inserting first round pick Johnny Manziel into the starting lineup.  The Browns own a 7-6 record, but sit at the bottom of the very tough AFC North division and unfortunately for Brian Hoyer, his ability to hold off the inevitable move to Manziel has finally come to an end.
For the other disappointing teams around the league, they already start either rookies or second year guys, so for the Jaguars and Raiders, they are just watching their futures struggle and mature game by game, with glimpses of hope popping through every once in a while.  The Buccaneers have gone back and forth between Josh McCown and Mike Glennon this year, due to McCown's thumb injury early in the season and although flashes of good came on the team with Glennon under center, they weren't good enough to overcome other deficiencies often enough to keep him there when McCown was healthy enough to try it again.  But now that McCown has proven he does not have the magic that he had last year in Chicago, the Bucs are once again going back to their second year (3rd round pick—North Carolina State) signal-caller to finish up the season, as many fans have visions of Jameis Winston and Marcus Mariota dancing in their heads.
The team that is really out of decent options is the New York Jets.  With Michael Vick ready for a rocking chair, former second round and second year QB Geno Smith continues to show that he is not going to be an outstanding player in the league as the franchise readies for a coaching change.  Since the Redskins are still trying to figure out what direction to go with RGIII and the Jags and Raiders have new first round QB's in the fold, it should come down to the Jets and Bucs for the top QB's in next year's draft.  Both organizations should make and need to make the big investment and go with a new look under center next year, but there are still three games left to see if the Bucs or Jets are the better team at snatching defeat in December and looking forward to their choice of passers in next year's draft.
Buccaneers admit mistake, boot Aguayo
In the NFL, it's always better to admit a mistake than to compound it. For the Buccaneers, the decision to burn a 2016 second-round pick on kicker Robert Aguayo has proven to be a mistake. The Buccaneers made the definitive admission of their error on Saturday, cutting Aguayo. He exits with $428,000 in fully-guaranteed salary [
more
]
Source: Mike Florio of ProFootballTalk
Powered by WPeMatico
Did Bucs put too much pressure on Aguayo?
After the Buccaneers surprised everyone by taking a kicker with the 59th overall pick in the draft, G.M. Jason Licht explained the move by heaping superlatives on the player. "I was very excited along with my staff and coaches about Roberto for a very long time," Licht told PFT Live in May 2016. "It's not [
more
]
Source: Mike Florio of ProFootballTalk
Powered by WPeMatico
Broncos holding their breath on Derek Wolfe
Only two days after losing Billy Winn for the year with a torn ACL, the Broncos are now sweating out another potentially serious injury along the defensive line. Via multiple reports, Broncos defensive lineman Derek Wolfe was carted off the field during practice on Saturday. It's being described as a right ankle injury by coach [
more
]
Source: Mike Florio of ProFootballTalk
Powered by WPeMatico