Will San Francisco Make The Playoffs?
At 4-4, it appears as if the San Francisco 49ers will miss the playoffs.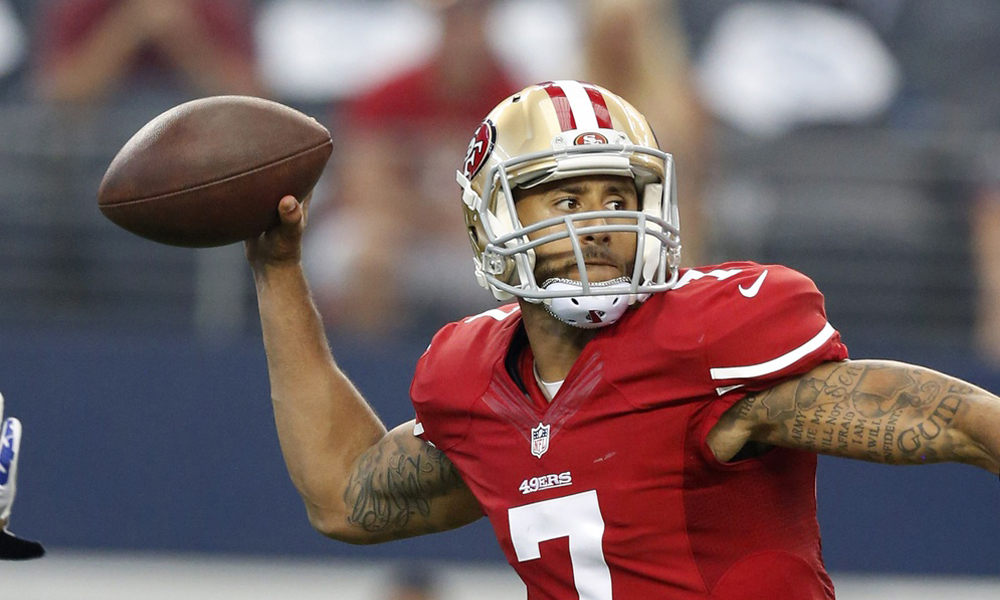 The San Francisco 49ers arguably have the most prestigious franchise in NFL history, hoisting five Super Bowl titles, which is second only to the Pittsburgh Steelers.
Despite their rich tradition, San Francisco hasn't won a Super Bowl since 1994. After coming within yards of taking home the Lombardi trophy in 2013 against the Baltimore Ravens, they're hopeful to return this season.
Head coach Jim Harbaugh brought immediate success to San Francisco, becoming the first coach in NFL history to take his team to three straight conference championship games in his first three seasons.
But with the team currently sitting at 4-4, in the rigorous NFC West, it'll be difficult for them to even make the postseason. Wide receiver Michael Crabtree understands they must pick it up.
"We're just not playing how we need to be playing right now," Crabtree said. "Obviously, you guys see that. We have to play better."
If San Francisco plans on turning their season around, something has to give offensively. It's easy to get caught up in the glitz and glamour of the skill positions, but it all starts up front. Three-fifths of their offensive have missed time, with Daniel Kilgore being out for the season.
Eighth-year offensive tackle Joe Staley wants to see more unity among the group.
"We definitely have to stick together," Staley said. "This loss is not on one person, one group. It's a team loss, team game. We have to stick together and move forward, and we will do that. We have a close-knit locker room, a lot of high-character guys and a lot of good leadership."
Offensive coordinator Greg Roman has been catching a lot of flak for his play calling. Frank Gore, the franchises all-time leading rusher, is only averaging 14.5 carries per game, which is the lowest since his rookie campaign.
However, the 31-year old isn't complaining about touches.
"We have great players all around," Gore said. "Receivers, the backs, I just think as a group we have to do better, (be) more consistent. It's always one player here or one player there."
Gore realizes it's a team effort.
"In this league, that can't happen. You're not going to win games when everybody on offense isn't clicking together," said the 10th year pro from Miami.
The offensive line struggles have affected Colin Kaepernick the most. He's already been sacked 27 times this season, compared to 39 sacks all of last season.
"No, can't put our finger on it," Kaepernick said on Wednesday. "We just have to go out and execute better."
San Francisco's dismal offense has put so much pressure on their defense to keep them in games. Their defense ranks second in yards allowed (291.9), third in passing yards allowed (206.2) and fifth in rushing yards allowed (85.6).
With about 5-6 teams fighting for a wildcard spot, it's time for San Francisco to make a  push. This Sunday, the 49ers travel to New Orleans.
"There is no question, they're an outstanding football team, well coached, and I just have tremendous respect for the Saints," Kaepernick said. Our focus is on training, preparing, and playing our best football."
Aside from that trip to the French Quarter, where the Saints have won 11 straight games, San Francisco still has games remaining at New York to take on the Giants, home against Washington, a home-and-home against Seattle with a trap game at Oakland sandwiched inside, then they finish the season with home games against San Diego and the team currently with the best record in the NFL, the Arizona Cardinals.
At the end of the day, San Francisco has shown zero signs of being able to keep Kaepernick upright, and with the fast start by the Cardinals and the tough remaining schedule, it looks like the 49ers will miss the playoffs for the first time since 2010.
Buccaneers admit mistake, boot Aguayo
In the NFL, it's always better to admit a mistake than to compound it. For the Buccaneers, the decision to burn a 2016 second-round pick on kicker Robert Aguayo has proven to be a mistake. The Buccaneers made the definitive admission of their error on Saturday, cutting Aguayo. He exits with $428,000 in fully-guaranteed salary [
more
]
Source: Mike Florio of ProFootballTalk
Powered by WPeMatico
Did Bucs put too much pressure on Aguayo?
After the Buccaneers surprised everyone by taking a kicker with the 59th overall pick in the draft, G.M. Jason Licht explained the move by heaping superlatives on the player. "I was very excited along with my staff and coaches about Roberto for a very long time," Licht told PFT Live in May 2016. "It's not [
more
]
Source: Mike Florio of ProFootballTalk
Powered by WPeMatico
Broncos holding their breath on Derek Wolfe
Only two days after losing Billy Winn for the year with a torn ACL, the Broncos are now sweating out another potentially serious injury along the defensive line. Via multiple reports, Broncos defensive lineman Derek Wolfe was carted off the field during practice on Saturday. It's being described as a right ankle injury by coach [
more
]
Source: Mike Florio of ProFootballTalk
Powered by WPeMatico