Will Giants' Manning Flourish In WCO?
The Giants offense looked awful through the preseason and one week of the regular season, but things are quickly turning around for Eli in the new West Coast offense.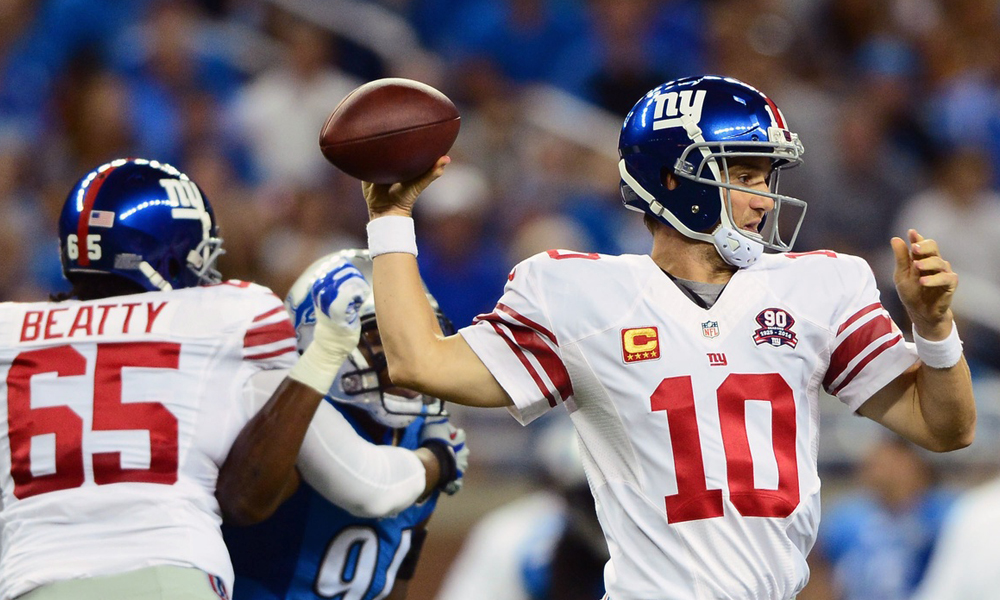 After the worst year of Eli Manning's career in 2013 which saw him lead the NFL with 27 interceptions and a paltry 69.3 quarterback rating, the New York Giants made a change at offensive coordinator. Bob McAdoo came over from the Green Bay Packers where he had been quarterbacks coach to implement a faster paced West Coast offense, but the results weren't pretty early on.
Throughout the preseason Manning and his Giants teammates looked confused and outmatched. The new offense looked as ineffective as the old offense did last year, with Manning failing to throw for a single yard in the team's final preseason game.
After a Week 1 blowout loss to the Detroit Lions, things hadn't improved. The Lions dominated the Giants, holding New York to under 200 yards of total offense. Manning threw for just 163 yards with one touchdown and a pair of interceptions, while being sacked twice. 106 of those passing yards were split between running back Rashad Jennings and tight end Larry Donnell. The chemistry between Manning and his receivers seemed nowhere to be found.
Despite scoring just 14 points again in week 2 against the Arizona Cardinals, the script was clearly starting to change. The offensive line, the run game, and the chemistry between Manning and his receivers seemed to be finding their stride as Rueben Randle and Victor Cruz both found themselves more involved in the offense. Manning did have two more interceptions, but he had a much better command of the offense than we had seen since McAdoo had taken the reins.
The winless Giants were in a must-win situation last Sunday as they welcomed in a 2-0 Houston Texans team with a defense that had been flying around, allowing just 20 combined points in victories over the Washington Redskins and Oakland Raiders.
The Giants answered with a performance few outside their locker room predicted. The offensive line played as well as it had in years, and it resulted in a great game for Manning and the Giants running game which racked up 193 yards on the ground. Manning hooked up with Victor Cruz for their first touchdown in nearly a calendar year, and finished the day with 234 yards and two touchdowns.
Victor Cruz has been frustrated since a disappointing 2013, and spoke out about wanting more targets after the week 1 loss to Detroit. Week 2 Victor Cruz saw more targets, but dropped a couple of key passes, adding to concerns about the communication issues between Manning and his receiving unit.
"One hundred percent, when he's locked in, when he's getting things going, it translates to the entire team, the entire offense," Giants Pro Bowl wide receiver Victor Cruz said about his quarterback. "We kind of follow his lead, we follow that lead, because if he's locked in, we know everybody is held accountable, to know what they're doing, to be on the same page with him. It just brings about good, positive things."
In Sunday's 30-17 victory over the Texans, the Giants offense looked a lot closer to how Bob McAdoo designed it. The quick passing game got the ball out of Manning's hand quickly, and their dominant running game gave the Giants offense a level of balance they haven't seen since their last Super Bowl run. Rashad Jennings ran for a career high 176 yards, and the Giants rode their workhorse, handing him the rock 34 times.
The offensive line is paramount to Manning's performance. Very few quarterbacks can carry their team behind poor offensive line play, (See New England Patriots through three weeks) and Manning seems to play only as good as his line, throughout his career. Many find the amazing highs and shocking lows of Manning's career hard to understand, but it can be summed up pretty easily. When Eli Manning has a good offensive line, he looks like one of the best quarterbacks in football. When he has a bad offensive line, he looks like one of the worst. Sunday the Giants offensive line looked fantastic, and Manning responded as expected.
"He's been that way for the last couple of weeks," Giants head coach Tom Coughlin said of his quarterback. "The only thing the week before were the turnovers. We eliminated those today. The quarterback rating I think was 123 today, which was outstanding. Played a very good game, made some outstanding run checks down in the green zone. He made a couple of run checks to put the ball inside for the first down and let the drive stay alive, so he played very, very well. He plays a very, very solid game, a very outstanding mental game and he did that today."
Nobody is picking the Giants to win the Super Bowl this season, but continued success in McAdoo's offense can start the Giants heading in the right direction to turn this thing around. Both Coughlin and Manning's future with the Giants have been questioned by many outside of the team. Coughlin's age and Manning's recent futility have sparked questions about whether it was time for a new direction in New York, but if Manning and the Giants offense continues to progress under Bob McAdoo, it could spark conversations about whether or not these two have one more run inside of them. If the Giants look to be headed in the right direction, seeing both in the fold another two or three years would surprise no one.
Eli and the Giants will look to continue the offensive progression when they take on division rival Washington Redskins Thursday night, whose offense has looked explosive since Kirk Cousins took over for the injured Robert Griffin III. The Redskins gave up 37 points in their 37-34 loss in Philadelphia last week, but they have the third-ranked run defense in football, and are 10th against the pass. The Redskins secondary will be without defensive captain Deangelo Hall who was lost for the season with a ruptured Achilles tendon. Expect Manning and the Giants to try to exploit the Redskins weak corners with the quick passing game that was so successful for them a week ago.
Manning and the Giants still have a long way to go before they're firing on all cylinders, but if the last two weeks are any indication, they might be on their way. If things work the way Bob McAdoo has them drawn up, it will lead to longer drives for the Giants, and possibly even longer stays in New York for Coughlin and Manning. One thing we know for sure. Three weeks into his new fast paced, west coast style offense, the Giants and their fan base are more optimistic about the offense than they've been in some time.
Buccaneers admit mistake, boot Aguayo
In the NFL, it's always better to admit a mistake than to compound it. For the Buccaneers, the decision to burn a 2016 second-round pick on kicker Robert Aguayo has proven to be a mistake. The Buccaneers made the definitive admission of their error on Saturday, cutting Aguayo. He exits with $428,000 in fully-guaranteed salary [
more
]
Source: Mike Florio of ProFootballTalk
Powered by WPeMatico
Did Bucs put too much pressure on Aguayo?
After the Buccaneers surprised everyone by taking a kicker with the 59th overall pick in the draft, G.M. Jason Licht explained the move by heaping superlatives on the player. "I was very excited along with my staff and coaches about Roberto for a very long time," Licht told PFT Live in May 2016. "It's not [
more
]
Source: Mike Florio of ProFootballTalk
Powered by WPeMatico
Broncos holding their breath on Derek Wolfe
Only two days after losing Billy Winn for the year with a torn ACL, the Broncos are now sweating out another potentially serious injury along the defensive line. Via multiple reports, Broncos defensive lineman Derek Wolfe was carted off the field during practice on Saturday. It's being described as a right ankle injury by coach [
more
]
Source: Mike Florio of ProFootballTalk
Powered by WPeMatico