Why Kansas City Will Miss The Playoffs
Reasons why the Kansas City Chiefs will not be able to string together consecutive playoff appearances.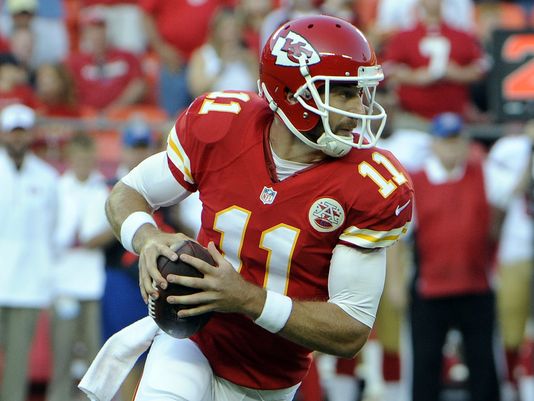 What makes the NFL so exciting is the parity within the league. In the NFL, you can go from worst to first and vice versa in a single calendar year. A prime example of that would be the Kansas City Chiefs.
Last year, the Chiefs had a remarkable turnaround season. They went (11-5), reaching the playoffs for the first time since 2010, when they went (10-6) under former head coach Todd Haley. The year before Kansas City went (4-12) with pretty much the same roster.
Other examples would be the Detroit Lions and Tampa Bay Buccaneers. In 2011, the Lions made the playoffs with a (10-6) record, then followed that up with a dismal (4-12) season. As for the Bucs, they went (11-5) in 2005 and (4-12) the following season.
These type of one year shifts seem bizarre, but a lot of times it just comes down to the bounce of the ball and a couple of tweaks here and there. Injuries are probably the biggest proponent in a team's downward spiral. During Kansas City's (4-12) campaign, they experienced a plethora of key injuries at skill positions and a death. Matt Cassel, Jamaal Charles and Eric Berry were among those affected by injury. Linebacker Jovan Belcher committed suicide in the Arrowhead Stadium parking lot, after killing his girlfriend. These series of unfortunate events caused Kansas City to have a dismal season in 2012.
Now the Chiefs currently sit at (0-2), after suffering a heartbreaking defeat at the hands of division foe Denver. There was a lot of doubt if Kansas City could have a repeat of last season, considering their weak schedule of a year ago. The same can't be said for this season. Kansas City plays the likes of New England, Seattle, San Francisco, San Diego twice and Denver again.
Was last year a fluke?
There's no question Kansas City feasted on a light slate last year, but you can't fault them for doing what they're suppose to do. Chiefs general manager John Dorsey, Andy Reid and Alex Smith brought a new culture and attitude to Kansas City. Not only did the trio bring a new dimension to the franchise, they also brought a whole new culture to the fan base. Chiefs fans were tired of the Scott Pioli and Matt Cassel era. Pioli was trying to emulate the Patriot model, but it just wasn't working. At the same time, we're not quite sure if the current project will be a success.
The ultimate goal for any professional sports team is to win championships, but for Kansas City, they'll be happy with just a playoff win first. The Chiefs haven't won a playoff game since 1994, yes 20 years ago!
The drought was destined to be snapped last year, before Kansas City had one of the biggest meltdowns in NFL history. Kansas City blew a 28-point lead against Andrew Luck and the Colts in the divisional round.
To be fair, Chiefs players were dropping like flies vs. Indianapolis. Jamaal Charles, Donnie Avery, Brandon Flowers and Justin Houston all left the game due to injury, but it's still unacceptable to blow such a significant lead.
Injuries continue to be a problem for Kansas City. Three-time pro bowler Derrick Johnson suffered a season-ending injury in week one against Tennessee, while Jamaal Charles and Eric Berry both left today's game with ankle injuries. We don't know the extent of today's injuries, but at (0-2), it's going to be an upheld battle from this point on. Since 1990 only 23 of the 198 teams that started (0-2) made the playoffs, which means there's still a 12 percent chance Kansas City can turn things around, but it's not likely.
Buccaneers admit mistake, boot Aguayo
In the NFL, it's always better to admit a mistake than to compound it. For the Buccaneers, the decision to burn a 2016 second-round pick on kicker Robert Aguayo has proven to be a mistake. The Buccaneers made the definitive admission of their error on Saturday, cutting Aguayo. He exits with $428,000 in fully-guaranteed salary [
more
]
Source: Mike Florio of ProFootballTalk
Powered by WPeMatico
Did Bucs put too much pressure on Aguayo?
After the Buccaneers surprised everyone by taking a kicker with the 59th overall pick in the draft, G.M. Jason Licht explained the move by heaping superlatives on the player. "I was very excited along with my staff and coaches about Roberto for a very long time," Licht told PFT Live in May 2016. "It's not [
more
]
Source: Mike Florio of ProFootballTalk
Powered by WPeMatico
Broncos holding their breath on Derek Wolfe
Only two days after losing Billy Winn for the year with a torn ACL, the Broncos are now sweating out another potentially serious injury along the defensive line. Via multiple reports, Broncos defensive lineman Derek Wolfe was carted off the field during practice on Saturday. It's being described as a right ankle injury by coach [
more
]
Source: Mike Florio of ProFootballTalk
Powered by WPeMatico