Why Are Dome Teams Struggling Outdoors?
Find out the truth about dome teams playing outdoors.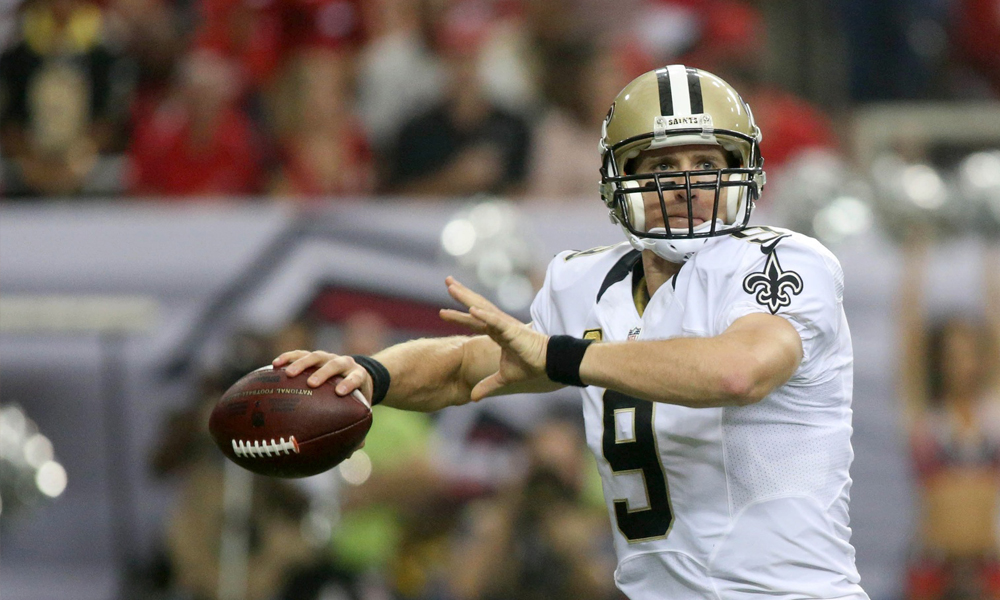 Football was meant to be played outdoors, but the NFL currently has eight teams that either play in a dome or have a retractable roof. Those teams are the Atlanta Falcons, New Orleans Saints, St. Louis Rams, Detroit Lions, Houston Texans, Arizona Cardinals, Dallas Cowboys and Indianapolis Colts. The Minnesota Vikings used to call the "Metrodome" home, before it was demolished earlier this year.
Take away the Cowboys, who are 9-6 outdoors dating back to 2012, the other seven teams have struggled mightily in outdoor stadiums. Even Minnesota, they went 0-10-1 outdoors during their last couple of seasons with the Metrodome being their home stadium.
You would think professionals could perform at a high level in any climate, but facts prove that mother nature is a nemesis for dome teams.
Atlanta Falcons: The Falcons are just two years removed from postseason action, where they lost to the San Francisco 49ers in the NFC Championship Game. Atlanta defeated Seattle to get there, but both games were played in the friendly confines of the Georgia Dome. Their last outdoor playoff game was a 24-2 drumming at the hands of the New York Giants. Overall, Atlanta hasn't won an outdoor game since November 25th, 2012, when they defeated Tampa Bay.
New Orleans Saints: Drew Brees and company have been notorious for struggling outdoors. New Orleans is 5-12 outdoors dating back to 2010, with three of those losses coming in the playoffs. As we know, the Saints go as Drew Brees and their offense goes, which is mainly why they struggle outdoors. Since last year, New Orleans only averages 19.5 points a game outdoors compared to nearly 26 points indoors.
St. Louis Rams: The Rams haven't seen postseason football since 2004, when they were defeated by the Atlanta Falcons in the Divisional round. While St. Louis hasn't been very good in any type of venue recently, they really struggle outdoors. Over the past two seasons, they're 2-8-1 outdoors, with the tie coming against San Francisco in 2012, which was the first tie game in four years.
Detroit Lions: Being a Lions fan can't be an easy task at all. The Lions last playoff appearance was in 2011, when they were outclassed 45-28 by the New Orleans Saints. Before then, their last playoff appearance came in 1999. Their last playoff win came against the Dallas Cowboys in 1991, but their last outdoor playoff win was all the way back in 1957. Since 2012, Detroit has a record of 6-9 outdoors.
Houston Texans: The Houston Texans joined the NFL in 2002 as an expansion team. They've only been to the playoffs twice, with an 0-2 record outdoors. Houston has won just one of their last eight games outdoors.
Arizona Cardinals: The Cardinals have had a lot of recent success, considering their franchise is used to disappointment. Arizona reached the Super Bowl in 2008 and advanced to the Divisional round in 2009, before losing to New Orleans. Even last season was a good year for Arizona, but unfortunately an 10-6 record wasn't good enough to make the playoffs in the rugged NFC West. Playing outdoors hasn't been a major problem for Arizona over the last couple of seasons, hoisting an 7-7 record, but when you compare that to their 13-6 mark at home since 2012, it clearly shows they're much more comfortable inside University of Phoenix Stadium.
Indianapolis Colts: Peyton Manning's struggles in cold weather has been well documented over his career. While in a Colts uniform, Manning went 2-5 outdoors during postseason play. With Andrew Luck under the helm, his outdoor playoff resume hasn't been good, as he's 0-2. Since Manning's departure to Denver, the Colts have been the definition of average in outdoor conditions, with an 8-8 record.
The theory of dome teams not being able to have success outdoors is not 100 percent accurate, but as the stats show, there is some truth to it. However, it does make sense because dome teams get comfortable in their environment and when they play in cooler climates, it can affect their timing and how they operate on the field.  Especially for quarterbacks, it can be difficult gripping the ball in below freezing weather opposed to playing inside a warm dome.
Dome teams also normally construct their offenses to play on a fast track and aren't the type that can play smash-mouth football outdoors.  A great defense is said to be portable, but a great passing game can be based some much on timing and perfect conditions. When the Atlanta Falcons are playing at home, their offense can look explosive and almost sexy.  Put this same Falcons team on the road and it's a bumbling mess.
Although dome teams make up roughly one-quarter of the NFL , those teams that play their home games indoors have won just three Super Bowls.
Three of the seven dome teams will get a chance to help reverse this theory slowly starting on Sunday.
Did Bucs put too much pressure on Aguayo?
After the Buccaneers surprised everyone by taking a kicker with the 59th overall pick in the draft, G.M. Jason Licht explained the move by heaping superlatives on the player. "I was very excited along with my staff and coaches about Roberto for a very long time," Licht told PFT Live in May 2016. "It's not [
more
]
Source: Mike Florio of ProFootballTalk
Powered by WPeMatico
Broncos holding their breath on Derek Wolfe
Only two days after losing Billy Winn for the year with a torn ACL, the Broncos are now sweating out another potentially serious injury along the defensive line. Via multiple reports, Broncos defensive lineman Derek Wolfe was carted off the field during practice on Saturday. It's being described as a right ankle injury by coach [
more
]
Source: Mike Florio of ProFootballTalk
Powered by WPeMatico
Buccaneers admit mistake, boot Aguayo
In the NFL, it's always better to admit a mistake than to compound it. For the Buccaneers, the decision to burn a 2016 second-round pick on kicker Robert Aguayo has proven to be a mistake. The Buccaneers made the definitive admission of their error on Saturday, cutting Aguayo. He exits with $428,000 in fully-guaranteed salary [
more
]
Source: Mike Florio of ProFootballTalk
Powered by WPeMatico