Who's ready to crash the NFL playoff party?
The Cardinals, Ravens, Cowboys, Lions and Texans are a combined 15-4. Are any of them serious contenders?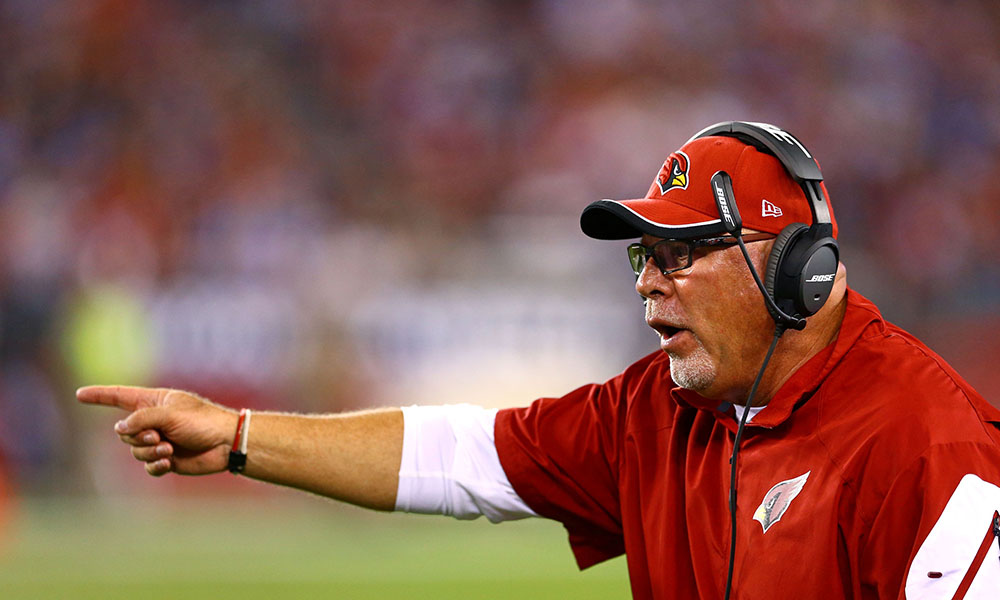 As we pass the season's quarter pole, there are several new teams on the brink of becoming contenders. We examine five such teams — all of whom missed last season's playoffs but currently boast winning records — and determine whether they are contenders or pretenders.
Arizona Cardinals (3-0)
The Cardinals have picked up where they left off last season, when they won seven of their final nine games. Arizona is the last undefeated team in the NFC, notching wins over three clubs with legitimate playoff aspirations: the Chargers, Giants and 49ers. The latter two wins came with backup QB Drew Stanton at the helm, showing how much depth and resiliency this squad possesses.
Bruce Arians' team faces its biggest test of the season in Week 5 when it goes on the road to face Peyton Manning and the Broncos.
"You can get paralysis by analysis," said Arians of facing Manning. "You just play the game and don't get caught up in all his gyrations and all the things that are going to go on, because he's really good at it, especially at home. It's much different playing them at home."
A win in Denver would vault the Cardinals into the top two of most power rankings, but win or lose, this club has proven it is talented enough to beat anybody.
The Cardinals are contenders.
Baltimore Ravens (3-1)
The Ravens were contenders last year until Week 16. Needing just one more win to make the playoffs, Baltimore lost its final two games by a combined score of 75-24. This year's squad appears mentally tougher, moving past the Ray Rice fiasco to win its last three games. Additionally, the acquisition of Steve Smith has proven to be a coup; the 35-year-old receiver ranks third in the league with 429 receiving yards.
The challenge facing the Ravens is they are no better than the second-best team in their division (behind the Bengals). That leaves them to compete in a wild card race expected to include the Chargers, Chiefs, Steelers and Texans. Can Baltimore finish ahead of at least three of those four teams? It says here the answer is no.
The Ravens are pretenders.
Dallas Cowboys (3-1)
The Cowboys dominated the Saints on Sunday Night Football, finishing September with a winning record for the first time since 2008. Powered by a dominant offensive line, DeMarco Murrary leads the league in rushing and Tony Romo boasts a 98.7 passer rating that would represent the second-highest mark of his career.
"We've always strived to attack defenses a lot of different ways and that starts with a run-pass balance," Jason Garrett said. "You want to be able to run it, you want to be able to throw it, you want to be able to run it different ways, and you want to be able to throw it different ways. It's really as simple as that. When you break the huddle you want to be multi-dimensional. It starts with good offensive line play and controlling the line of scrimmage."
There are still a lot of concerns with this team, mostly surrounding a defense that ranks No. 24 overall (No. 26 against the pass). There are also the ever-present questions about Romo and his ability to protect the ball and win games late in the season. The Cowboys have a favorable stretch of schedule coming up, where they play four of the next five at home, including games against their NFC East rivals from Washington and New York. Dallas had better make hay now, because trusting this team in December is like trusting Jerry Jones in a strip club.
The Cowboys are pretenders.
Detroit Lions (3-1)
It is tough to say what is more surprising: that Detroit won last week despite Calvin Johnson having just two catches for 12 yards, or that the Lions have the league's No. 1 defense through four games, allowing 20 yards per game less than the next closest team. Detroit's defensive front seven has been spectacular, led by defense tackles Ndamukong Suh and Nick Fairely, both of whom are playing inspired ball in their contract years.
It is tough to crown Detroit a contender too early. It was just last season the Lions started 3-1 only to finish 7-9 and outside of the playoffs. But under the steady hand of new coach Jim Caldwell, this Lions team has a different feel about it.
These Lions are contenders.
Houston Texans (3-1)
The Texans have already won more games than last season, so new coach Bill O'Brien clearly has this club pointed in the right direction. J.J. Watt is in the conversation as an early MVP candidate and the defense will get even better once No. 1 overall pick Jadeveon Clowney comes back from his knee injury in the next few weeks.
"We have a lot of things we want to continue to improve upon, we have a lot of things we want to get going," Watt said. "There are always things — even that you do well — that you want to continue to do better. Every day is a challenge and that's what makes it so fun. Every day you come in and find something new to work on."
Houston's hopes are also buoyed by schedule that still includes two games against the Titans (1-3), two games against the Jaguars (0-4) and a trip to Cleveland (1-2). If the Texans win those five games, they would only have to go 2-5 in their other seven contests to get to 10-6.
The playoffs are a definite possibility, which is saying something for a franchise that lost 14 consecutive games a season ago. The problem is that even if the Texans make it to the postseason, they are not getting out of the first round with an offense built around a turnover-prone quarterback (Ryan Fitzpatrick) and the Steve Nash of running backs (Arian Foster).
The Texans, although much improved, are still pretenders.
Buccaneers admit mistake, boot Aguayo
In the NFL, it's always better to admit a mistake than to compound it. For the Buccaneers, the decision to burn a 2016 second-round pick on kicker Robert Aguayo has proven to be a mistake. The Buccaneers made the definitive admission of their error on Saturday, cutting Aguayo. He exits with $428,000 in fully-guaranteed salary [
more
]
Source: Mike Florio of ProFootballTalk
Powered by WPeMatico
Did Bucs put too much pressure on Aguayo?
After the Buccaneers surprised everyone by taking a kicker with the 59th overall pick in the draft, G.M. Jason Licht explained the move by heaping superlatives on the player. "I was very excited along with my staff and coaches about Roberto for a very long time," Licht told PFT Live in May 2016. "It's not [
more
]
Source: Mike Florio of ProFootballTalk
Powered by WPeMatico
Broncos holding their breath on Derek Wolfe
Only two days after losing Billy Winn for the year with a torn ACL, the Broncos are now sweating out another potentially serious injury along the defensive line. Via multiple reports, Broncos defensive lineman Derek Wolfe was carted off the field during practice on Saturday. It's being described as a right ankle injury by coach [
more
]
Source: Mike Florio of ProFootballTalk
Powered by WPeMatico