Which Teams Outside The Top 10 Have A Shot?
College Football Editor Luke Byrnes looks at the playoff hopes of the teams outside the Top 10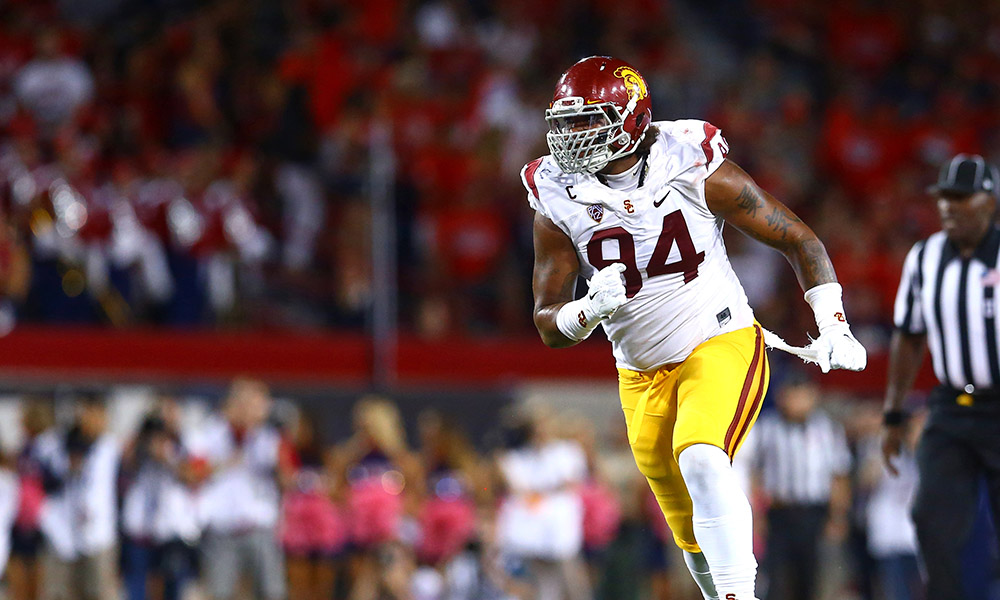 After several weeks with match-ups pairing some of college football's most highly-ranked teams, Week 9 featured just one game involving a Top-10 team against a ranked opponent- a thrilling 10-7 upset by No. 24 LSU over No. 3 Ole Miss.
The result? Very little shake-up at the top of the polls.
Due to the relatively static nature of the Top 10 this week, we here at Football Insiders have decided to evaluate the playoff hopes of teams ranked outside of the Top 10.
Kansas State (No. 11 Associated Press; No. 11 Coaches)
Kansas State dominated a Texas team that has been improving over the past few weeks, remaining the lone unbeaten team in the Big 12 with a 23-0 win. The Longhorns, who were shutout for the first time since 2004, were limited to 196 total yards. The Wildcats held the ball for more than 39 minutes.
Kansas State's slim playoff hopes remained alive with the win. Their only loss came against No. 5 Auburn back on Sept. 18 and a road win against then-No. 11 Oklahoma on Oct. 18 will impress the College Football Playoff Selection Committee, but coach Bill Snyder's team still hosts Oklahoma State and Kansas and visits No. 10 TCU, No. 22 West Virginia and No. 12 Baylor.
Should the Wildcats run the table, they'll be in the mix for a playoff berth, but another loss will leave Kansas State hoping for little more than a Big 12 championship.
Baylor (No. 12 AP; No. 13 Coaches)
The Bears were idle this weekend.
Baylor plays Kansas State at home to close the regular season. Win out, while the SEC teams in front of them beat each other up, and Baylor will hold the tie-breaker over both Kansas State and TCU for the Big 12 title and possibly a playoff berth .
Ohio State (No. 13 AP; No. 12 Coaches)

Joey Bosa was dominant on the defensive line and redshirt-freshman quarterback J.T. Barrett scored rushing touchdowns in each overtime period as Ohio State outlasted Penn State for a 31-24 road win in double-overtime.
The Buckeyes took a horrible loss to Virginia Tech, at home, on Sept. 6, but have looked like a contender since. Barrett struggled against a Penn State defense that ranks among the best in the FBS, but made big plays when they counted – in a hostile environment. A pair of road games against Michigan State (No. 8 AP; No. 5 Coaches) and Minnesota (No. 24 Coaches) would go a long way toward exorcising the Va Tech loss from the committee's memory. That being said, Ohio State will need some help, in the form of losses from the teams currently ranked ahead of the Buckeyes.
Arizona State (No. 14 AP; No. 14 Coaches)
Taylor Kelly looked rusty, albeit against a very good Washington defense, in his return from a foot injury suffered on Sept. 13, but Arizona State survived in Seattle, using two touchdowns on the final 3 minutes, including a 61-yard interception return for a touchdown by Armand Perry with 52 seconds left, for a 24-10 win.
The Sun Devils are still alive in the Pac-12 championship hunt, which means they still have playoff hopes. Arizona State's only loss came against UCLA, a ranked team, in a game started by back-up quarterback Mike Bercovici, which might prompt some lenience from the committee come selection time. It's difficult to imagine a totally revamped Arizona State defense holding up down the stretch with Utah, Notre Dame, Oregon State, Washington State and Arizona still on the schedule. Even if the Sun Devils navigate that stretch unscathed, they would likely face Oregon and its potent offense in the Pac-12 Championship Game.
Arizona (No. 15 AP; No. 15 Coaches)
The Wildcats cruised to a 59-37 win over Washington State, jumping out to a 31-0 lead in the second quarter and scoring on both a punt return and a kickoff return.
This team is proving many wrong by proving it can play with some of the best teams in the Pac 12. Arizona's only loss (a game it plainly and simply gave away) to this point came against USC, which fell to Utah on Saturday. The Trojans' loss is something of a double-edged sword for Arizona because, while it means the Wildcats now control their own destiny in the Pac 12 South, the USC loss also looks slightly worse. Rich Rodriguez is building something potentially special in Tuscon and his team has the easiest remaining schedule in the conference. The biggest obstacle for Arizona, at this point, might be the fact that it started the season unranked.
Nebraska (No. 16 AP; No. 16 Coaches)
Ameer Abdullah finished with a school-record 341 all-purpose yards, including 225 yards rushing, and three touchdowns in Nebraska's 42-24 win over Rutgers.
Strength of schedule is going to be a huge sticking point when the committee evaluates Nebraska's resume. While the Cornhuskers have put up some impressive numbers, they lost their only game against a ranked opponent – 27-22 at Michigan State. With match-ups against Purdue, Wisconsin, Minnesota and Iowa remaining, Nebraska will have to win out in order to, possibly, impress the committee in the Big Ten Championship Game against either Michigan State or Ohio State (barring collapses by both teams). Considering the fact that teams from the Big 12, Pac 12 and SEC (the West in particular) play so many ranked teams, it would almost take a miracle for Nebraska to find its way into the playoff.
Oklahoma (No. 17 AP; No. 18 Coaches)
The Sooners were idle this week.
With two losses and no conference championship game to bolster is strength of schedule, Oklahoma's playoff hopes were as good as dashed when it fell, at home to Kansas State on Oct. 18.

East Carolina (No. 18 AP; No. 17 Coaches)
East Carolina held off Connecticut for a 31-21 win on Thursday night.
The Pirates are a great story and have a fun to watch, high-powered offense, which hung 70 on North Carolina on Sept. 20. That being said, the resume just isn't there to justify even being considered for as playoff spot. East Carolina hasn't, and won't, play a team that is currently ranked. Its loss to South Carolina is worse than it originally seemed (the Gamecocks are 4-4 after being ranked No. 9 in the preseason) and Virginia Tech, which was No. 17 when it lost to ECU on Sept. 20, has lost for of its last six.
Utah (No. 19 AP; No. 19 Coaches)
Utah made big plays down the stretch, driving 73 yards in 2 minutes to beat USC 24-21 on a 1-yard touchdown pass from Travis Wilson to Kaelin Clay with 8 second left.
The Utes are another team that was undersold a few weeks back that have proven themselves worthy of their ranking. That being said, a home loss to Washington State is going to be hard for the selection committee to look past. Beyond that, despite controlling its own destiny in the Pac 12 South, Utah faces Arizona State, Oregon, Stanford and Arizona in is next four games. Ouch.
USC (No. 20 AP; No. 21 Coaches)
The Trojans fell to Utah, 24-21, on Saturday.
With three losses – not to mention the fact that USC has looked like it had all of those games win before peeing directly down its own leg late – there is no chance of a playoff berth. Hell, a Sun Bowl invitation is probably ambitious at this point.
Did Bucs put too much pressure on Aguayo?
After the Buccaneers surprised everyone by taking a kicker with the 59th overall pick in the draft, G.M. Jason Licht explained the move by heaping superlatives on the player. "I was very excited along with my staff and coaches about Roberto for a very long time," Licht told PFT Live in May 2016. "It's not [
more
]
Source: Mike Florio of ProFootballTalk
Powered by WPeMatico
Broncos holding their breath on Derek Wolfe
Only two days after losing Billy Winn for the year with a torn ACL, the Broncos are now sweating out another potentially serious injury along the defensive line. Via multiple reports, Broncos defensive lineman Derek Wolfe was carted off the field during practice on Saturday. It's being described as a right ankle injury by coach [
more
]
Source: Mike Florio of ProFootballTalk
Powered by WPeMatico
Buccaneers admit mistake, boot Aguayo
In the NFL, it's always better to admit a mistake than to compound it. For the Buccaneers, the decision to burn a 2016 second-round pick on kicker Robert Aguayo has proven to be a mistake. The Buccaneers made the definitive admission of their error on Saturday, cutting Aguayo. He exits with $428,000 in fully-guaranteed salary [
more
]
Source: Mike Florio of ProFootballTalk
Powered by WPeMatico