Wesley Woodyard: Titans Poised for Turnaround
Wesley Woodyard explains why he expects a turnaround in Tennessee, starting with this week's game against the Browns.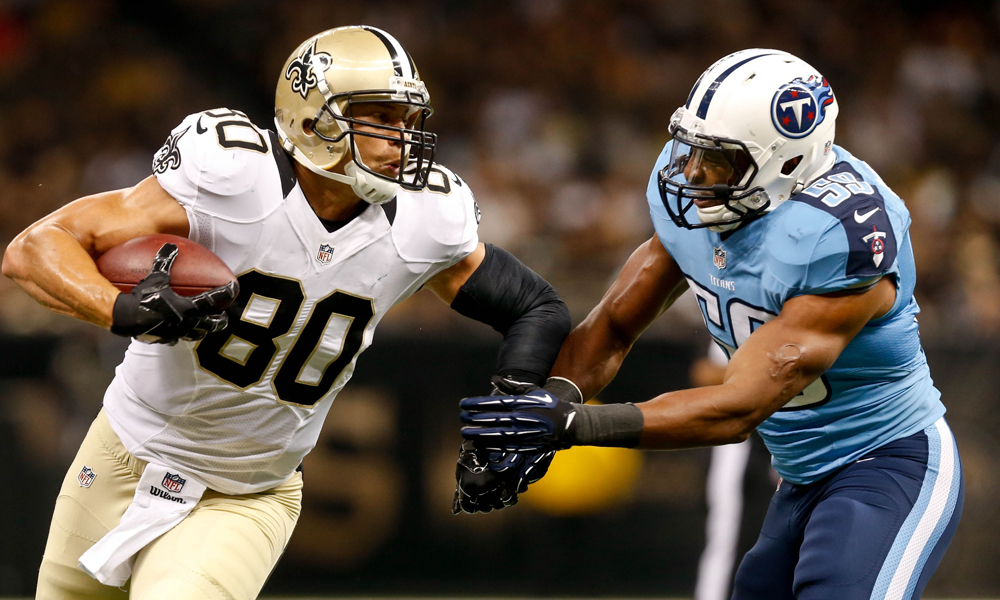 It has been a rough three weeks for the Tennessee Titans. After winning their season opener in Kansas City, they have lost three in a row by a combined score of 100-34. But over the next four weeks, the Titans have a legitimate shot to climb back into the AFC South race.
Tennessee's next three games are against teams with losing records: the Browns (1-2), Jaguars (0-4) and Redskins (1-3). After that comes a matchup against the only AFC South team with a winning record, the 3-1 Texans.
"Without a doubt, we still have a chance to go out there and win this division," said seventh-year linebacker Wesley Woodyard. "That's been our goal from the jump, to go out there and win this division. We didn't get off to the best start, but we still have three more quarters of football to play and we have a positive mindset."
The Titans are strong believers in the "one game at a time" approach. But it is difficult to ignore the fact that three of Tennessee's next four games are at LP Field.
"It's huge," Woodyard said. "In the NFL, if you can win all of your homes games you set yourself up for a positive future. These next three games, it's very, very important for us to go out there and get these victories. It's going to be exciting to get back out there in front of our home crowd. Hopefully they pack the stadium and make it loud."
While a winning streak would do wonders, every streak must start with that first victory. For the Titans, that opportunity comes on Sunday as they host the Browns.
When the schedule first came out, many people believed this would be the game where Johnny Manziel took over as Cleveland's starting quarterback, as the Browns are coming off a bye week. Instead, Johnny Football will be used in the same way he has been over the first three games: as a gadget player coming off the bench.
Woodyard & Co. are ready for some trickery.
"We know that, everything they've shown, we have to prepare for that and [prepare for] everything they possibly can do," he said. "When they do that you just have to play your style football. We know Manziel is a playmaker so they are going to try to get the ball in his hands."
Manziel will certainly draw more eyeballs to this contest and the Titans aim to take advantage. Ray Horton's defense is eager to demonstrate it is better than what its shown thus far. Tennessee's defense ranks No. 15 overall (352.8 yards per game) but just No. 27 in points allowed (27.5 per game).
One explanation for the slow start is the Titans are breaking in new players, a new coaching staff and a new defensive system (this is their first year running a 3-4). But Woodyard is not trying to hear any of that.
"You can't make excuses," he said. "It does take time for a team to gel. The one thing about the NFL is nobody cares if you are a new team or an old team. Everybody just wants to win. We have to come out every week and be ready to go. We know we're a new team but we have to be ready to play."
Tennessee's defense is mired in a disturbing trend where it has given up more points each week than the week prior. Coach Horton is chomping at the bit to get that turned around and history shows he is up for the challenge. He was the defensive coordinator in Arizona from 2011-2012 when the Cardinals laid the foundation for what is now one of the best, most physical defenses in the league.
Woodyard sees something similar on the horizon for the Titans.
"One thing about Tennessee, our coaches want guys to be playmakers, they don't want us to be robots on the football field," he said. "We're a one-gap defense, man, and what that means is you take care of your gap, you go run and make plays after that. It's a great defense to be in."
Woodyard knows what it takes to turn around a defense. When he was in Denver, he saw the Broncos go from the league's No. 26 defense in 2009 to No. 1 in 2010.
He had great experience during his six years in Denver, as it helped mold him into the player he is today.
"I stay in touch with those guys [in Denver]," he said. "I talk to Chris Harris, Danny Trevathan, Terrance Knighton, I talk to all of those guys. I always check on them and make sure they're doing good. It's good to see those guys off to a good start."
Woodyard has fond feelings for the folks in Denver, but he has no regrets about his decision to join the Titans.
When free agency began in March, he sat down with Coach Horton and was immediately sold on the idea that Tennessee was the place for him.
"I'll be honest with you, as soon as I walked though the door I felt a family atmosphere," he said. "I really wanted to be a part of a great defense and when I got in there I got a chance to sit down with Coach Horton. He put me on the board just to see if I could make checks and make calls. I just felt it was the best place for me to come here, play dominant defense and be part of a top team."
Tennesee's defense has been anything but dominant so far, but writing them off now would be a mistake. With Horton calling the shots and Woodyard quarterbacking a unit that includes defensive end Jurrell Casey, outside linebacker Kamerion Wimbley and strong safety Bernard Pollard, the Titans still have a chance to put it together and claw their way back into the AFC South race.
Buccaneers admit mistake, boot Aguayo
In the NFL, it's always better to admit a mistake than to compound it. For the Buccaneers, the decision to burn a 2016 second-round pick on kicker Robert Aguayo has proven to be a mistake. The Buccaneers made the definitive admission of their error on Saturday, cutting Aguayo. He exits with $428,000 in fully-guaranteed salary [
more
]
Source: Mike Florio of ProFootballTalk
Powered by WPeMatico
Did Bucs put too much pressure on Aguayo?
After the Buccaneers surprised everyone by taking a kicker with the 59th overall pick in the draft, G.M. Jason Licht explained the move by heaping superlatives on the player. "I was very excited along with my staff and coaches about Roberto for a very long time," Licht told PFT Live in May 2016. "It's not [
more
]
Source: Mike Florio of ProFootballTalk
Powered by WPeMatico
Broncos holding their breath on Derek Wolfe
Only two days after losing Billy Winn for the year with a torn ACL, the Broncos are now sweating out another potentially serious injury along the defensive line. Via multiple reports, Broncos defensive lineman Derek Wolfe was carted off the field during practice on Saturday. It's being described as a right ankle injury by coach [
more
]
Source: Mike Florio of ProFootballTalk
Powered by WPeMatico