Week 6 NFL Quarterback Rankings
Find out where your favorite quarterback stacks up as we rank all the starting signal callers, 1-32.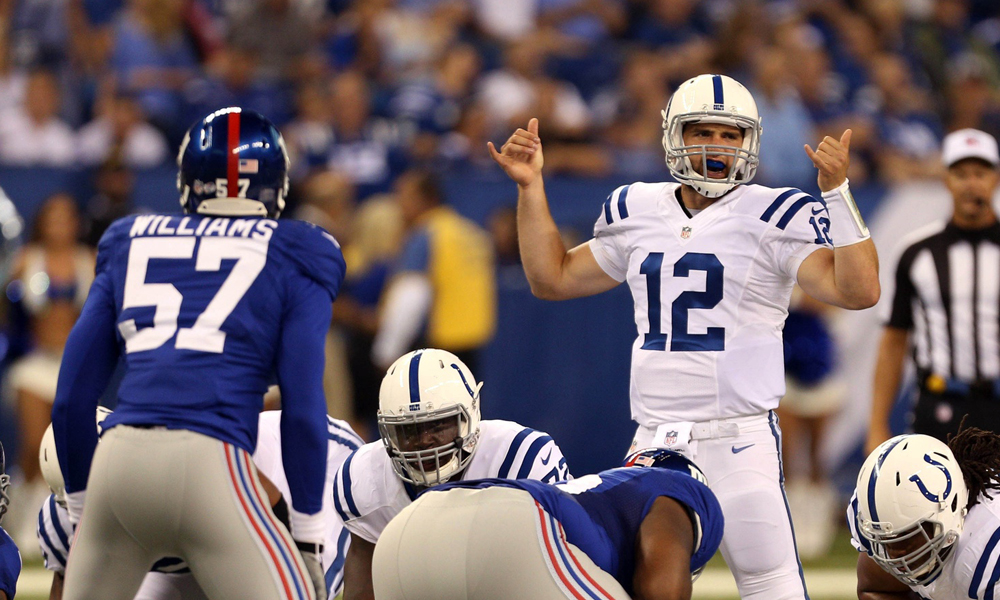 Every week, Football Insiders will rank the NFL's quarterbacks. The cream is rising to the top as Philip Rivers was spectacular again.
1. Philip Rivers- Rivers is on fire right now. He torched a very good New York Jets defense.
2. Russell Wilson- He's probably the most fun player to watch in the NFL. The smarts, arm strength and mobility are a treat to those who appreciate "new-school" football.
3. Peyton Manning- Peyton dominated a very good Arizona defense. Impressive stuff.
4. Aaron Rodgers- Rodgers is now looking like his normal excellent self. Sometimes these things take a few weeks.
5. Andrew Luck- Luck shrugs off mistakes like no young quarterback in the game. It never ceases to amaze how level headed he is.
6. Tony Romo- Romo is going to make mistakes every game and he's going to make plays every game. That is the genius of Tony Romo.
7. Ben Roethlisberger- Ben is the trigger-man for a really balanced offense right now in Pittsburgh. He's really done a great job of staying within himself and not forcing much.
8. Tom Brady- Brady is still having mechanical issues that are causing inaccuracy but he's on the short list of guys you trust in a really big spot.
9. Drew Brees- Brees still doesn't look quite right so this ranking is maybe based a little on reputation. Still, he did engineer his team to 37 points and a victory.
10. Eli Manning- Eli played another solid game and he now has a healthy Odell Beckham to throw the ball to. The schedule is a bear for the Giants over the next month and a half so we will see him tested.
11. Andy Dalton-Dalton wasn't the sole reason the Bengals lost on Sunday night, but he didn't make enough plays when they were in front of him.
12. Alex Smith- Smith is really playing efficient football and he's more athletic than he looks. I'd like to see some read option with Smith, similar to what Seattle does with Russell Wilson.
13. Cam Newton-Cam is doing the best he can with a lack of weapons around him. When his feet are balanced, there's no throw he can't make accurately.
14. Matt Ryan-We know he's very good and he has all the tools, but he has to start winning some road games. Ryan is 1-9 in his last 10 games away from the Georgia Dome.
15. Matthew Stafford- All the talent in the world but continuously makes poor decisions. There's no way that Detroit should have lost against Buffalo.
16. Jay Cutler- See Matthew Stafford.
17. Colin Kaepernick- His physical skills are undeniable but he needs to mature as a quarterback and fine tune some things like varying ball velocity and underneath accuracy.
18. Brian Hoyer- Hoyer is inexplicably playing very good football and another game like last Sunday's will have him vault up this list.
19. Nick Foles- The Eagles offense doesn't quite look like it should and Nick Foles is part of the problem. Two more turnovers on Sunday, but 14 points on defense and special teams notched them a victory.
20. Joe Flacco- Bad Joe Flacco showed up on Sunday and that's what keeps him from being the "E" word.
21. Arizona Cardinals- Backup Drew Stanton had to leave the game and Logan Thomas was predictably awful. The only reason Arizona is ranked this high is because of the hope of Carson Palmer returning soon.
22. Ryan Tannehill- Tannehill shouldn't be dropped or raised during a bye week.
23. Kirk Cousins- Cousins is beginning his regression back to the mean. This is why he was a backup quarterback.
24. Ryan Fitzpatrick- He's not the long-term answer in Houston but he is the best thing they have.
25. Teddy Bridgewater- Teddy didn't play on Thursday but we're looking forward to seeing what he can do next week.
26. Kyle Orton-It took Orton one half to shake the rust off and then he looked pretty good- good enough to lead the Bills to a road victory.
27. Mike Glennon- Glennon made some plays and missed some plays. I don't think he's the answer, but he's a better solution than Josh McCown.
28. Jake Locker- He got hurt again.
29. Blake Bortles-Bortles does a lot of things really well and you can see that he's very talented. Unfortunately, he's turning the football over far too often.
30. Austin Davis-He doesn't have a lot of talent and that will get exposed in the coming weeks.
31. Geno Smith- He looks like a guy whose confidence is shaken and that's never a good thing.
32. Carr/McGloin/Raiders- The Raiders had a bye so they didn't lose. I suspect it will be business as usual on Sunday.
Did Bucs put too much pressure on Aguayo?
After the Buccaneers surprised everyone by taking a kicker with the 59th overall pick in the draft, G.M. Jason Licht explained the move by heaping superlatives on the player. "I was very excited along with my staff and coaches about Roberto for a very long time," Licht told PFT Live in May 2016. "It's not [
more
]
Source: Mike Florio of ProFootballTalk
Powered by WPeMatico
Broncos holding their breath on Derek Wolfe
Only two days after losing Billy Winn for the year with a torn ACL, the Broncos are now sweating out another potentially serious injury along the defensive line. Via multiple reports, Broncos defensive lineman Derek Wolfe was carted off the field during practice on Saturday. It's being described as a right ankle injury by coach [
more
]
Source: Mike Florio of ProFootballTalk
Powered by WPeMatico
Buccaneers admit mistake, boot Aguayo
In the NFL, it's always better to admit a mistake than to compound it. For the Buccaneers, the decision to burn a 2016 second-round pick on kicker Robert Aguayo has proven to be a mistake. The Buccaneers made the definitive admission of their error on Saturday, cutting Aguayo. He exits with $428,000 in fully-guaranteed salary [
more
]
Source: Mike Florio of ProFootballTalk
Powered by WPeMatico