Week 5 NFL Picks
Find out our lock of the week and which upsets will occur on Sunday and Monday.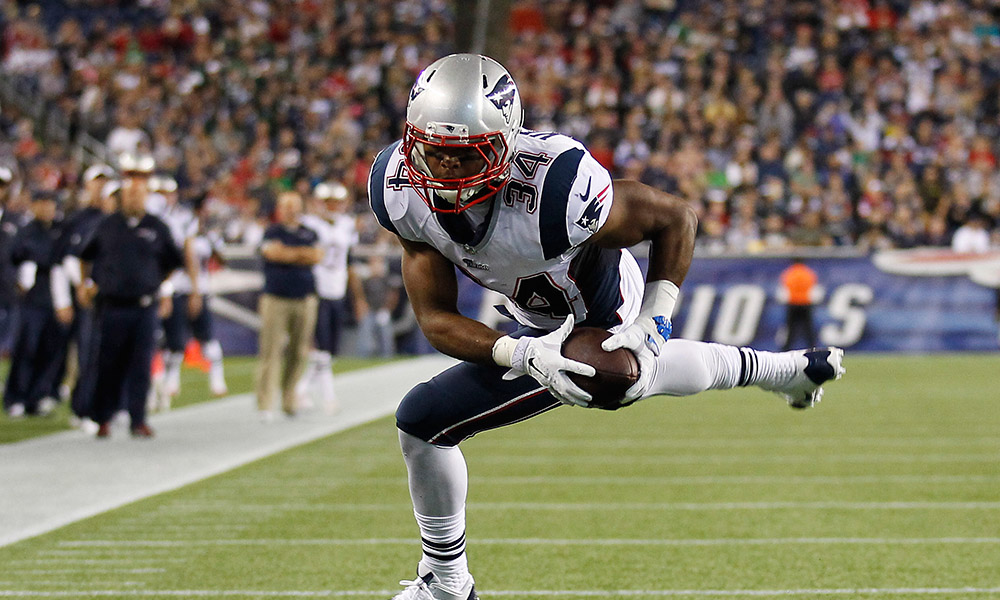 We peek inside our crystal ball and select the winners of every NFL game this weekend.
Chicago vs. Carolina
Both teams have been up and down this season and Brandon Marshall doesn't appear to be completely healthy. The Panthers are down to picking up running backs off the street. Something seems to be missing in Carolina and Jay Cutler will rebound this week. Bears 34, Panthers 20.
Cleveland vs. Tennessee
This is a game in which both teams should feel confident that they'll win. Tennessee has dropped three straight while Cleveland has spent a week resting up. In a battle of rest or rust, we're taking rust. Titans 20, Browns 17.
St. Louis vs. Philadelphia
Austin Davis was named the Rams' starting quarterback going forward and although he had a few solid games, the league will catch up to a guy with mediocre talent. Philadelphia will get well this week in a big way. Eagles 38, Rams 14.
Atlanta vs. New York Giants
The Falcons have struggled when entering the swamps of New Jersey and this appears to be a tale of two teams going in opposite directions. The Falcons' defense was just lit up by Teddy Bridgewater and they won't fare much better against Eli Manning. Giants 24, Falcons 17.
Tampa Bay vs. New Orleans
The Buccaneers pulled off a nice comeback victory to save their season last weekend in Pittsburgh. In the NFC South, you're never out of it no matter what your record is. New Orleans will rally and win a tight one. Saints 24, Bucs 20.
Houston vs. Dallas
The Texans aren't quite as good as their record says they are. The same might be true of the Cowboys. Houston was the superhuman J.J. Watt. Dallas has Tony Romo and Dez Bryant. I'm taking the offense. Cowboys 31, Texans 20.
Buffalo vs. Detroit
The Lions have been playing very good football, which makes them completely ripe for an upset. Can Kyle Orton pull that upset? No. Lions 27, Bills 24.
Baltimore vs. Indianapolis
The Colts have fattened up the last two weeks against inferior competition from the AFC South. The Ravens seem to have put all the distractions of the Ray Rice scandal behind them and are playing good football. I'm taking the better team. Ravens 20, Colts 14.
Pittsburgh vs. Jacksonville
Lock of the week! The Steelers are coming off an embarrassing loss and the Jaguars are without Cecil Shorts and Marqise Lee. This looks like a no-brainer. Steelers 41, Jaguars 21.
Arizona vs. Denver
Both teams are coming off bye's so normally we like to take the better football coach. That's Bruce Arians. Unfortunately, Arians doesn't have Peyton Manning. Broncos 35, Cardinals 17.
Kansas City vs. San Francisco
Alex Smith vs. Colin Kaepernick. Smith has actually played better than Kaepernick this season and this looks like a more even matchup than many believe. No Vernon Davis for San Francisco and maybe no Anthony Davis. Upset special! Chiefs 24, 49ers 20.

New York Jets vs. San Diego
The Jets do a great job of running the football and stopping the run. The Chargers are getting MVP level play from quarterback Philip Rivers. I'll take the team with the better quarterback. Chargers 23, Jets 17.

Cincinnati vs. New England
Everything that we've seen over the past two weeks tells us that the Bengals should physically dominate the Patriots. The NFL doesn't always make sense and it's always a week to week league. Patriots 31, Bengals 24.
Seattle vs. Washington
There's film on Kirk Cousins. Pete Carroll does a great job of confusing young quarterbacks and Seattle no longer fears going on the road. Seahawks 27, Redskins 16.
Last week: 7-5
Did Bucs put too much pressure on Aguayo?
After the Buccaneers surprised everyone by taking a kicker with the 59th overall pick in the draft, G.M. Jason Licht explained the move by heaping superlatives on the player. "I was very excited along with my staff and coaches about Roberto for a very long time," Licht told PFT Live in May 2016. "It's not [
more
]
Source: Mike Florio of ProFootballTalk
Powered by WPeMatico
Broncos holding their breath on Derek Wolfe
Only two days after losing Billy Winn for the year with a torn ACL, the Broncos are now sweating out another potentially serious injury along the defensive line. Via multiple reports, Broncos defensive lineman Derek Wolfe was carted off the field during practice on Saturday. It's being described as a right ankle injury by coach [
more
]
Source: Mike Florio of ProFootballTalk
Powered by WPeMatico
Buccaneers admit mistake, boot Aguayo
In the NFL, it's always better to admit a mistake than to compound it. For the Buccaneers, the decision to burn a 2016 second-round pick on kicker Robert Aguayo has proven to be a mistake. The Buccaneers made the definitive admission of their error on Saturday, cutting Aguayo. He exits with $428,000 in fully-guaranteed salary [
more
]
Source: Mike Florio of ProFootballTalk
Powered by WPeMatico