Week 15 NFL Quarterback Rankings
Find out where your favorite quarterback ranks through 14 weeks of the NFL season.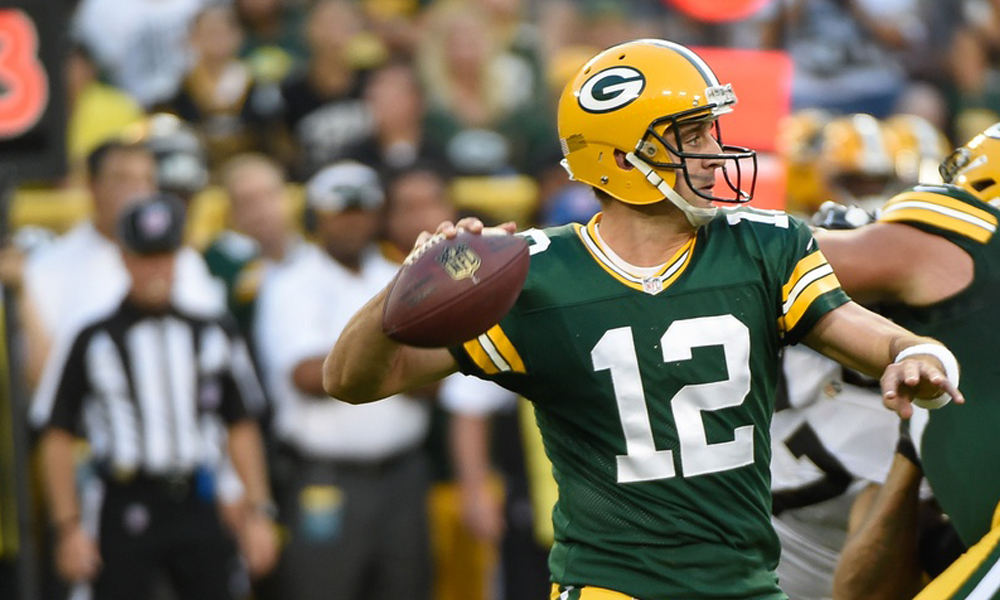 Every week, Football Insiders will rank the NFL's quarterbacks. We had quite a few shakeups in the Top 10.
Aaron Rodgers- Rodgers, once again, had a fantastic game Monday Night against the Atlanta Falcons. He threw for 327 yards, three touchdowns, and zero interceptions on his way to a 43-37 win. In the past five games, Rodgers has thrown for sixteen touchdowns and no interceptions. He has an incredible 35 touchdowns and just three interceptions on the season. Monday night marked the fifth straight game in where he had at least a 109.0 passer rating. Rodgers is arguably having the best season ever for a quarterback. In the past five games, the Packers are averaging 40 points.
Tom Brady- With the 23-14 win against the Chargers on Sunday, Brady has led the Patriots to their 12th straight season of at least 10 wins. He outdueled Philip Rivers by throwing for 317 yards, two touchdowns, and one interception. That interception was just his seventh of the season, but fifth in the last five games. The Patriots are 8-1 in their last nine and Brady has a 100.2 quarterback rating on the year, which is his highest since the 2011 season.
Peyton Manning- Manning had his worst passer rating (56.9) since 2008 in Sunday's win against the Buffalo Bills. He threw for 179 yards, no touchdowns, and two interceptions. It was his first game without a touchdown since 2010, ending a 51-game streak. In the past three games, Manning is averaging just 203 yards per game, however, he is still on pace to finish the season with 4,812 yards, 44 touchdowns, and fourteen interceptions. The 38-year old is solidifying his spot in history, performing at such a high level so deep into his career.
Andrew Luck- Luck was lost on Sunday, completing just 24 of 53 passes. The Browns secondary, Joe Haden in particular, did a fantastic job in coverage, forcing Luck to overthrow a lot of receivers and rush some of his passes. He still finished with 294 yards, two touchdowns, and two interceptions and most importantly a victory. Luck is such a hard quarterback to defend against because he can hurt you with his legs just as much as his arm. He led the Colts in rushing with 37 yards and a touchdown. He hit T.Y. Hilton for 150 yards and two touchdowns in what could develop into one of the best duos for years to come.
Tony Romo- Romo has surpassed a passer rating of 135.0 in four of the past six games. He completed 80 percent of his passes against the Bears and threw for three touchdowns in route to a 41-28 victory. He is on pace for the best season of his career and is second in the NFL with a 108.8 passer rating. He trails Drew Brees by .2 percent for the highest completion percentage in the league. Dallas has a 9-4 record.
Drew Brees- The Saints offense was lost against the Panthers on Sunday, scoring just three points in the first fifty minutes of the game. They ended up losing 41-10 in what was a very important divisional game. Though the 5-8 Saints are struggling, Brees is having another phenomenal year. Though, personal performance can only take you so far. He is on pace for 4,900 yards and 34 touchdowns.
Russell Wilson- In his third season, Russell Wilson is showing tremendous improvement in his running game. He has 727 rushing yards and five rushing touchdowns, which puts him on pace for 900 yards and six touchdowns. Last year, he had just 539 yards and one touchdown. However, his passing game has taken a step back. He is on pace for just 3,358 yards and 21 touchdowns. His passer rating is the worst in his career thus far, though it's still strong (95.2).
Ben Roethlisberger- Big Ben is having a monster season and only added to it in the Steelers blowout 42-21 win against the Bengals. Ben threw for 250 yards, three touchdowns, and no interceptions. He is on pace to break his career-highs in passing yards, touchdowns, passer rating and completion percentage. At age 32, he is still elusive as ever and provides a difficult matchup for opposing defenses.
Philip Rivers- Rivers had a quite game in the Chargers' loss to the Patriots on Sunday. He threw for just 189 yards, one touchdown, and one interception. He has 3,407 passing yards, 26 touchdowns, and eleven interceptions on his way to his fifth season of at least a 100.0 passer rating. To put that in context, Peyton Manning only has five seasons of 100.0+ passer rating, Tom Brady has three, Drew Brees has four, and Brett Favre has one. Rivers is only 32 years old.
Ryan Tannehill- Tannehill's improvements have been dramatic since last year. The most noticeable and important improvement he has made is his interception number. He had 30 in the last two years combined, but has just nine this year. His passer rating has improved every year he has been in the NFL, going from 76.1 to 81.7 to 92.6. His running game has also shown tremendous improvement. He has already surpassed his total rushing yards of last year by 60 and there's still three games to go.
Joe Flacco- Flacco is surprisingly having a very strong season. After throwing 22 interceptions last year, he has just nine this year. He is on pace for 4,009 yards and 27 touchdowns, both career-highs. His 94.5 passer rating is a tremendous upgrade from his 73.1 passer rating last year.
Matt Ryan- Ryan had a very strong game against the Packers on Monday Night Football, throwing for 375 yards, four touchdowns, and one interception in a close 37-43 loss. He now has 25 touchdowns and eleven interceptions on the season. He is on pace for 4,679 yards, 31 touchdowns, and fourteen interceptions.
Alex Smith- The Chiefs failed to score in the second half against the Arizona Cardinals, ultimately losing, 17-14. Smith threw just his sixth interception of the season with a season high 293 yards passing. The Chiefs have lost three straight games and have made their playoff-hopes low with a record of 7-6.
Eli Manning- The Giants ended a seven-game losing streak with a 36-7 win against the Titans on Sunday. Just one season after having one of the worst seasons by a starting quarterback in NFL history (18 TDs, 27 INTs, 69.4 passer rating), Eli has a 88.0 passer rating and has 23 touchdowns to only thirteen interceptions. He is on pace for his best season since 2011. Can his two Super Bowl rings really propel him to the Hall of Fame with such poor regular-season numbers?
Jay Cutler- Cutler had a strong game in the Bears loss against the Cowboys. He threw for 341 yards, had three touchdowns (two passing, one rushing), and one interception. He also had a season-high 92.8 quarterback rating. He is on pace to throw for 4,241 yards (second highest in career) and 32 touchdowns (highest of career). His 91.7 passer rating is the best of his nine-year career.
Ryan Fitzpatrick- Since taking over for the injured Ryan Mallett, Fitzpatrick has been on point. He has 493 yards, seven touchdowns, and no interceptions in the past two games, both of which the Texans have won against divisional opponents. He has nineteen touchdowns to eight interceptions on the season. His 95.9 passer rating is good for sixth in the NFL.
Shaun Hill- In his five starts this year, Hill has surpassed a passer rating of 100.0 three times. In the Rams most recent win against the Redskins, he threw for 213 yards, two touchdowns, and no interceptions. At age 34, Hill has really stepped up for the Rams. They are 4-2 in games that he has started.
Colt McCoy- McCoy dropped a goose egg on Sunday against the Rams, leading the Redskins to a shutout. He threw for 199 yards and two interceptions before hurting his neck and getting replaced by Robert Griffin III. He has a 97.7 passer rating in his four starts this year.
Matthew Stafford- Stafford is finally showing signs of life the past two games. After 11 games of disappointment, Stafford has thrown for a tremendous 701 yards, five touchdowns, and no interceptions in the Lions last two games, both of which they've won by a score of 34-17. It was the first time this season he threw for 300+ yards in consecutive games. He is on pace to throw for his least yardage since 2010 and has been in decline ever since that year, which is surprising for a now 26-year old.
Mark Sanchez- Sanchez was the latest victim of the Seahawks pass defense, throwing for just 96 yards, two touchdowns, and an interception in a 24-14 loss. In the past four weeks, no quarterback has thrown for over 150 yards against the Seahawks defense, so it came without a surprise that Sanchez struggled. Since Week 10, his passing yards have declined in every game. In games that he has started, he is leading the Eagles to a 4-2 record.
Andy Dalton- Dalton totaled 324 yards, three touchdowns, and one turnover Sunday against the Steelers. That was just his sixth game if the season without an interception and his fourth of having a passer rating over 100.0. He is in the midst of his worst season since his rookie year in 2011. He is on pace for eighteen touchdowns and sixteen interceptions. He has a passer rating of just 84.7.
Colin Kaepernick- In the past five games, Kaepernick is averaging 190 passing yards and has just four touchdowns to five interceptions. He is on pace for less touchdowns and four more interceptions than last year. In addition to the decline in his passing game, he is on pace for 60 less rushing yards and has no rushing touchdown on the season after having four last year.
Cam Newton- Cam Newton finally played like the healthy Cam Newton we've come to know in the past couple years. He threw for 226 yards and three touchdowns without an interception while running for 83 yards and a touchdown. It was his first time surpassing a passer rating of 98.5 since Week 1. It was the first game in the past nine where he didn't have an interception and it was just the second time this season he had over 50 rushing yards. Unfortunately, it's just too little, too late.
Teddy Bridgewater- In the last six games, Bridgewater has nine touchdowns and just three interceptions. He surpassed 300 yards for the second time this season, throwing for 309 yards, two touchdowns, and one interception in a 30-24 overtime win against the Jets. It was the Vikings' second win in a row. Bridgewater is showing promising play and Vikings' fans should be excited for what the future holds for him.
Kyle Orton- In his first four games, Orton averaged a 105.1 passer rating. In the five games since, he is averaging just a 79.8 passer rating. He has two passing touchdowns and four interceptions in the last two games combined. The Bills are 5-4 when he starts and 2-2 when he doesn't start.
Drew Stanton- With Carson Palmer, the Cardinals were 5-0. With Stanton, they are only 5-3. He threw for 239 yards and a touchdown in a 17-14 win over the Chiefs. The eight-year veteran will always be just a decent backup quarterback.
Josh McCown- With the 34-17 loss to the Detroit Lions on Sunday, McCown is 1-7 as a starter this year. He has nine touchdowns and eleven interceptions on the year and is averaging 224 yards per game through the air. The 35-year old is coming to the end of his career.
Brian Hoyer- Hoyer is in the midst of a terrible four-game stretch. He has one touchdown and eight, count 'em eight, interceptions. The only interesting thing he has done this year is start the 'Johnny Manziel for starting quarterback' campaign.
Geno Smith- Geno threw for over 200 yards for the first time in two months. He has 1,778 passing yards, eight touchdowns, and twelve interceptions on the season thus far. He and Michael Vick have provided a season to forget for New York Jets fans.
Derek Carr- Carr led the Raiders' to arguably the biggest upset of the season on Sunday, beating the San Francisco 49ers by a score of 24-13. He had by far the best game of his career, throwing for 254 yards, three touchdowns, and no interceptions. Before that game, he had five-straight games of under 200 passing yards.
Zach Mettenberger- He threw for 125 yards and an interception before being taken out due to injuring his right shoulder for the second-straight week. He has eight touchdowns, seven interceptions, and a passer rating of 83.4 on the season. He is winless in seven starts.
Blake Bortles- Bortles' struggles continued Sunday against the Texans. He threw for 205 yards, one touchdown, and one interception. He now has 10 touchdowns and 16 interceptions on the season with a terrible 71.4 passer rating. Jaguars' fans are hoping it can only go uphill from here.
Buccaneers admit mistake, boot Aguayo
In the NFL, it's always better to admit a mistake than to compound it. For the Buccaneers, the decision to burn a 2016 second-round pick on kicker Robert Aguayo has proven to be a mistake. The Buccaneers made the definitive admission of their error on Saturday, cutting Aguayo. He exits with $428,000 in fully-guaranteed salary [
more
]
Source: Mike Florio of ProFootballTalk
Powered by WPeMatico
Did Bucs put too much pressure on Aguayo?
After the Buccaneers surprised everyone by taking a kicker with the 59th overall pick in the draft, G.M. Jason Licht explained the move by heaping superlatives on the player. "I was very excited along with my staff and coaches about Roberto for a very long time," Licht told PFT Live in May 2016. "It's not [
more
]
Source: Mike Florio of ProFootballTalk
Powered by WPeMatico
Broncos holding their breath on Derek Wolfe
Only two days after losing Billy Winn for the year with a torn ACL, the Broncos are now sweating out another potentially serious injury along the defensive line. Via multiple reports, Broncos defensive lineman Derek Wolfe was carted off the field during practice on Saturday. It's being described as a right ankle injury by coach [
more
]
Source: Mike Florio of ProFootballTalk
Powered by WPeMatico