Week 15 NFL Picks
Find out which division leader will lose on Sunday.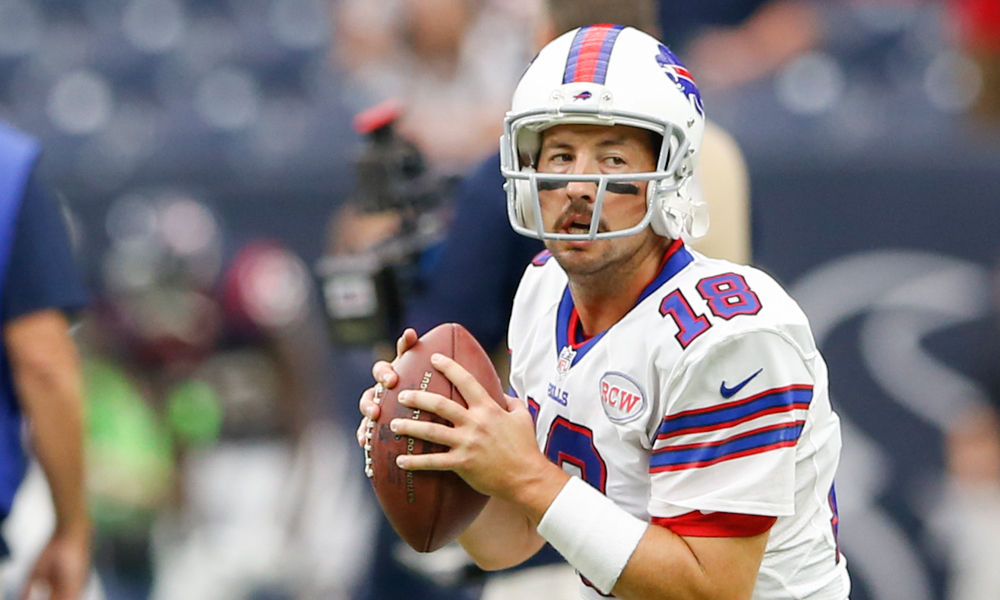 Our crystal ball was a little foggy last week as we missed on some upsets. This week has to be better.
Steelers vs. Falcons
This game doesn't mean much for the Falcons as they have a pair of divisional games to end the season which will decide the NFC South. The Steelers are part of a playoff/AFC North logjam at 8-5 and have no room for error. We'll opt for the urgency and take Pittsburgh. Steelers 38, Falcons 20.
Redskins vs. Giants
It's difficult, if not impossible to pick the Redskins to beat anyone right now. The Giants are better than their record. Easy pick. Giants 27, Redskins 13.
Dolphins vs. Patriots
The Dolphins had a crushing loss last week at home to Baltimore which basically knocked them out of the playoffs. New England must win to keep pace with the Broncos. Patriots 31, Dolphins 16.
Raiders vs. Chiefs
After Oakland's first win of the season they were so confident that they went out and lost 52-0. Kansas City needs to win to hold on to their miniscule playoff hopes and they will. Chiefs 24, Raiders 14.
Texans vs. Colts
The Houston Texans have never won a game in Indianapolis. The Colts can clinch the AFC South title with a win on Sunday. Houston will hang around, but Indy will find a way. Colts 27, Texans 24.
Jaguars vs. Ravens
Baltimore has a nice closing schedule that looks designed for them to make a playoff push. The Jaguars have one of the worst offenses (and defenses) in football and lost their best running back. This one doesn't smell competitive. Ravens 38, Jaguars 10.
Packers vs. Bills
Green Bay is playing great offensive football right now and Buffalo is treading water in a season that was a major improvement. It's tough to take Kyle Orton over Aaron Rodgers, but we're smelling upset. Bills 24, Packers 23.
Buccaneers vs. Panthers
Derek Anderson gets the start as Cam Newton injured his back in his car accident earlier this week. Anderson defeated the Bucs in Week 1, but a terrible Tampa Bay team will exact revenge. Bucs 20, Panthers 14.
Bengals vs. Browns
It's Johnny Football time! It's also time for the better team to win and that's the Cincinnati Bengals. Bengals 21, Browns 17.
Jets vs. Titans
Watch at your own risk because this has all the makings of the ugliest game of the year. The Jets still have some fight left in them and they'll find a way to not lose best. Jets 19, Titans 17.
Broncos vs. Chargers
The Chargers end of the season collapse began last week with their loss to New England and it will continue this Sunday against Denver. The Broncos are running the football very well and look like one of the most balanced teams in the NFL. Broncos 31, Chargers 24.
49ers vs. Seahawks
Just when you think the 49ers are dead they…..never mind. Seahawks 27, 49ers 10.
Vikings vs. Lions
This is a huge game for the Lions to show how grown up they've become. The Vikings have a great young core and they'll hang around for a while. Lions 24, Vikings 20.
Cowboys vs. Eagles
The Cowboys have had a great season and there's an excellent chance that they'll miss the playoffs if they lose to Philadelphia. This is a bad matchup for the Cowboys, as evidenced on Thanksgiving. Eagles 27, Cowboys 21.
Saints vs. Bears
Two 5-8 teams with completely different outlooks on life. There can't be any more distractions in Chicago as Marc Trestman is in real danger of losing his job. The Saints were just destroyed by the Panthers at home, but their zip code is in the NFC South where everyone gets a mulligan. Saints 24, Bears 16.
Last week: 9-7
Did Bucs put too much pressure on Aguayo?
After the Buccaneers surprised everyone by taking a kicker with the 59th overall pick in the draft, G.M. Jason Licht explained the move by heaping superlatives on the player. "I was very excited along with my staff and coaches about Roberto for a very long time," Licht told PFT Live in May 2016. "It's not [
more
]
Source: Mike Florio of ProFootballTalk
Powered by WPeMatico
Broncos holding their breath on Derek Wolfe
Only two days after losing Billy Winn for the year with a torn ACL, the Broncos are now sweating out another potentially serious injury along the defensive line. Via multiple reports, Broncos defensive lineman Derek Wolfe was carted off the field during practice on Saturday. It's being described as a right ankle injury by coach [
more
]
Source: Mike Florio of ProFootballTalk
Powered by WPeMatico
Buccaneers admit mistake, boot Aguayo
In the NFL, it's always better to admit a mistake than to compound it. For the Buccaneers, the decision to burn a 2016 second-round pick on kicker Robert Aguayo has proven to be a mistake. The Buccaneers made the definitive admission of their error on Saturday, cutting Aguayo. He exits with $428,000 in fully-guaranteed salary [
more
]
Source: Mike Florio of ProFootballTalk
Powered by WPeMatico