Week 14 NFL Quarterback Rankings
Find out where your favorite quarterback ranks through 13 weeks of the NFL season.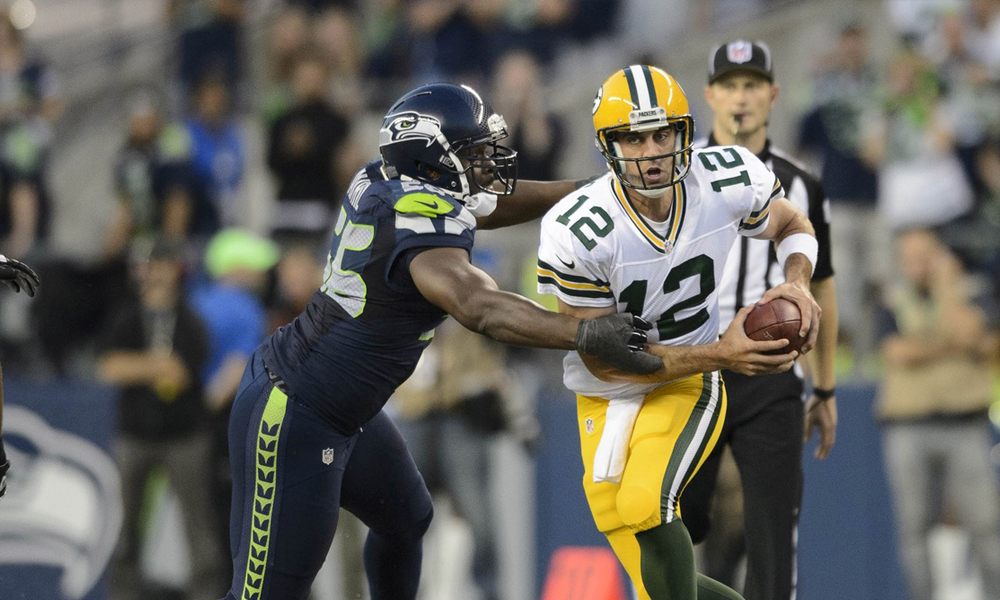 Every week, Football Insiders will rank the NFL's quarterbacks. We had quite a few shakeups in the Top 10.
Aaron Rodgers- No surprise here. Rodgers has been absolutely dominant this year, showing it again in the Packers' 26-21 win over Tom Brady and the Patriots' on Sunday in what could possibly be a preview of the Super Bowl. He threw for 368 yards with two touchdowns and no turnovers. His stats are nothing short of mind-blowing this year. Rodgers' now has 32 touchdowns and just three interceptions (two of them coming in one game). Sunday marked the eighth game this year in which Rodgers had a passer rating of above 109.7. He is now on pace for 43 touchdowns and four interceptions.
Peyton Manning- Though not at the top of his game, Manning led the Broncos to a 29-16 win against the Chiefs on Sunday. He had his lowest total passing yards in a game (179) since November of last year, though, because of the strong running game, he didn't really need to pass much. He now carries a 107.8 passer rating on the year and is on track to throw for 4,983 yards, 48 touchdowns, and 12 interceptions. The 38-year old is still somehow producing incredible numbers, further solidifying his title of the greatest regular season quarterback of all-time.
Tom Brady- Brady had another solid game on Sunday in the Patriots' loss to the Packers. Unfortunately, the Patriots' had the ball for only 23:25 minutes as compared to 36:35 of the Packers'. He still managed to throw for 245 yards, two touchdowns, and no turnovers. He is leading the Patriots' to yet another strong year.
Andrew Luck- Luck absolutely dominated the Redskins' secondary, throwing for 370 yards, a career-high five touchdowns, and one interception. In his third year in the NFL, he is showing tremendous improvement in almost every aspect of the game. He is on pace for 5,632 total yards, 48 total touchdowns, and 13 interceptions. Unfortunately for every other team in the league, Luck is 25 and only getting better.
Drew Brees- The Steelers' secondary was torched by Brees on Sunday. He threw for 257 yards and five touchdowns with no interceptions. His 140.0 passer rating was his highest of the season and that win kept the Saints' tied with the Falcons' for the NFC South lead. Both teams are just 5-7.
Tony Romo- Romo dropped a goose-egg on Thanksgiving Day Football against the Eagles. However, we can excuse him for that. Since Week 3, it was just his third game having below a 110.2 passer rating and his only game of the season having no touchdowns and two interceptions. It was an ugly performance, but he still has the third-highest passer rating in the NFL and has led Dallas to an 8-4 record.
Russell Wilson- He may not be the best passer in the game, but he knows his role and plays it to perfection. In the last two weeks, he has led the Seahawks to two 19-3 wins over what, at the time, was the 9-1 Cardinals and the 7-4 49ers. In those two games combined, he had 555 total yards, two touchdowns, and zero turnovers. He is now on pace for 905 rushing yards, more than starting running backs Lamar Miller, Andre Ellington, Steven Jackson and Rashad Jennings.
Philip Rivers- He had his first 100.0+ passer rating performance since Week 6 in the Chargers' crucial 34-33 win against the Ravens this past Sunday. He threw for a season-high 383 yards and tallied up three touchdowns. He is on pace for his most touchdown passes since 2008.
Ben Roethlisberger- In the three games since his two-game streak of throwing for 862 yards, 12 touchdowns, and zero interceptions; he has 985 passing yards, 4 touchdowns, and 5 interceptions. In those three games, the Steelers' have lost to the Jets' by a score of 20-13, beat the Titans' 27-24, and lost to the Saints' 35-32. Big Ben is going to have to do more if the Steelers want to make the playoffs.
Ryan Tannehill- Tannehill has improved tremendously in every offensive category from last year. A surprising improvement he made was in his running game. He has 276 rushing yards in eleven games this year while he had just 238 rushing yards in sixteen games last year. It makes him a tremendous duel-threat quarterback and could get him a huge paycheck.
Joe Flacco- Flacco has been on-point these last two games; throwing for 468 yards, four total touchdowns, and no interceptions. The 29-year old is on pace for career-highs in passing yards, touchdowns, QBR (total quarterback rating) and passer rating.
Matt Ryan- The Falcons' shockingly beat the Cardinals 29-18 on Sunday, a huge part being Ryan's passing game. He threw for 361 yards (his most since Week 1) and two touchdowns while completing 73 percent of his passes. However, he is still leading the Falcons' to just 24 points per game, which ranks 12th in the league. With the amount of weapons and talent he has on offense, that number should be higher.
Colt McCoy- McCoy took the starting job from RGIII this past week and took full advantage of it. In the three games McCoy has started this year, he has a 75.3 percent completion percentage, 819 passing yards, five touchdowns, one interception, and a passer rating of 113.5. The Redskins' are 2-1 in those games, including a road win over the Dallas Cowboys in overtime. The fifth-year veteran is looking as sharp as he ever has.
Alex Smith- The Chiefs have lost their last two games versus two very different opponents (Oakland and Denver), though Smith has played well in both of those games (94.5 passer rating). However, Smith has failed to surpass 255 yards in any game this year. In fact, he has thrown for over 200 yards in just 50 percent of the games this year. He has the second-least amount of interceptions this year among quarterbacks that have started every game.
Colin Kaepernick- For the second week in a row, the Seahawks defense completely shut down the opposing quarterback. Kaepernick threw for just 121 yards and had two interceptions. It was his worst game of the year and the 49ers scored just three points. He is on pace to throw for more yards than last year, but less touchdowns and more interceptions. We thought he would be bigger in the running game as well, but he has just 353 yards and hasn't run one in the endzone.
Eli Manning- After his five-interception game three weeks ago, Manning has bounced back beautifully. He is hitting his targets (71 percent completion percentage last two games) and is rarely making mistakes (four touchdowns and one interception). Even though he led the offense to 28 and 24 points respectively, the Giants have lost both games. In fact, they are on a seven-game losing streak. At age 33, Manning is on pace to have his best season since 2011.
Ryan Fitzpatrick- In his first start since the second of November, Fitzpatrick shined. He threw for a season-high 358 yards and a career-high six touchdown passes. His 147.5 passer rating and 99.6 total quarterback rating are near the top in their respective categories this season. He is now carrying a 96.4 quarterback rating on the year, the highest of his career.
Mark Sanchez- The former USC-star is playing better than most people thought he would when replacing the injured Nick Foles. He led a rampage of the Cowboys defense in what was the Eagles' most important game of the year thus far. His 217 yards and two touchdowns propelled the Eagles to a 33-10 win over Dallas, giving them the lead in the NFC East.
Jay Cutler- Turnovers have always been a problem for Cutler, but they've never come in bulk like they have this year. He has 22 turnovers in 12 games and has just two games without a turnover this year. Interestingly, the Bears have won every game (4) that Cutler has not thrown an interception.
Kyle Orton- Orton was nothing short of below-average on Sunday against the Browns, completing just 55 percent of his passes and throwing for 190 yards, one touchdown, and two interceptions. Somehow, the Bills found a way to win. He is still having a respectable year; his 92.0 passer rating is the highest of his career and the Bills are 5-3 in his starts.
Matthew Stafford- He finally showed a glimpse of the Matthew Stafford we expected to see this whole year. He threw for 390 yards and two touchdowns in a definitive 34-17 win against the Bears on Thanksgiving morning. That was just his first game of 350+ passing yards this year after doing it five times last year. He has just three games without a turnover in a disappointing sixth-season by the former first-overall pick.
Shaun Hill- Hill's four starts this year have gone like this: 34-6 loss to the Vikings (47.3 passer rating), 22-7 win against the Broncos (102.7 passer rating), 27-24 loss to the Chargers (54.2 passer rating), and a 52-0 win against the Raiders (116.3 passer rating). He is very inconsistent, too much so to be a productive starter. Though, it'll make do for the 5-7 Rams.
Andy Dalton- With one touchdown and three interceptions in his last game, Dalton now has an equal amount of touchdowns and interceptions on the year (13). It's his worst year since his rookie year. He will always be just a "so-so" starting quarterback.
Cam Newton- Once again, Newton had another disappointing week. The Panthers' are now on a six-game losing streak, and a major part of that is Newton's underachieving season. There's not much else you can say, he just hasn't performed like a number one pick. He's bordering on a bad starting quarterback or a decent back-up. If he doesn't start playing like we all know he can, his days as a starter may be coming to an end.
Teddy Bridgewater- Bridgewater has actually been playing pretty well the last five weeks. He has seven touchdowns and just two interceptions while leading the Vikings to a 3-2 record. You can just see all the potential waiting to get out.
Drew Stanton- The Cardinals' are now 5-0 with Carson Palmer and 4-3 with Stanton. Needless to say, he could be doing much more. He completes just 55.3 percent of his passes and has six touchdowns and five interceptions on the year.
Brian Hoyer- Hoyer was having a solid season, but in the last two games, he has five interceptions and zero touchdowns. He is on pace for 4,075 yards, but just fifteen touchdowns.
Josh McCown- The Buccaneers are 1-6 in McCown's starts this year. He is playing terribly and at age 35, his career could be coming to an end, as it should.
Zach Mettenberger- He was playing decently in the past three games, averaging a 97.8 passer rating, however, he was replaced by Jake Locker after injuring his right shoulder. He is winless in six starts.
Geno Smith- Geno Smith struggled, to say the least, again on Monday Night Football in a 16-13 loss against the Dolphins. Smith threw for 65 yards and one interception. He now has seven touchdowns and ten interceptions on the season. It really can't get much worse for the Jets who have had Geno Smith and Michael Vick as their quarterbacks this year.
Derek Carr- 194, 192, 172, 174, 172. Those numbers are his passing yards the last five weeks. He was replaced by Matt Schaub after throwing two interceptions in the Raiders' embarrassing 52-0 loss against the sub-par Rams this past Sunday.
Blake Bortles- Congratulations Mr. Bortles! He had the best game of his career and led the Jags to a 25-24 win against the Giants' on Sunday! Though, it's unfortunate we can call a 194-yard, one touchdown performance his best-game ever. It was also his first-career game without a turnover.
Broncos holding their breath on Derek Wolfe
Only two days after losing Billy Winn for the year with a torn ACL, the Broncos are now sweating out another potentially serious injury along the defensive line. Via multiple reports, Broncos defensive lineman Derek Wolfe was carted off the field during practice on Saturday. It's being described as a right ankle injury by coach [
more
]
Source: Mike Florio of ProFootballTalk
Powered by WPeMatico
Buccaneers admit mistake, boot Aguayo
In the NFL, it's always better to admit a mistake than to compound it. For the Buccaneers, the decision to burn a 2016 second-round pick on kicker Robert Aguayo has proven to be a mistake. The Buccaneers made the definitive admission of their error on Saturday, cutting Aguayo. He exits with $428,000 in fully-guaranteed salary [
more
]
Source: Mike Florio of ProFootballTalk
Powered by WPeMatico
Did Bucs put too much pressure on Aguayo?
After the Buccaneers surprised everyone by taking a kicker with the 59th overall pick in the draft, G.M. Jason Licht explained the move by heaping superlatives on the player. "I was very excited along with my staff and coaches about Roberto for a very long time," Licht told PFT Live in May 2016. "It's not [
more
]
Source: Mike Florio of ProFootballTalk
Powered by WPeMatico