Week 14 NFL Picks
We see three upsets during this weekend's games and we also pick the thriller between Seattle and Philadelphia.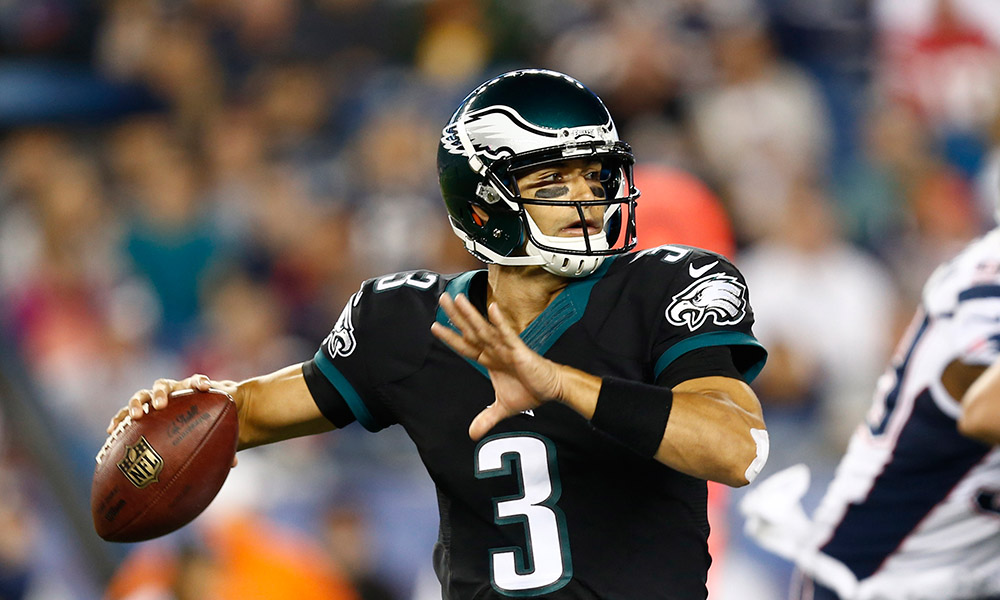 Although we called the Jaguars' upset over the Giants, last week wasn't up to our standards of excellence as we only finished 10-6. We hope to make amends for this weekend's NFL games.
Steelers vs. Bengals
This looks like a must-win game for the Steelers, but they will be without Brett Keisel, Marcus Gilbert and probably James Harrison. Although Pittsburgh has the better quarterback, Cincinnati seems to have the better "everything else" and they should win. Bengals 24, Steelers 20.
Rams vs. Redskins
The Rams have been playing solid football and the Redskins….haven't. St. Louis has found a running back in Tre Mason and Shaun Hill is playing fairly efficient. Since everything points to the Rams, we'll go the other way. Redskins 20, Rams 17.
Giants vs. Titans
The Giants beat themselves last week against the Jaguars and the Titans can only beat themselves. Tom Coughlin's team won't let down again. Giants 27, Titans 17.
Panthers vs. Saints
There's not a team in the NFL that can't beat the Panthers right now. New Orleans is coming off a road win in Pittsburgh that will renew their confidence and carry them through this one. Saints 38, Panthers 13.
Jets vs. Vikings
The Jets are just playing out the string and the Vikings have an exciting young roster. This would seem like two teams heading in opposite directions, but Rex Ryan's guys haven't given up on him yet. Jets 20, Vikings 19.
Ravens vs. Dolphins
Miami can all but bury the Ravens with a victory, as a win would give them a one-game lead as well as the tie-break advantage. Can you really trust Joe Philbin and Ryan Tannehill in a big spot? Not until they prove they can be trusted. Ravens 24, Dolphins 23.
Colts vs. Browns
The Browns now have a lack of talent and a major distraction with a quarterback controversy. The Colts do a great job of beating all the teams that they should beat. This will be Brian Hoyer's last game as their starting quarterback. Colts 35, Browns 20.
Buccaneers vs. Lions
The Lions don't appear to be as good as their record, and neither are the Bucs. Tampa seems to play better football on the road but this seems like a tall task for them. Lions 24, Bucs 19.
Texans vs. Jaguars
The Jaguars may have found the confidence that their young team needed in their record come from behind victory last week. With that said, Houston is simply a better team with an NFL roster and they'll find a way to win, even if it's ultimately to their detriment. Texans 28, Jaguars 13.
Bills vs. Broncos
A Kyle Orton vs. Peyton Manning shootout. I think we all know how this is going to play out. Broncos 31, Bills 13.
Chiefs vs. Cardinals
This is a matchup between two teams that nobody really believes in. I'll take Andy Reid's magic over Bruce Arians' smoke and mirrors with a little bit of Alex Smith mixed in. Chiefs 20, Cards 14.
Seahawks vs. Eagles
The Seahawks' defense is back to their Super Bowl form over the past two weeks. The only problem is that they've played very limited offenses and now they're taking on one of the most explosive offenses in football. The Eagles will expose the Seahawks' lack of depth on their defensive line. Eagles 27, Seahawks 20.
49ers vs. Raiders
Jim Harbaugh gets to test drive his future stomping grounds in Oakland and he will impress the home crowd. 49ers 20, Raiders 14.
Patriots vs. Chargers
A lot of things point in San Diego's favor in this matchup, but how often does New England lose two games in a row? Never in December. Patriots 34, Chargers 24.
Falcons vs. Packers
This screams mismatch on paper and on the Lambeau Field grass. Aaron Rodgers will do whatever he wants against a terrible Falcons defense. Packers 52, Falcons 6.
Last week: 10-6
Did Bucs put too much pressure on Aguayo?
After the Buccaneers surprised everyone by taking a kicker with the 59th overall pick in the draft, G.M. Jason Licht explained the move by heaping superlatives on the player. "I was very excited along with my staff and coaches about Roberto for a very long time," Licht told PFT Live in May 2016. "It's not [
more
]
Source: Mike Florio of ProFootballTalk
Powered by WPeMatico
Broncos holding their breath on Derek Wolfe
Only two days after losing Billy Winn for the year with a torn ACL, the Broncos are now sweating out another potentially serious injury along the defensive line. Via multiple reports, Broncos defensive lineman Derek Wolfe was carted off the field during practice on Saturday. It's being described as a right ankle injury by coach [
more
]
Source: Mike Florio of ProFootballTalk
Powered by WPeMatico
Buccaneers admit mistake, boot Aguayo
In the NFL, it's always better to admit a mistake than to compound it. For the Buccaneers, the decision to burn a 2016 second-round pick on kicker Robert Aguayo has proven to be a mistake. The Buccaneers made the definitive admission of their error on Saturday, cutting Aguayo. He exits with $428,000 in fully-guaranteed salary [
more
]
Source: Mike Florio of ProFootballTalk
Powered by WPeMatico