Week 13: Fantasy Football Focus
The best pickups you can make to improve your fantasy football team!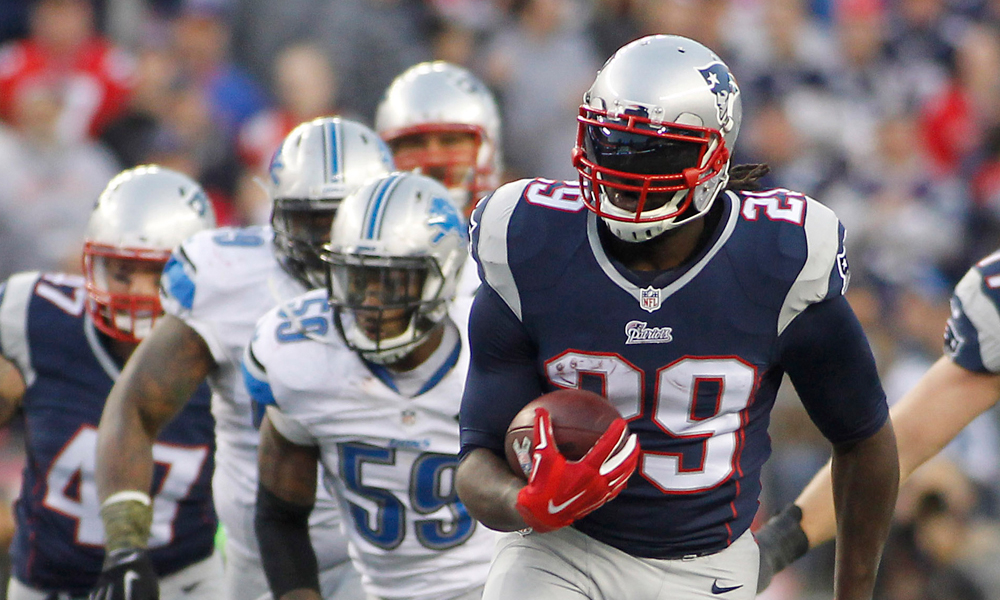 With the fantasy playoffs just a week away, these players will provide much-needed depth, and perhaps even starter material.
Waiver-Wire Adds (% owned from ESPN as of 11/25/14)
LeGarrette Blount (NE – RB – 20.3 percent owned)
Blount, signed by the Patriots less than a week ago, made a huge impact in his first game back with New England. He ran the ball twelve times for 78 yards and two touchdowns against the Lions, who have the best run defense in the NFL. Next up the Patriots play the Green Bay Packers, the 30th best run defense in the NFL. He was hitting the holes hard and ran with tremendous drive. With the Patriots' not having a clear number-one running back, Blount will get plenty of touches this upcoming week.
Jarvis Landry (Mia – WR – 11.3 percent owned)
I wrote about Landry last week as well. This rookie is fitting in perfectly with third-year quarterback Ryan Tannehill. Landry has gotten the most targets in the past four games (32) than any other Dolphins receiver. In those games, he has averaged 10 fantasy points. Also, Landry's consistency is what makes him such a threat. He has at least three receptions in every single game he has played in this year. With Tannehill booming this offense to the tenth best in the NFL, expect them to ride this streak out. Get Landry while he's hot.
Charles Johnson (Min – WR – 0.3 percent owned)
Johnson, the second-year player out of Grand Valley State, has been heavily involved in the passing game the last two games. He has steadily seen his percentage of snaps played rise week after week, eventually getting to 97 percent last week. The 6-foot-2, 215 pound wide receiver has a huge frame and the speed to get by the secondary. In the past two weeks, he has a combined 18 targets, 9 receptions, 139 yards, and one touchdown. He has received ten more throws than any other receiver on the Vikings. With Bridgewater getting more comfortable with Johnson, expect him to get plenty more balls his way. He is a solid WR3/Flex for this upcoming week.
Daniel Herron (Ind – RB – 15.2 percent owned)
Daniel, also known as "Boom" Herron, will receive plenty of touches with Ahmad Bradshaw going down with a season-ending injury and Trent Richardson struggling mightily. He runs the ball with such quickness and toughness that is unmatched by most running backs in the NFL. He has potential through the roof, though, the poor offensive line of the Indianapolis Colts' could prevent that. Nonetheless, he is a great pick up. He had twelve touches and averaged a solid 5.4 yards per carry on his way to 65 rushing yards. In addition to his running ability, he is a great receiving running back. He had five receptions for 31 yards in the same game. Expect his touches to rise every game as the Colts' management will realize how much he can help the team.
Notes
Aaron Rodgers and Tom Brady will face-off Sunday in what should be a shootout. Expect both to drop huge games in what could be a Super Bowl preview.
Justin Forsett has been a top fantasy running back this year. He is averaging 14.1 points per game and has gotten below 9.5 points only twice this year. He will look to build-off his 182-yard, two-touchdown performance against the San Diego Chargers defense on Sunday.
Demaryius Thomas has not scored under ten fantasy points in the last eight weeks. In fact, in those eight weeks, he has gotten 26+ fantasy points three separate times. He is the best wide receiver in the NFL this year and will look to continue that against the Chiefs.
If you listened to my advice and bought-low on Eddie Lacy during his slow start, or even if you had the smarts to do it on your own, congratulations, it has more than paid off. He has had 17+ fantasy points for four straight weeks. He has a favorable matchup against the Patriots run-defense.
C.J. Anderson has excelled since becoming the starting running back for the Broncos offense. In his three starts, he is averaging 20 fantasy points.
Isaiah Crowell has done an excellent job in the starting role for the Browns. He has only gotten about thirteen carries a game since taking the starting job three weeks ago, but has managed to average 13 fantasy points. Expect that number to rise in the upcoming weeks.
Buccaneers admit mistake, boot Aguayo
In the NFL, it's always better to admit a mistake than to compound it. For the Buccaneers, the decision to burn a 2016 second-round pick on kicker Robert Aguayo has proven to be a mistake. The Buccaneers made the definitive admission of their error on Saturday, cutting Aguayo. He exits with $428,000 in fully-guaranteed salary [
more
]
Source: Mike Florio of ProFootballTalk
Powered by WPeMatico
Did Bucs put too much pressure on Aguayo?
After the Buccaneers surprised everyone by taking a kicker with the 59th overall pick in the draft, G.M. Jason Licht explained the move by heaping superlatives on the player. "I was very excited along with my staff and coaches about Roberto for a very long time," Licht told PFT Live in May 2016. "It's not [
more
]
Source: Mike Florio of ProFootballTalk
Powered by WPeMatico
Broncos holding their breath on Derek Wolfe
Only two days after losing Billy Winn for the year with a torn ACL, the Broncos are now sweating out another potentially serious injury along the defensive line. Via multiple reports, Broncos defensive lineman Derek Wolfe was carted off the field during practice on Saturday. It's being described as a right ankle injury by coach [
more
]
Source: Mike Florio of ProFootballTalk
Powered by WPeMatico