Week 12 NFL Quarterback Rankings
Find out where your favorite quarterback ranks through 11 weeks of the NFL season.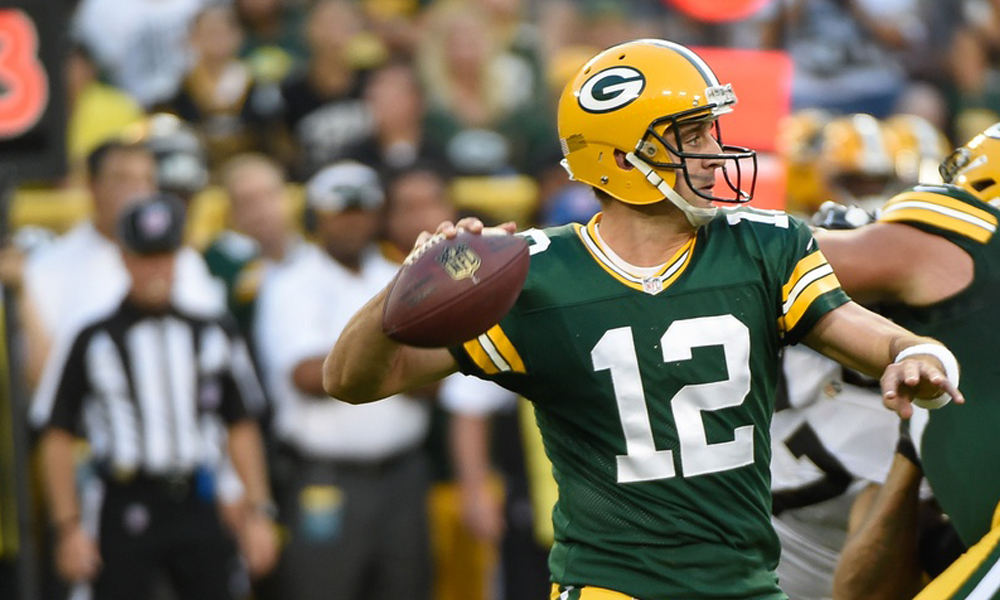 Every week, Football Insiders will rank the NFL's quarterbacks. We had quite a few shakeups in the Top 10.
Aaron Rodgers– Rodgers was brilliant once again in the Packers' 53-20 rout of the Eagles on Sunday. In their previous game, the Packers' scored 55 points against the Bears, making it only the fifth time in NFL history that a team scored more than 50 points in two straight games. Rodgers now has 28 touchdowns and only three interceptions this season. He is absolutely dominating the opposing team's secondary week in and week out. Since Week 4, the Packers are averaging a league-leading 39.5 points per game. Rodgers also broke Tom Brady's record for most consecutive passes at home without an interception (322). Rodgers has now had seven games of three touchdowns and no interceptions, trailing only Brady who did it eight times in 2007. Enjoy this amazing streak while it lasts.
Tom Brady- Though he didn't have his best game of the season against the Colts on Sunday Night Football, he still did enough to help produce 42 points. The Patriots are in the midst of a six game winning-streak, in which he has twenty touchdowns and just three interceptions. When asked what it's like playing with Brady after stomping the Colts, tight end Rob Gronkowski said it's extraordinarily fun and that "[Brady] is playing unbelievable right now." He will look to lead the 8-2 Patriots to a victory over the NFC North leading Detroit Lions next Sunday.
Peyton Manning- "I have to play better and got to score more points than seven," said Manning after their embarrassing 22-7 loss against the 4-6 Rams' on Sunday. Though he threw for 389 yards and a touchdown, he had two costly interceptions and his worst passer rating of the season (75.3). He lost his second-favorite target in Emmanuel Sanders to a concussion during the game. Manning, however, is still on pace for a tremendous 5,282-yard, 48-touchdown, and 14-interception season.
Andrew Luck- There is only so much a quarterback can do with a running game that gets you four yards on fourteen carries in a primetime game. Luck was handcuffed by a horrid performance by the offensive line/running backs in their lopsided 42-20 loss against the Patriots on Sunday night. Luck threw for 303 yards, extending his 300+ yard streak to eight games. He also led the team in rushing with fifteen yards. With a non-existent running game, Andrew Luck will never be able to live up to his full potential. Ahmad Bradshaw going down with a broken foot doesn't help. Luck is on pace for 5,421 yards, 26 fewer than Peyton Manning's record set in 2013.
Drew Brees- He continues to post top-tier numbers, but can't seem to get the important wins. The Saints' 4-6 record is definitely not a testament to how Brees' season is going, as he is on pace for a 4,900-yard, 30-touchdown season.
Tony Romo- Who would have thought Romo would be having his best career season at age 34? His 107.2 passer rating is the highest of his career and the Cowboys' are tied for the NFC East lead with the Eagles. Coming out of their bye week, Romo will look the lead the Cowboys' to an important win against the Giants on Sunday.
Ben Roethlisberger- Watching Big Ben every week is a privilege. The fact that he is still able to move and avoid sacks the way he does at age 32 is simply amazing. He is having the best season of his 11-year career and has led the Steelers to a 7-4 record, barely behind the 6-3-1 Cincinnati Bengals for the division lead.
Philip Rivers- He has always been a streaky quarterback, and this year is no different. In Weeks 1-6, he threw for 1,756 yards, fifteen touchdowns, two interceptions, and had a passer rating of 118.4. In the last four games, he has 788 yards, six touchdowns, five interceptions, and a passer rating of 74.2.
Russell Wilson- The Seahawks didn't lose because of him on Sunday. He totaled 249 yards and threw for two touchdowns without a turnover. Wilson is on pace for a ridiculous 912 rushing yards this season.
Alex Smith- He knows his role in the offense, he plays within himself and doesn't try to do too much. Smith has just four interceptions this year and has led the Chiefs to a division-leading tie with the Broncos.
Colin Kaepernick- There is still cause for concern after the 49ers offense scored just sixteen points against the Giants even though they had the ball for ten more minutes than their counterparts. Despite a two-game winning streak, San Francisco is still one game out of the wild-card.
Matt Ryan- After choking away a thirteen-point lead late in the fourth quarter against the Panthers, Ryan drove the Falcons 54 yards down the field and set up Matt Bryant for the game-winning field goal. It's unfortunate for Ryan that Atlanta has one of the NFL's worst defenses.
Ryan Tannehill- He threw for 240 yards and two touchdowns en route to the Dolphins' 22-9 win against the top-notch defense of the Buffalo Bills. His passer rating has increased every year he has been in the league.
Jay Cutler- Cutler had one of his better games of the year against the Vikings on Sunday. He is still causing everyone in Chicago a big headache with his turnovers every week.
Drew Stanton- In his first start filling in for the injured Carson Palmer, he led the 9-1 Cardinals to an impressive win over the 7-3 Lions. He ran the offense as smoothly as you can and threw for over 300 yards and two touchdowns. He is going to have to put up a couple more of those games if he wants people to start believing the Cardinals' are contenders after the Palmer injury.
Cam Newton- With all the attributes he has, he should be much higher on this list. Whether it's the lingering injuries or the mediocre supporting staff, Newton has disappointed everyone this year.
Matthew Stafford- Just like Newton, Stafford is having a huge letdown of a year. He is on pace to finish with his lowest total passing yards since 2010. If it wasn't for the Lions' league-best defense and 7-3 record, Stafford would be getting more criticism than he has.
Joe Flacco- One of the most up and down regular-season quarterbacks in the NFL. Lucky for the Ravens, he knows how to win in the playoffs.
Mark Sanchez- He is playing like he did back at USC. He threw for 346 yards and two touchdowns against the Packers. Sanchez is filling in nicely for Nick Foles, though, will have to play at the top of his game against the Cowboys this upcoming weekend.
Brian Hoyer- If you looked at his last box score, you would think he had a pretty decent game. He threw for 330 yards and a touchdown, but when you look closely, you realize he completed just 20 out of 50 passes. He'll always be just a so-so starting quarterback.
Kyle Orton- Orton is carrying respectable stats in his six starts this year, but the Bills are only 3-3. We'll see what he can do with Buffalo just one game out of the wild card.
Robert Griffin III- He has played well this year, getting a passer rating of over 90.0 three out of the four games he has played in. Hopefully he can get healthy so we can all watch his amazing talent.
Eli Manning- It was too bad, Eli was having a great comeback year. Then he had to come out against the 49ers and throw five interceptions. It was one of the worst quarterback performances in years. Could this guy really be a Hall of Famer?
Ryan Mallett- In his first start of the season, Mallett threw for 211 yards, two touchdowns, one interception, and had a passer rating of 95.3. He led the Texans' to a surprising 23-7 win over the Browns' without Arian Foster in the lineup. Being only one game outside of the wild card, this could be one of the more interesting stories in the closing games of the NFL season.
Andy Dalton- He dominated the Saints secondary, throwing for three touchdowns and 220 yards on just 22 passing attempts. However, he is still the same quarterback that threw for 86 yards and three interceptions the week before.
Josh McCown- He looked like the vintage 2013 Josh McCown last game. Too bad that was the first time this season.
Shaun Hill- He beat Peyton Manning and the Denver Broncos by fifteen points this past weekend, giving the Rams' their fourth win of the season. It was the highlight of his career.
Michael Vick- In his last two starts, he has a 110.9 passer rating. It's going to be tough to keep that up against the Bills defense this weekend.
Teddy Bridgewater- He isn't much more than a college quarterback not yet ready for the NFL spotlight. He has six interceptions and four touchdowns on the season. He has the third-worst passer rating among all qualified quarterbacks.
Derek Carr- Being just 23-years old, Carr has been put in an impossible situation with the terrible Oakland Raiders. They are now 0-10 and have five of their last six games against teams above .500.
Blake Bortles- Another example of a college quarterback thrusted into a NFL starting position too quickly. Bortles has the second-worst passer rating among qualified quarterbacks and is on pace to finish with fourteen touchdowns and twenty-five interceptions.
Zach Mettenberger- The 178th pick out of LSU is now the starting quarterback for the Tennessee Titans. There isn't much upside with him.
Buccaneers admit mistake, boot Aguayo
In the NFL, it's always better to admit a mistake than to compound it. For the Buccaneers, the decision to burn a 2016 second-round pick on kicker Robert Aguayo has proven to be a mistake. The Buccaneers made the definitive admission of their error on Saturday, cutting Aguayo. He exits with $428,000 in fully-guaranteed salary [
more
]
Source: Mike Florio of ProFootballTalk
Powered by WPeMatico
Did Bucs put too much pressure on Aguayo?
After the Buccaneers surprised everyone by taking a kicker with the 59th overall pick in the draft, G.M. Jason Licht explained the move by heaping superlatives on the player. "I was very excited along with my staff and coaches about Roberto for a very long time," Licht told PFT Live in May 2016. "It's not [
more
]
Source: Mike Florio of ProFootballTalk
Powered by WPeMatico
Broncos holding their breath on Derek Wolfe
Only two days after losing Billy Winn for the year with a torn ACL, the Broncos are now sweating out another potentially serious injury along the defensive line. Via multiple reports, Broncos defensive lineman Derek Wolfe was carted off the field during practice on Saturday. It's being described as a right ankle injury by coach [
more
]
Source: Mike Florio of ProFootballTalk
Powered by WPeMatico