Week 11 NFL Picks
We look into our crystal ball and give you the result of all the NFL games over the weekend.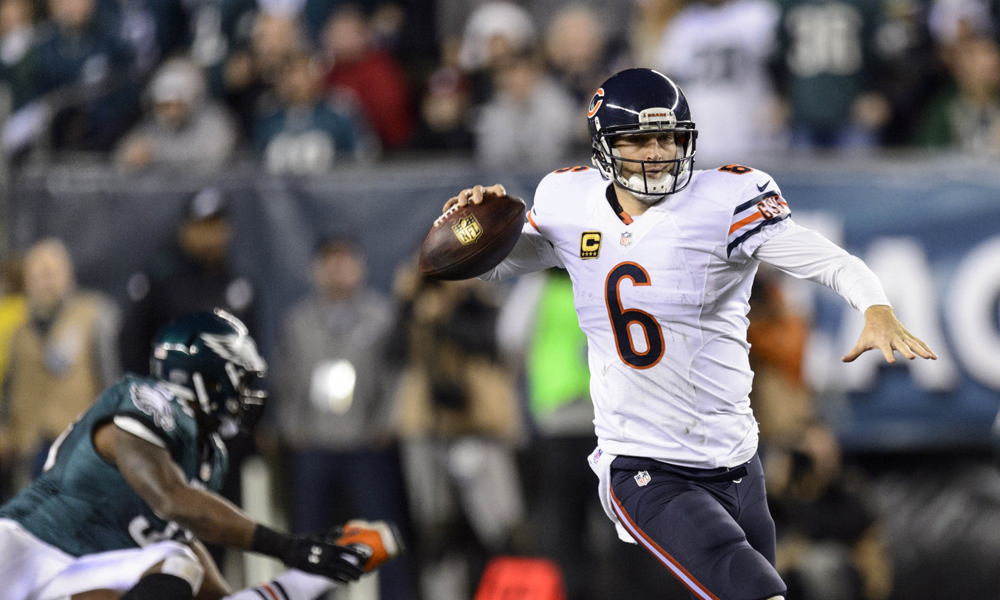 Last week we were a red-hot 11-1 and we hope to keep the Nostradamus-like vibe going.
Vikings vs. Bears
The Bears seem to be headed into the toilet and the Vikings are a surprising 4-5 with some exciting young players. In true NFL, week-to-week form and fashion we like the Bears to bounce back. Bears 27, Vikings 26.
Texans vs. Browns
The first-place Cleveland Browns (take that in for a moment) try to stay in first with a game against the Houston Texans with Ryan Mallett making his first professional start. This is the spot where the Cleveland Browns have historically let their fans down. Why is Sunday any different? Texans head coach Bill O'Brien will scheme things up well for his new quarterback. Texans 20, Browns 17.
Seahawks vs. Chiefs
A Kansas City victory over the defending Super Bowl champs feels like an upset but it really isn't. The Chiefs have the potential Defensive Player of the Year in Justin Houston and they are doing just enough to win games. That trend continues. Chiefs 20, Seahawks 19.
Falcons vs. Panthers
As bad as the Falcons have been, they have a perfect record inside the NFC South (and winless outside of it). The Panthers looked horrible on Monday and Cam Newton looks like he's hurt. Although the Falcons have a non-existent pass rush, their offense should make enough plays to pull off their second straight road win. Falcons 31, Panthers 21.
Bengals vs. Saints
The Saints rarely lose at home. They won't lose two games in a row at home in consecutive weeks. This one screams blowout. Saints 38, Bengals 20.
Buccaneers vs. Redskins
Right now it feels like the Buccaneers could find a way to lose to anyone, Oakland Raiders included. Washington's defense has faltered of late, but they scored 26 points in RG3's first start since his dislocated ankle. Look for the 'Skins to win an ugly game. Redskins 24, Bucs 16.
Broncos vs. Rams
Very good team against a pretty bad team whose new, old quarterback hasn't started since Week 1. No surprises here. Broncos 45, Rams 17.
49ers vs. Giants
The Giants have struggled against the blitz this season and the 49ers will blitz them all day long. San Francisco has a new lease on life with their win at New Orleans last week and they will play a very good game. 49ers 27, Giants 17.
Raiders vs. Chargers
The Oakland Raiders normally play the Chargers really tough and this would be an obvious let-down situation, providing San Diego hadn't already lost three in a row and had an extra week to prepare. Chargers 20, Raiders 17.
Eagles vs. Packers
Mark Sanchez looked fantastic on Monday night football, but things will get tougher as he has to keep up with the greatest quarterback in the game, on the road in some weather. The Eagles have the better roster, but there's only one Aaron Rodgers. Packers 31, Eagles 24.
Lions vs. Cardinals
It's now Drew Stanton's job in Arizona and although the Cards have won nine of their last 10 home games, Detroit is a better football team. The Lions will do just enough to get a tough road victory and take over as the top-seed in the NFC. Lions 24, Cardinals 17.
Patriots vs. Colts
Andrew Luck is a phenomenal quarterback. Tom Brady is an all-time great. Both teams have been playing well and this could be the best game of the week. It won't be the best game of the week because the Patriots are simply a better team with a better head coach who will confuse Luck like he has his entire career. Patriots 38, Colts 24.
Steelers vs. Titans
The Steelers are the poster team for today's NFL. World-beaters one week, lose to a one-win Jets' team the next. The Titans will hang around for a while but their rookie quarterback can't lead them to a win in this spot. Steelers 24, Titans 16.
Last week: 11-1
Buccaneers admit mistake, boot Aguayo
In the NFL, it's always better to admit a mistake than to compound it. For the Buccaneers, the decision to burn a 2016 second-round pick on kicker Robert Aguayo has proven to be a mistake. The Buccaneers made the definitive admission of their error on Saturday, cutting Aguayo. He exits with $428,000 in fully-guaranteed salary [
more
]
Source: Mike Florio of ProFootballTalk
Powered by WPeMatico
Did Bucs put too much pressure on Aguayo?
After the Buccaneers surprised everyone by taking a kicker with the 59th overall pick in the draft, G.M. Jason Licht explained the move by heaping superlatives on the player. "I was very excited along with my staff and coaches about Roberto for a very long time," Licht told PFT Live in May 2016. "It's not [
more
]
Source: Mike Florio of ProFootballTalk
Powered by WPeMatico
Broncos holding their breath on Derek Wolfe
Only two days after losing Billy Winn for the year with a torn ACL, the Broncos are now sweating out another potentially serious injury along the defensive line. Via multiple reports, Broncos defensive lineman Derek Wolfe was carted off the field during practice on Saturday. It's being described as a right ankle injury by coach [
more
]
Source: Mike Florio of ProFootballTalk
Powered by WPeMatico