Week 10 NFL Quarterback Rankings
A look at how the quarterbacks line up through Week 9.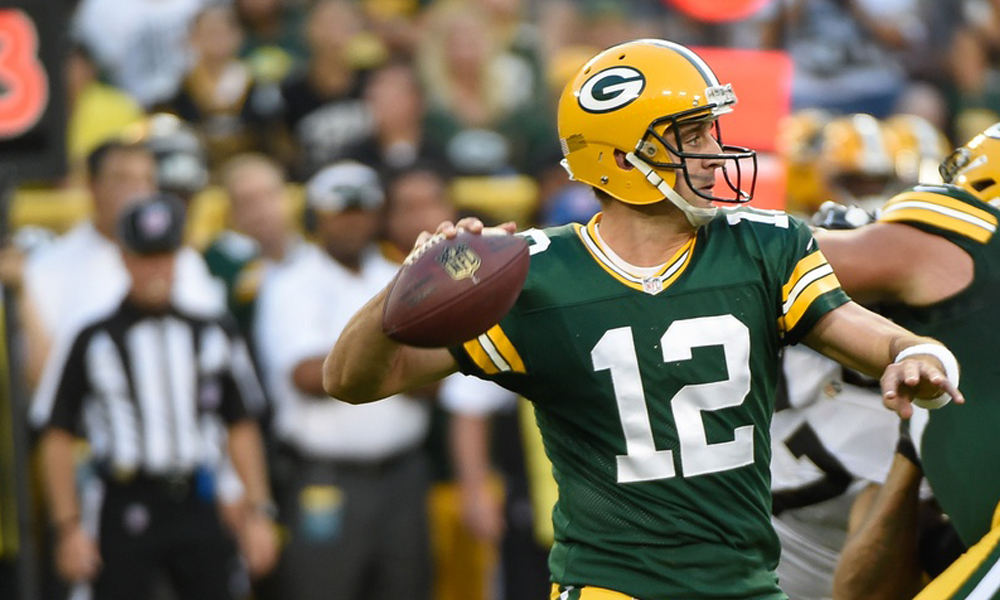 Every week, Football Insiders will rank the NFL's quarterbacks. We had quite a few shakeups in the Top 10.
1. Aaron Rodgers- Although he threw two interceptions in his last game, he still had 418 yards and two total touchdowns. His 113.6 quarterback rating leads the league and he is doing his best to carry the Packers to another NFC North division title. He is atop the chart for the third straight week.
2. Peyton Manning- Is Manning finally playing like his old self? Nope, he isn't. He is playing significantly better. His 112.0 rating is his third highest in his 16-year tenure.
3. Ben Roethlisberger- Big Ben has more touchdowns (12) in the past two weeks than 11 teams have in the whole season. Needless to say, he is on an unmatchable steak. In the last three games (the only contests rookie receiver Martavis Bryant has played in), Ben has thrown for 1,127 yards, 14 touchdowns and zero interceptions. Coincidence?
4. Tom Brady- In the last five weeks, the Patriots have gone 5-0 while Brady has thrown for 18 touchdowns and one interception. He is making mediocre receivers look brilliant.
5. Andrew Luck- Although still prone to making mistakes, the 25-year-old leads the NFL-best offense and has put Indianapolis in a position to win the AFC South. Luck is on pace for 5,484 yards and 46 touchdowns. He will easily be a top quarterback for years to come.
6. Drew Brees- He continues to look like the Drew Brees of old. He is on pace for another great season, and somehow is leading the NFC South with a 4-4 record.
7. Tony Romo- If he didn't miss the last game due to a back injury, he would be ranked higher. He has been playing brilliantly this year while maintaining his highest quarterback rating (103.6). We'll see if he can propel the Cowboys past the Eagles in the NFC East.
8. Carson Palmer- He has been jumping in the rankings ever since he returned from his injury. He shredded the Cowboys' defense this past week. Palmer has thrown at least two touchdowns in all of his five games this year, all in which the Cardinals won.
9. Philip Rivers- After his tremendous start, Rivers has gone into a downward spiral. In his past three games, he has five touchdowns and six interceptions. The Chargers are 0-3 in those games. If it wasn't for his amazing start, he wouldn't be in the top 10.
10. Russell Wilson- Simply put, he doesn't make many mistakes. He knows his value and he knows what he has to do in order to keep the Seahawks a Super Bowl threat. That being said, he has only thrown for over 205 yards twice this year.
11. Alex Smith- Just like Wilson, Smith rarely throws the ball away. He is a steady quarterback with no surprises.
12. Eli Manning- He couldn't do much better than he did this previous weekend in the Giants' loss to the Cowboys. He is doing significantly better in throwing less interceptions, however, their offense is too inconsistent to be a threat.
13. Kyle Orton- Yes, Kyle Orton. The Bills are 3-1 with him starting on the year and he is carrying a 104.0 quarterback rating. He took no mercy on the horrid Jets team, throwing for 240 yards and four touchdowns on just 17 passing attempts.
14. Ryan Tannehill- Leading a 37-0 rampage against the Chargers, Tannehill is starting to become the quarterback scouts thought he could be when entering the league.
15. Jay Cutler- He is having a respectable year. Too bad the Bears give up the 29th most points per game.
16. Colin Kaepernick- The 49ers could not move the ball against the Rams on Sunday, which led to a 10-13 loss. His dual threat still makes him a very dangerous quarterback.
17. Matt Ryan- Don't let the Falcons' record trick you, Ryan is still having a very good year. His 93.1 rating is tarnished by the terrible defense.
18. Matthew Stafford- He is only this high because we all know what he can do. His arm is just as good as anyone in the league, but he hasn't shown it this year. Could it be because of the injury to Calvin Johnson?
19. Cam Newton- Just as stated above, he is too good to be any lower. He has so much raw talent, but hasn't been able to put it into play yet. In his defense, he does have a very young and inexperienced receiving core.
20. Brian Hoyer- The former Spartan is showing he can be a starting quarterback in this league. The Browns are 5-3 and Hoyer is playing within himself. When Josh Gordon comes back, expect an increase in his production.
21. Andy Dalton- Every year I expect him to take a big leap, and he always disappoints me. The talent around him is the only thing keeping him afloat.
22. Joe Flacco- Joe Flacco is, and will always be, just an 'average' player with his ups and downs.
23. Nick Foles- Sadly, his season is in doubt after a collarbone injury.
24. Austin Davis- The Rams somehow beat the 49ers even though Davis threw for only 105 yards, one touchdown and two interceptions.
25. Ryan Fitzpatrick- He's not going to lead the Texans to anything, but his beard is definitely something to be proud of.
26. Teddy Bridgewater- His potential is the only thing keeping him from being a bottom-three quarterback right now.
27. Colt McCoy- He has led the Redskins to two close wins, but RGIII will take over the starting job once again.
28. Mike Glennon- He's only 24 years old. That's about the only positive thing we can say.
29. Michael Vick- Hopefully he can show some Vick of old, but it's highly unlikely. The question is, can the Jets get over three wins?
30. Zach Mettenberger- Was thrown into the starting job due to injuries, unfortunately for Titans fans.
31. Derek Carr- Leading the league in the fewest number of wins as a starting quarterback!
32. Blake Bortles- On pace for 30 interceptions and 18 touchdowns.
Buccaneers admit mistake, boot Aguayo
In the NFL, it's always better to admit a mistake than to compound it. For the Buccaneers, the decision to burn a 2016 second-round pick on kicker Robert Aguayo has proven to be a mistake. The Buccaneers made the definitive admission of their error on Saturday, cutting Aguayo. He exits with $428,000 in fully-guaranteed salary [
more
]
Source: Mike Florio of ProFootballTalk
Powered by WPeMatico
Did Bucs put too much pressure on Aguayo?
After the Buccaneers surprised everyone by taking a kicker with the 59th overall pick in the draft, G.M. Jason Licht explained the move by heaping superlatives on the player. "I was very excited along with my staff and coaches about Roberto for a very long time," Licht told PFT Live in May 2016. "It's not [
more
]
Source: Mike Florio of ProFootballTalk
Powered by WPeMatico
Broncos holding their breath on Derek Wolfe
Only two days after losing Billy Winn for the year with a torn ACL, the Broncos are now sweating out another potentially serious injury along the defensive line. Via multiple reports, Broncos defensive lineman Derek Wolfe was carted off the field during practice on Saturday. It's being described as a right ankle injury by coach [
more
]
Source: Mike Florio of ProFootballTalk
Powered by WPeMatico