Wasted Seasons, A Cleveland Browns Story
Find out why the Cleveland Browns wasted their 2014 season.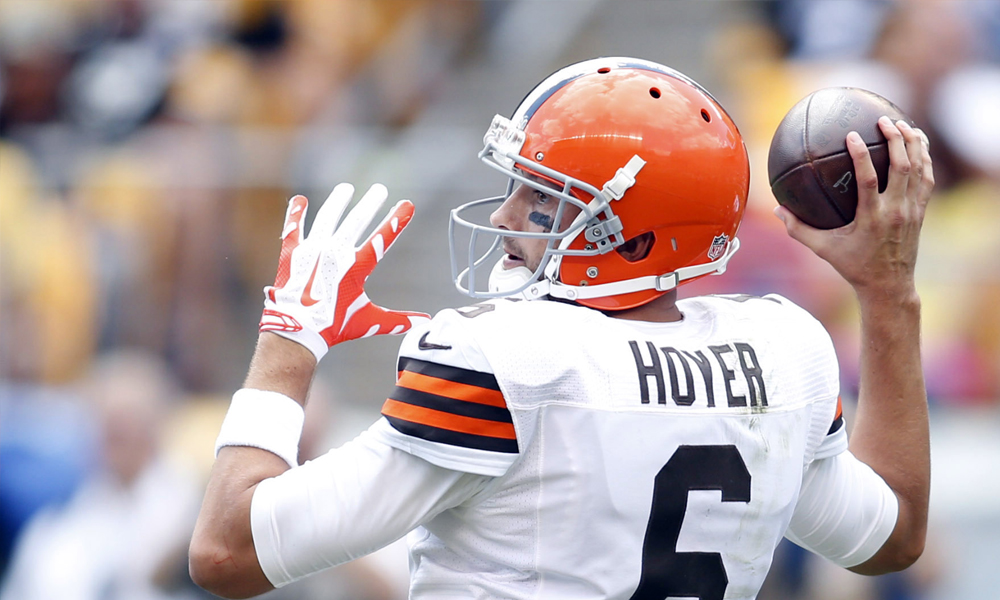 After drafting Johnny Manziel, the Cleveland Browns instantly entered the season with unprecedented hype and expectations. However, veteran quarterback Brian Hoyer ended up winning the starting job.
Before the announcement, safety Donte Whitner admitted to some division within the locker room.
Cleve safety Donte Whitner told me he thinks the Browns locker room's 50-50 Hoyer/Manziel. They'd be okay with either starting.

— Peter King (@peter_king) August 10, 2014
A lot of fans and media members were disappointed over the decision, but Hoyer quickly made a name for himself. The Browns started the season off 7-4. Within those first 12 weeks, Hoyer delivered five-game winning drives. However, a lot of the team's success stemmed from the other side of the ball. Cleveland's defense finished the season ranked 10th overall in total defense. Whitner led the team in tackles (106), while Paul Kruger led in sacks (11).
Their numbers look good defensively over the course of 16 games, but it didn't start off so smoothly. After the first three games, Cleveland gave up 25.6 points per contest.
Browns defensive coordinator Jim O'Neil used the bye week to clean things up.
"It was good over the bye week to show the guys that if one guy breaks structure or one guy's not getting his job done what can happen with explosive plays in the run and pass game," O'Neil said. "Great defenses aren't great because they have a bunch of great individual players -– they play great together and everybody gets their job done. It was good for the coaches to see it. It was good for the players to see it."
In spite of their surprising start, it would end up being a wasted 2014 campaign in Northeast Ohio. Over time, Hoyer came back down to reality. Before being benched in Week 15, the 29-year old veteran threw seven interceptions and zero touchdowns in a three-game span.
Hoyer didn't have much support in his corner throughout his struggles, but receiver Andrew Dawkins was one of the very few.
"I don't think there's ever a time during a game when we think we're out of it because we have No. 6 running the show," Dawkins said. "It's not just him, the guys around him are busting their butts, but there's no question he's the leader on offense. When you have confidence in your leader and he has confidence in himself and the rest of the team then the sky is really the limit on any given Sunday."
The decision by head coach Mike Pettine to bench Hoyer sent shock waves throughout the country. Most were thrilled to see Johnny Football get an opportunity, but the timing was still a little odd, considering they were in the playoff picture and while Hoyer was undoubtedly performing poorly, he still probably gave Cleveland the best shot to win due to his experience alone.
Manziel ended up falling on his face during his short stint as a starter. He completed half of his passes, while throwing for no touchdowns to go along with two picks. His quarterback rating on the season was a dismal 42.0.
Manziel's season came to an end after injuring his hamstring against the Carolina Panthers. Fellow rookie Connor Shaw took over starter duties, but he didn't fair any better.
Just like Manziel, Shaw only completed half of his passes as a starter and also threw for no touchdowns.
With Brian Hoyer unlikely to return, it's fair to say Cleveland wasted their season. By not giving Manziel the proper time to develop, Cleveland will most likely have to use next season to deal with Manziel's growing pains. There was no problem with Pettine going with Hoyer, but at the same time, you're telling your fan base the team is ready to win big now.
While Cleveland obviously battled quarterback issues, it didn't help that star receiver Josh Gordon couldn't stay out of trouble. Gordon's history of drug-use forced former drug addict and NFL hall of famer Cris Carter to say Gordon is battling an addiction and disease. 
The 23-year old denied such allegations.
"This incident has been causing a backlash of negative attention and negative media of me being an addict or junkie or using drugs terribly too much, which is definitely not the case," Gordon said.
Gordon wound up playing in the last five games, where he hauled in 24 catches for 303 yards, but he was unable to get into the end zone.
So, where do the Browns go from here you ask?
The franchise hasn't had a winning season since 2007, when they finished 10-6 and you have to go all the way back to 2002 in order to find Cleveland's last postseason appearance.
Cleveland is still unsure who will be under center next season, but it appears Manziel is preparing himself for the responsibility. 
"I think these guys see me and see that I'm in the building really putting in a lot of work and I want to be the guy," the embattled rookie quarterback said.
Despite having very little time on the field, Manziel seemed to gather a lot from a mental aspect if anything.
"It makes me more hungry to work in this offseason and get with these guys and stay on top of this stuff and come back next year and come out and try to have some success early in the season and sustain that through a season."
In order to end their playoff drought, Manziel will have to pick up things quickly. The Browns have the likes of Seattle, Denver, Arizona, Kansas City, San Diego, San Francisco and St. Louis on their 2015 schedule. The division games will already be tough enough, but to have those type of teams on their schedule, it could make for another wasted season in Cleveland.
Buccaneers admit mistake, boot Aguayo
In the NFL, it's always better to admit a mistake than to compound it. For the Buccaneers, the decision to burn a 2016 second-round pick on kicker Robert Aguayo has proven to be a mistake. The Buccaneers made the definitive admission of their error on Saturday, cutting Aguayo. He exits with $428,000 in fully-guaranteed salary [
more
]
Source: Mike Florio of ProFootballTalk
Powered by WPeMatico
Did Bucs put too much pressure on Aguayo?
After the Buccaneers surprised everyone by taking a kicker with the 59th overall pick in the draft, G.M. Jason Licht explained the move by heaping superlatives on the player. "I was very excited along with my staff and coaches about Roberto for a very long time," Licht told PFT Live in May 2016. "It's not [
more
]
Source: Mike Florio of ProFootballTalk
Powered by WPeMatico
Broncos holding their breath on Derek Wolfe
Only two days after losing Billy Winn for the year with a torn ACL, the Broncos are now sweating out another potentially serious injury along the defensive line. Via multiple reports, Broncos defensive lineman Derek Wolfe was carted off the field during practice on Saturday. It's being described as a right ankle injury by coach [
more
]
Source: Mike Florio of ProFootballTalk
Powered by WPeMatico