Vincent Jackson Still Among League's Best
Vincent Jackson's game-winning touchdown catch served as a reminder that he is still among the most dominant receivers in the league.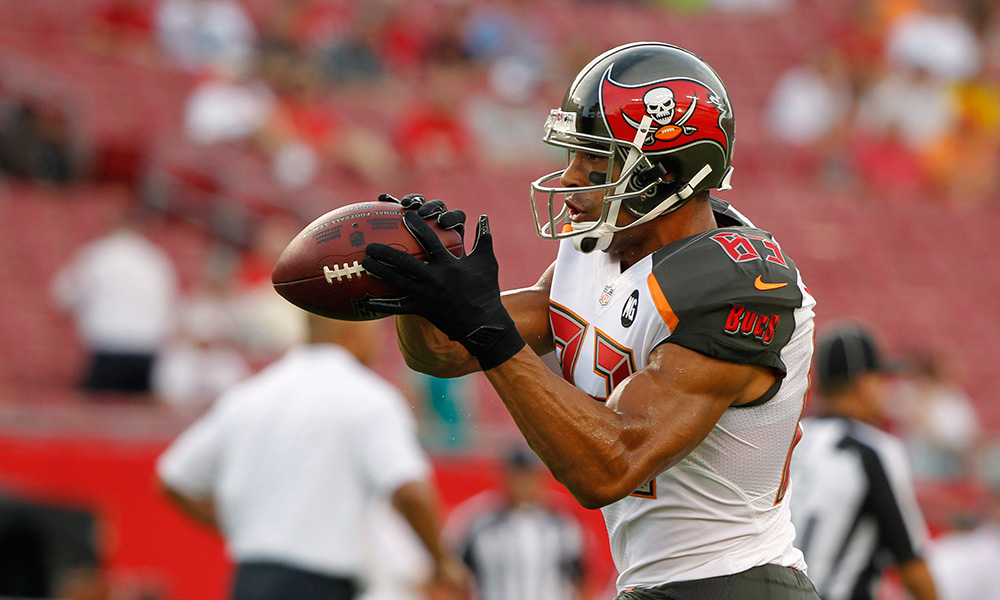 Vincent Jackson's game-winning touchdown did more than give the Tampa Bay Buccaneers a 27-24 win over the heavily favored Pittsburgh Steelers. It served as a strong reminder that Jackson is still one of the game's most dominant receivers, one who belongs in the conversation with Calvin Johnson, A.J. Green, Julio Jones and Antonio Brown.
Jackson is one of the most physically dominant receivers the game has ever seen. He has elite size (6-foot-5, 230 pounds), yet drops his hips and gets in and out of routes like a much smaller receiver. He is an outstanding blocker and a true competitor, willing to fight for the ball in traffic and scrap for 50-50 balls.
It has been an up-and-down journey for Jackson since he signed with the Buccaneers in 2012. He chose Tampa Bay in large part because of the presence of Josh Freeman, a 2009 first-round pick who many felt was ready to seize the role of franchise quarterback. Instead, Freeman was undone by a poor work ethic and a rocky relationship with then-coach Greg Schiano.
Jackson and Freeman were productive in their time together. In the 19 games Freeman and Jackson both started, Jackson caught 87 passes for 1,649 yards and eight touchdowns.
Jackson averaged 86.9 yards in the games Freeman started. In the 13 games Mike Glennon started last season (after Freeman was traded to the Minnesota Vikings), that number dropped to 73.8 yards per game. And in the three contests Josh McCown started to begin this season, that number plummeted to just 34 yards per game.
Jackson's case should serve as a reminder of just how dependent receivers are upon good quarterback play — and vice-versa. Look no further than his performance in 2008, 2009 and 2011 with Philip Rivers in San Diego (we will disregard the 2010 season, when Jackson played in just a handful of games due to a prolonged contract dispute and a subsequent calf injury). In those three seasons, Jackson averaged 62 catches, 1,124 yard and eight touchdowns.
The Chargers were reluctant to give Jackson a massive contract extension, in part because of character concerns after Jackson was arrested twice for driving under the influence. So former Chargers general manager A.J. Smith allowed Jackson to walk (one of the reasons he is now a former general manager).
In Rivers' first season without Jackson, he endured 49 sacks and fumbled 15 times, losing seven — all career-highs. He was spending too much time in the pocket waiting for a receiver to break open, as Jackson had done so routinely.
The numbers don't lie: Jackson, 31, is one of the league's most dominant receivers. As for those character concerns, Jackson was named the 2013 Bucs Man of the Year and is currently a team captain.
The Buccaneers need to do a better job using Jackson if they hope to improve an offense that still ranks last in the NFC. The three-step process looks something like this: 1) stick with Mike Glennon, because Josh McCown is nothing more than a semi-serviceable backup; 2) open up an offense that is still in transition since coordinator Jeff Tedford stepped away for medical reasons; and 3) throw Jackson the damn ball.
Buccaneers admit mistake, boot Aguayo
In the NFL, it's always better to admit a mistake than to compound it. For the Buccaneers, the decision to burn a 2016 second-round pick on kicker Robert Aguayo has proven to be a mistake. The Buccaneers made the definitive admission of their error on Saturday, cutting Aguayo. He exits with $428,000 in fully-guaranteed salary [
more
]
Source: Mike Florio of ProFootballTalk
Powered by WPeMatico
Did Bucs put too much pressure on Aguayo?
After the Buccaneers surprised everyone by taking a kicker with the 59th overall pick in the draft, G.M. Jason Licht explained the move by heaping superlatives on the player. "I was very excited along with my staff and coaches about Roberto for a very long time," Licht told PFT Live in May 2016. "It's not [
more
]
Source: Mike Florio of ProFootballTalk
Powered by WPeMatico
Broncos holding their breath on Derek Wolfe
Only two days after losing Billy Winn for the year with a torn ACL, the Broncos are now sweating out another potentially serious injury along the defensive line. Via multiple reports, Broncos defensive lineman Derek Wolfe was carted off the field during practice on Saturday. It's being described as a right ankle injury by coach [
more
]
Source: Mike Florio of ProFootballTalk
Powered by WPeMatico