Top NFL Free Agent Cornerbacks In 2015
Find out who the top free agent cornerbacks will be in 2015.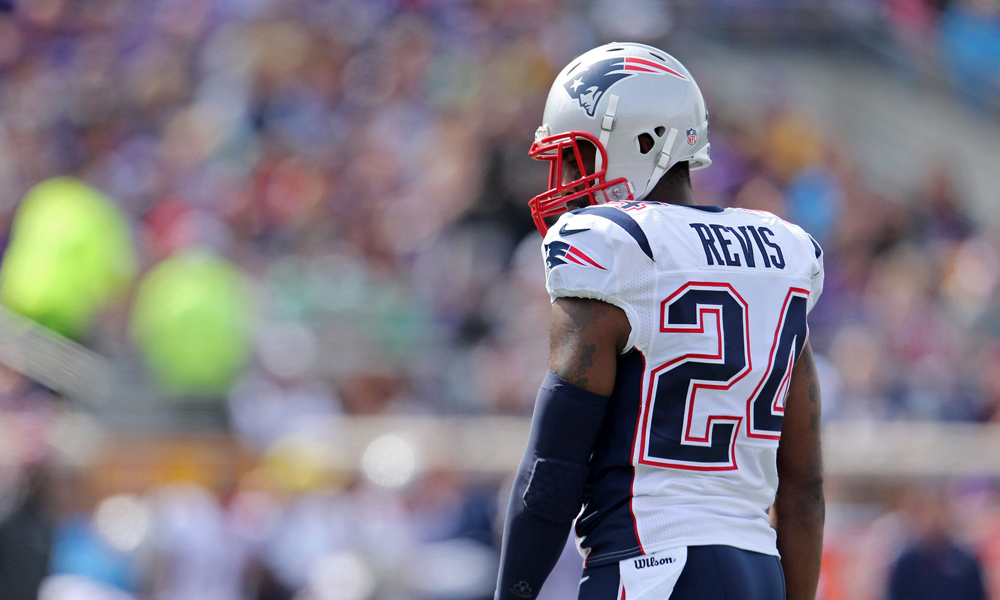 With the evolution of the passing game in the NFL, the importance of the players mainly tasked with defending the quarterback's passes has risen immensely in recent years. Offenses are deploying much more three and four wide receiver sets, which means opposing defenses must have three or four capable cornerbacks on their roster to survive. If they don't, their weak link will be exploited throughout the game. For teams that are in need of some secondary help, we've listed the top cornerbacks who could be unrestricted free agents in 2015.
1. Darrelle Revis
For the third consecutive year, All-Pro cornerback Darrelle Revis could change teams since he's scheduled to hit free agency in 2015. While Revis isn't as good as his "Revis Island" days in New York, he has proven to still be an elite cornerback with the New England Patriots.
Revis still has the ability to take away an opposing team's No. 1 wide receiver in any given game. He has incredible ball skills, hip fluidity and lateral agility that allow him to match up with any receiver in the NFL. Revis excels in man coverage, but he's solid in zone as well. So far this year, he has shut down receivers such as Reggie Wayne and Brandon Marshall.
Revis will be 30 years old once next season begins so a prospective team may be worried about giving him a long-term contract. However, there is no doubt that Revis will rake in a ton of cash for at least the first two or three years of the deal. Revis is the real deal and any team that is a cornerback away from making a Super Bowl run should take a long look at him.
2. Chris Harris Jr.
Arguably the best cornerback in football this season has been the Denver Broncos' Chris Harris Jr. The Broncos defense is littered with stars like Von Miller and DeMarcus Ware, but Harris has been just as good as either of them.
Harris is a former undrafted free agent, who has exceeded even the wildest expectations you can have for him. He has become one of the true lockdown cornerbacks in the NFL and has made life easier on the Broncos defense. He has shut down receivers such as Keenan Allen, Larry Fitzgerald and Anquan Boldin. He averages a league low of 0.48 yards per coverage snap, while also allowing only a 48.1 percent competition rate, per Pro Football Focus.
Harris will only be 26 years old once next season hits, so he will be hitting his prime, which means that teams will be much more receptive to giving him a huge long-term contract. If the Broncos are dumb enough to let him walk, Harris will have plenty of suitors. Look for Harris to cash in big time once free agency rolls around.
3. Brandon Flowers
Brandon Flowers doesn't have the height or length that Revis has; however, he is still an elite cornerback because of his elite quickness, agility and instincts. Flowers was a very productive cornerback for the Kansas City Chiefs, but they felt he wasn't worth his contract. Flowers then signed with the San Diego Chargers and has had an incredible year, while the Chiefs have struggled to get consistent play from their cornerbacks.
Flowers excels in zone coverage where he can utilize his incredible instincts and quickness to jump routes to get interceptions or pass deflections. This season, he has only allowed one touchdown, while he has picked off two passes. Flowers is one of the rare small corners who can play on the outside and survive.
Flowers should be a perfect fit for any team that plays a lot of zone coverage as that is where Flowers wins. Even though Flowers was released less than a year ago, he should have plenty of suitors this time around in free agency as he is having one of his best years.
4. Antonio Cromartie
There are few cornerbacks in the NFL who have a better combination of size, length and speed that Antonio Cromartie has. Cromartie lines up on the opposite side of Patrick Peterson in the Arizona Cardinals' defense and has done a great job this year. The Cardinals defense is not easy on the cornerbacks, as they frequently don't have safety help because of the wide array of blitzes that defensive coordinator Todd Bowles throws at opposing offenses. This means Cromartie has to play extremely disciplined to be able to succeed, which he has done.
Cromartie has done a fantastic job against receivers such as Golden Tate and Riley Cooper. Cromartie's length allows him to jam receivers at the line and challenge receivers at the catch point, while his speed and quickness allow him to recover if beaten or to stay with receivers while they run their route.
Cromartie will be 31 years old when next season hits; therefore, like Revis, it is doubtful that a team will give him a long-term contract. Nevertheless, he could get a contract that is front loaded while he is still effective.
5. Kareem Jackson
Kareem Jackson is one the best cornerbacks that you likely never hear about. While J.J. Watt gets the lion's share of the credit (and rightfully so) for the Houston Texans, Jackson has been a very effective and productive cornerback for the team.
Jackson is one of the only cornerbacks in the NFL who did a decent job on Antonio Brown as he allowed only three catches for 13 yards when they were matched up with one another. Jackson does his best work on the outside where he can press and use his physicality to deter receivers from getting into their routes.
If a team needs cornerback help but doesn't have the space to go after Revis, Harris, Flowers or Cromartie, then Jackson would be a cheaper option while still getting a productive player.
Best of the Rest
Some of the other cornerbacks that are scheduled to hit free agency include Walter Thurmond, Byron Maxwell, Perrish Cox, Chris Culliver and Davon House
Buccaneers admit mistake, boot Aguayo
In the NFL, it's always better to admit a mistake than to compound it. For the Buccaneers, the decision to burn a 2016 second-round pick on kicker Robert Aguayo has proven to be a mistake. The Buccaneers made the definitive admission of their error on Saturday, cutting Aguayo. He exits with $428,000 in fully-guaranteed salary [
more
]
Source: Mike Florio of ProFootballTalk
Powered by WPeMatico
Did Bucs put too much pressure on Aguayo?
After the Buccaneers surprised everyone by taking a kicker with the 59th overall pick in the draft, G.M. Jason Licht explained the move by heaping superlatives on the player. "I was very excited along with my staff and coaches about Roberto for a very long time," Licht told PFT Live in May 2016. "It's not [
more
]
Source: Mike Florio of ProFootballTalk
Powered by WPeMatico
Broncos holding their breath on Derek Wolfe
Only two days after losing Billy Winn for the year with a torn ACL, the Broncos are now sweating out another potentially serious injury along the defensive line. Via multiple reports, Broncos defensive lineman Derek Wolfe was carted off the field during practice on Saturday. It's being described as a right ankle injury by coach [
more
]
Source: Mike Florio of ProFootballTalk
Powered by WPeMatico