Top Five NFL Slot Receivers
They're not the biggest, but they're the best at what they do.
While every NFL Draft board used to be—and to an extent still is—dominated by the big receivers who line up on the outside, more and more attention has been given to the slot receivers. The heavy passing offenses have opened up options for teams, and that means more opportunities for players outside the once-usual mold of the big play, primary receiver.
Naturally, versatility is a big plus for slot receivers and many of the best don't just line up at the "Y" position. So some of these guys you see outside, as well as inside.
Who are the best slot-guys this year?
Lucky for you, we have a list.
Doug Baldwin
So far this year, Baldwin has caught 44 balls for 570 yards and a pair of touchdowns. His catches create first downs 56.8 percent of the time and he has a 77 percent completion ratio so far this year. Last season he had 78 catches with 14 touchdowns and a total of 1,069 yards receiving.
It's fair to think he will at least get to that level this year. A reliable receiver who is Russell Wilson's right hand man, Baldwin continually makes the plays his quarterback needs.
Like many of the rest of this list, he's not just a slot receiver. But when they line him up there—and they do often enough—he's one of the best.
Julian Edelman
Edelman is actually having down year, at least in terms of yardage. This year he has caught 41 passes for 358 yards and a touchdown, hauling in 66.1 percent of his targets. He often hovers between 66 and 68 percent year in and year out, and is a tremendously consistent pass catcher overall.
With Martellus Bennett joining Rob Gronkowski, I suspect Edelman's overall numbers won't approach his 2013-2014 numbers, but Tom Brady knows he can go to Edelman in a pinch (48.8 of Edelman's catches go for first downs), so he will continue to see consistent targets if not big numbers.
Randall Cobb
Cobb has been banged up but is having a bounce-back year for the Green Bay Packers. Last season the team made him more of a traditional No. 1 because Jordy Nelson was hurt. The fit was beyond bad and Cobb looked uncomfortable all year long.
This season has been an improvement, as he and Aaron Rodgers are back on the same page and Cobb is back in his traditional slot role.
So far he has caught 41 balls for 402 yards and three touchdowns. He's also caught 71.9 percent of his targets, which makes him the second most reliable Packers receiver behind Ty Montgomery, but with almost twice the targets.
Nelson is finally looking like his old self now, so we might see an even more successful Cobb in the near future.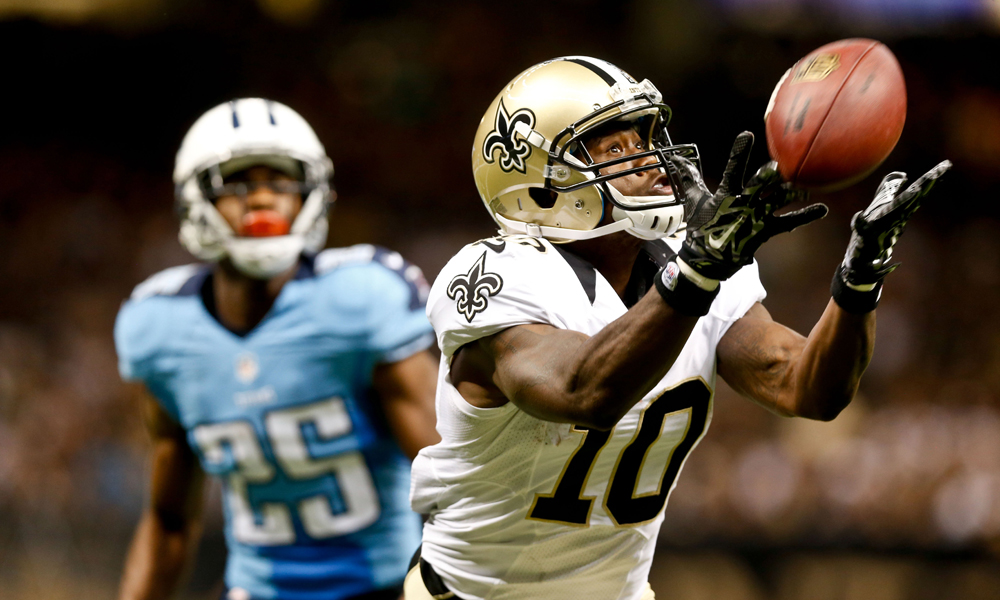 Brandin Cooks
People overlook Cooks, likely because Drew Brees makes everyone look good. Cooks is worth a look in his own right though, even if he spends a lot of time out of the slot as well as in it.
He's hauling in just over 66 percent of his targets, and has 41 catches for 596 yards and five touchdowns so far. It's impressive that he is putting together as many consistent games as he is because Michael Thomas is having a good rookie season and Willie Snead is still playing well.
Cooks is a good safety blanket for Brees out of the slot, though, and he's difficult to cover and just as difficult to stop once he has the ball in his hands.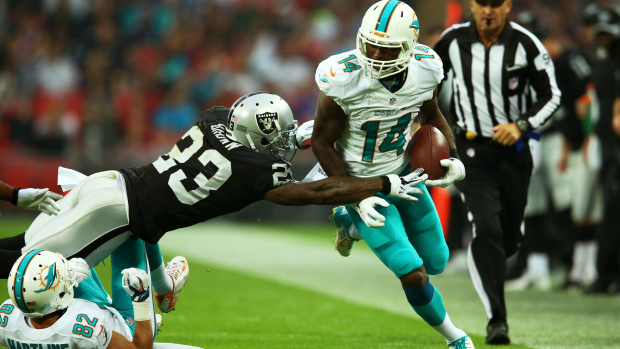 Jarvis Landry
We really thought Landry would not be in the slot much this year, but with injuries to Davante Parker, he has seen more work there than perhaps he might have otherwise.
There's a reason why—and a reason why the Dolphins feel they can move him anywhere in the formation. Landry is a big play waiting to happen. He is a great receiver and shows steady hands (69 percent completion percentage) and Ryan Tannehill looks to him in any situation knowing he can rely on Landry.
Landry has 49 catches so far for 605 yards and 57 percent of his catches are for first downs.
The Dolphins have a shot at making the playoffs, though it is a long road.
Landry is one of the keys for them to get there, though.
Buccaneers admit mistake, boot Aguayo
In the NFL, it's always better to admit a mistake than to compound it. For the Buccaneers, the decision to burn a 2016 second-round pick on kicker Robert Aguayo has proven to be a mistake. The Buccaneers made the definitive admission of their error on Saturday, cutting Aguayo. He exits with $428,000 in fully-guaranteed salary [
more
]
Source: Mike Florio of ProFootballTalk
Powered by WPeMatico
Did Bucs put too much pressure on Aguayo?
After the Buccaneers surprised everyone by taking a kicker with the 59th overall pick in the draft, G.M. Jason Licht explained the move by heaping superlatives on the player. "I was very excited along with my staff and coaches about Roberto for a very long time," Licht told PFT Live in May 2016. "It's not [
more
]
Source: Mike Florio of ProFootballTalk
Powered by WPeMatico
Broncos holding their breath on Derek Wolfe
Only two days after losing Billy Winn for the year with a torn ACL, the Broncos are now sweating out another potentially serious injury along the defensive line. Via multiple reports, Broncos defensive lineman Derek Wolfe was carted off the field during practice on Saturday. It's being described as a right ankle injury by coach [
more
]
Source: Mike Florio of ProFootballTalk
Powered by WPeMatico