Top 5 Wide Receivers in NFL's 2015 Free Agent Class
Find out who are the top wide receivers for the 2015 free agent class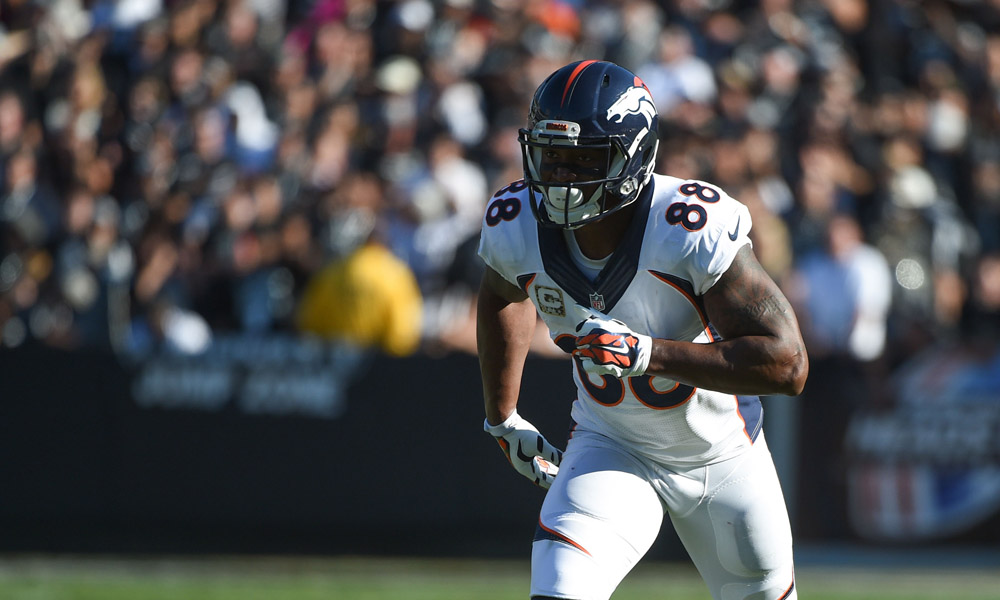 We're at the midway point of the NFL season, with some teams are jockeying for playoff position while others are wondering where they'll pick in the draft.
Regardless of where teams stand, they all are marveling at the wide receivers in the upcoming free agent class because there are plenty of players who can change the fortunes of a franchise.
Let's take a look at these big name wideouts who could be available:
1. Dez Bryant: The Pro-Bowl receiver is in the final year of his rookie contract. On the surface, it appears the Dallas Cowboys should do everything in their power to re-sign the star receiver. Bryant has recorded over 90 catches and 1,000 yards in each of the past two seasons.
The Cowboys are reportedly hesitant to give Bryant a large sum of guaranteed money because they "do not trust [him] off the field." The report says that police in DeSoto, TX, have been called to Bryant's house on at least six occasions, although there have been no arrests.
If the parties are unable to negotiate a long-term deal, Dallas could always use the franchise tag on Bryant.
This season, Bryant has 56 catches for 793 yards to go along with eight touchdowns.
2. Demaryius Thomas: Take Dez Bryant out of the mix, and Demaryius Thomas would be the clear-cut top receiver of this free agent class. The 26-year-old has emerged as one of the best at his position.
During the past two seasons, Thomas has totaled 186 catches, 2,864 yards and 24 touchdowns. He hasn't slowed down at all this season, as he has continued to be extremely productive and one of Peyton Manning's favorite targets.
Thomas has 65 catches for 1,002 yards after nine games. He currently has a six-game steak of 100-yard games going on, which he doesn't like to discuss much, if at all.
"I don't think about it, I don't want to talk about it," Thomas said after the Broncos' last win. "I'm just glad we won.''
3. Randall Cobb: Green Bay locked up Jordy Nelson over the summer, signing him to a four-year, $39 million extension. Cobb is looking to be next.
When asked if he's entering free agency at the perfect time due to his successful season, Cobb responded, "I guess we'll have to wait and see."
Cobb has quickly become one of Aaron Rodgers' favorite targets and a big reason for Green Bay's success through the air.
He has 44 catches and is near the top of the league in receiving touchdowns with 10. With this being the last year of his rookie contract, the Packers have a decision to make.
4. Torrey Smith: Former second-round pick Torrey Smith is in the final year of his rookie contract. He cracked the 1,000-yard mark for the first time last season.
With free agency approaching, Smith doesn't seem too concerned. 
"I don't think about the contract at all," Smith said. "Every year's important; I want to win. That stuff kind of takes care of itself. I'm not going to be out there on the field while I'm running a route like, 'Man, Ozzie saw that!' I'm a Raven — always going to be a Raven. That's all I worry about."
Ravens quarterback Joe Flacco has noticed major improvement from Smith.
"I was never quite comfortable throwing a little stop route to [Smith early on] when the [defender] was playing bump on him or something like that," Flacco said. "I think I was 100 percent with him these OTAs and minicamp, and I feel really comfortable. I don't know what it is. I don't [know] if something is hitting his brain a little differently there, or something like that, but that's just an example of him kind of getting a better understanding for some things and running some things a little better."
5. Jeremy Maclin: Earlier this year, 26-year-old Jeremy Maclin agreed to a one-year, $6 million deal. Fans were wondering why Maclin didn't commit long-term.
"I just think it was the right thing to do," Maclin said. "I think it was the smart thing to do. I think people may frown upon that, but I just think with everything that was being thrown around, the numbers and everything else, I just think the one-year deal was what was best for both sides."
His teammates understand why he chose not to commit long-term just yet.
"He knew if he signed a multi-year deal and came back great — which is what he was expecting — he was going to be underpaid for the next few years," Jason Kelce said. "I think he just wanted to get a one-year deal and prove he was back and the receiver he was before, one of the premier guys in the league. He's more than done that."
Through nine games, Maclin has gobbled up 48 catches for 828 yards to go along with eight touchdowns.
Here's the remaining receivers in the 2015 free agent class: Hakeem Nicks (Colts), Wes Welker (Broncos), Reggie Wayne (Colts), Eddie Royal (Chargers), Michael Crabtree (49ers), Nate Washington (Titans), Robert Meachem (Saints), Josh Morgan (Bears), Miles Austin (Browns), Santonio Holmes (Bears), Sidney Rice (Seahawks), Matthew Slater (Patriots), Cecil Shorts (Jaguars), Denarious Moore (Raiders), Kenny Britt (Rams), Dane Sanzenbacher (Bengals), Brad Smith (Eagles), Jason Avant (Panthers), Brandon Tate (Bengals), Brandon Lloyd (49ers), Vincent Brown (Raiders), Jerrel Jernigan (Giants), Leonard Hankerson (Redskins), Marcus Easley (Bills), Dwayne Harris (Cowboys), Kris Durham (Titans), Andre Holmes (Raiders), Greg Sales (Giants), Kevin Ogletree (Giants), Santana Moss (Redskins), Darrius Heyward-Bey (Steelers), Seji Ajirotutu (Redskins), Eric Weems (Falcons), Rod Streater (Raiders),  Cole Beasley (Cowboys), Jarrett Boykin (Packers), Jeff Maehl (Eagles), Ricardo Lockette (Seahawks), Jermaine Kearse (Seahawks), Damaris Jonhson (Texans), Derek Hagan (Titans), Jeremy Ross (Lions), Aldrick Robinson (Redskins), Joseph Morgan (Saints), Mike Brown (Jaguars), Griff Whalen (Colts), Chris Hogan (Bills), Junior Hemingway (Chiefs), Kamar Aiken (Ravens), Drew Davis (Falcons), Louis Murphy (Bucs), Marlon Moore (Browns), T.J. Graham (Jets), Brenton Bersin (Panthers), Justin Brown (Steelers), Frankie Hammond (Chiefs), Greg Little (Bears), Kassim Osgood (49ers), Brian Tyms (Patriots), David Gilreath (Seahawks), Greg Orton (Patriots), Damian Williams (Rams), Kevin Dorsey (Packers), Bryan Walters (Seahawks), LaQuinton Evans (Titans), Greg Ellingson (Bucs), Chase Deadder (Titans), Dre Muhammad (Raiders), Jimmy Young (Steelers), Mario Louis (Texans), David Little (Cowboys), Armahd Lewis (Bucs), Sam Kirkland (Redskins), Rico Wallace (Panthers), Juamorris Stewart (Steelers), Jamel Hamler (Eagles), Tre Gray (Cardinals), Jermaine Saffold (Browns), Ed Gant (Bucs) and Kris Adams (Giants).
Did Bucs put too much pressure on Aguayo?
After the Buccaneers surprised everyone by taking a kicker with the 59th overall pick in the draft, G.M. Jason Licht explained the move by heaping superlatives on the player. "I was very excited along with my staff and coaches about Roberto for a very long time," Licht told PFT Live in May 2016. "It's not [
more
]
Source: Mike Florio of ProFootballTalk
Powered by WPeMatico
Broncos holding their breath on Derek Wolfe
Only two days after losing Billy Winn for the year with a torn ACL, the Broncos are now sweating out another potentially serious injury along the defensive line. Via multiple reports, Broncos defensive lineman Derek Wolfe was carted off the field during practice on Saturday. It's being described as a right ankle injury by coach [
more
]
Source: Mike Florio of ProFootballTalk
Powered by WPeMatico
Buccaneers admit mistake, boot Aguayo
In the NFL, it's always better to admit a mistake than to compound it. For the Buccaneers, the decision to burn a 2016 second-round pick on kicker Robert Aguayo has proven to be a mistake. The Buccaneers made the definitive admission of their error on Saturday, cutting Aguayo. He exits with $428,000 in fully-guaranteed salary [
more
]
Source: Mike Florio of ProFootballTalk
Powered by WPeMatico