Top 5 Running Backs in NFL's 2015 Free Agent Class
Dallas Cowboys DeMarco Murray headlines an impressive 2015 Free Agent list of running backs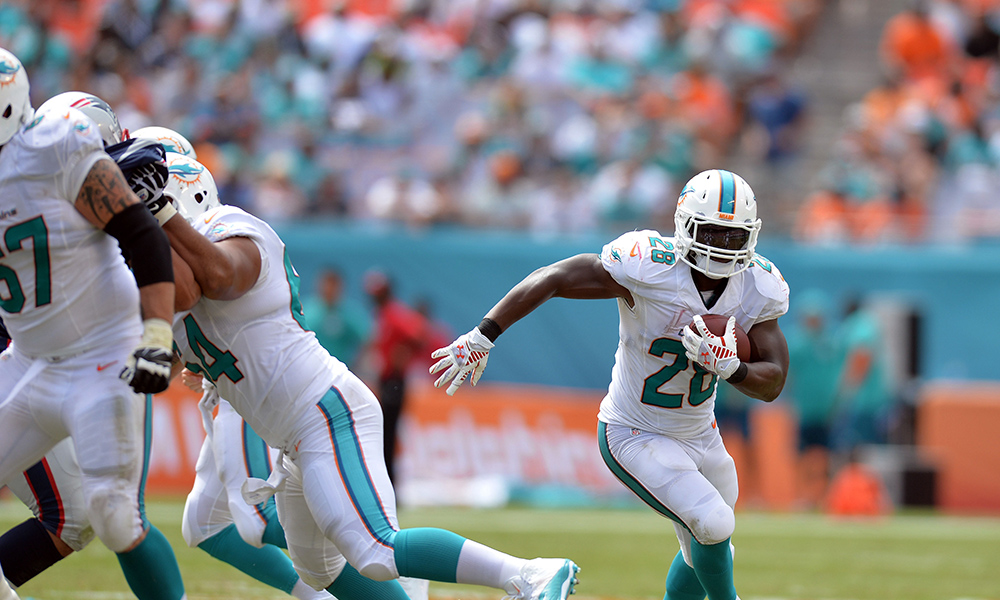 In today's air-it-out NFL, running the football seems like a thing of the past.  Value and success still hold true by having a quality running back on any team's roster, all you have to do is look at the success of the Dallas Cowboys and Seattle Seahawks. These two teams pound the rock with their star running backs. Dallas' DeMarco Murray leads the NFL with 1,233 rushing  yards, and Seattle's Marshawn Lynch is fifth with 689 yards rushing on the season. Murray's contract expires when the season concludes, and Lynch may be the odd man out (due to his salary going up and beyond what the Seahawks' want to pay). Lynch officially is under contract through 2016, but don't be surprised to see him on the market next year adding another talented running back to this already impressive free agent class. Below is a list of the top-ten free agent running backs available next season.
1. DeMarco Murray, Dallas Cowboys
Age – 26
Current Salary – $1,596,625
The NFL's leading rusher is set to hit free agency in 2015. Teammate Dez Bryant is also due big money next year leaving the Cowboys with a couple of difficult decisions to make. The team can use the franchise tag on one of the players and sign another long-term or allow one of them to walk away. A punishing runner with exceptional ability to catch the football Murray is going to be in-line for a big payday when the season concludes.
2. Mark Ingram, New Orleans Saints
Age – 24
Current Salary – $2,359,875
Timing is everything, and Ingram has timed his breakout season to perfection. He has rushed for more than 100 yards in three consecutive games.
'Second-half especially," said Saints head coach Sean Payton referring Ingram's production reaching triple digits for the third straight game. "We got something going against a good defense."
Ingram leads the Saints with 115 carries for 551 yards and six touchdowns, and his 4.8 yard per carry average is among the best in the league. Ingram is 51 yards away from tying his career-high 602 rushing yards in a single-season. Ingram's age and being under-worked may play a huge role moving forward. The presumed productivity of this former Heisman Trophy winner can not be discounted. Expect Ingram to cash in next year and be one of the big winners in free agency.
3. Ryan Mathews, San Diego Chargers
Age – 27
Current Salary – $3,612,000
The former first round pick in the 2010 Draft has had his share of high's and low's. Mathews is an extremely gifted athlete but his durability has been a concern.  Unable to stay healthy during the course of his young career, Mathews will definitely have his critics in NFL front offices. Mathews has been dealing with a sprained MCL that's forced him to miss ten consecutive games. He is set to return against the Oakland Raiders in Week Ten and the final stretch of the 2014 season is critical to his value in 2015. If Mathews finishes strong he'll be considered one of the top running backs on the market. 
4. Knowshon Moreno, Miami Dolphins
Age – 27
Current Salary – $3,000,000
Moreno's first stab at free agency didn't exactly go as expected this year. He signed a one-year deal with Miami then battled to stay healthy and lost the war after tearing his ACL.
"Morning fam," via Moreno's Twitter account. "Thank you to everyone for all the blessings and words of encouragement. I'll be back soon better than ever. #GrindTime #KnoSleep"
With a deep and talented free agent class approaching in 2015, Moreno remains one of the top backs available even with the injury. Moreno is a three-down back capable of running, catching and pass protection. The latter is a quality that never is shunned in the NFL.
5. Shane Vereen, New England Patriots
Age – 25
Current Salary – $1,101,275
Vereen makes the majority of his impact in the passing game. The 56th pick in the 2011 Draft has very little wear and tear on his body playing in the multi-back system in New England. The market should be kind to Vereen since teams are looking for productive pass catchers out of the backfield. With teammate Stevan Ridley set to hit the market, its possible Vereen re-signs with the Patriots with an increased role in 2015.
Under head coach Bill Belichick, the Patriots have been notorious for using plenty of different running backs throughout the course of games. The limited sample size with Vereen as a workhorse will keep him under the radar of the bigger name running backs with more carries. That said, don't be surprised if Vereen ends up being one of the grand slam signings if he inks with a new team that elects to use him more like Cincinnati does with Giovani Bernard.
6. Darren McFadden, Oakland Raiders
Age – 27
Current Salary – $1,654,000
7. Stevan Ridley, New England Patriots
Age – 25
Current Salary – $939,750
8. Frank Gore, San Francisco 49ers
Age – 31
Current Salary – $6,450,000
9. Justin Forsett, Baltimore Ravens
Age – 29
Current Salary -$579,000
10. Roy Helu, Washington Redskins
Age – 25
Current Salary – $1,548,563
Did Bucs put too much pressure on Aguayo?
After the Buccaneers surprised everyone by taking a kicker with the 59th overall pick in the draft, G.M. Jason Licht explained the move by heaping superlatives on the player. "I was very excited along with my staff and coaches about Roberto for a very long time," Licht told PFT Live in May 2016. "It's not [
more
]
Source: Mike Florio of ProFootballTalk
Powered by WPeMatico
Broncos holding their breath on Derek Wolfe
Only two days after losing Billy Winn for the year with a torn ACL, the Broncos are now sweating out another potentially serious injury along the defensive line. Via multiple reports, Broncos defensive lineman Derek Wolfe was carted off the field during practice on Saturday. It's being described as a right ankle injury by coach [
more
]
Source: Mike Florio of ProFootballTalk
Powered by WPeMatico
Buccaneers admit mistake, boot Aguayo
In the NFL, it's always better to admit a mistake than to compound it. For the Buccaneers, the decision to burn a 2016 second-round pick on kicker Robert Aguayo has proven to be a mistake. The Buccaneers made the definitive admission of their error on Saturday, cutting Aguayo. He exits with $428,000 in fully-guaranteed salary [
more
]
Source: Mike Florio of ProFootballTalk
Powered by WPeMatico