Tom Brady Has Become The NFL's Best Game Manager
Tom Brady's still great — he's just gone from gunslinger to game manager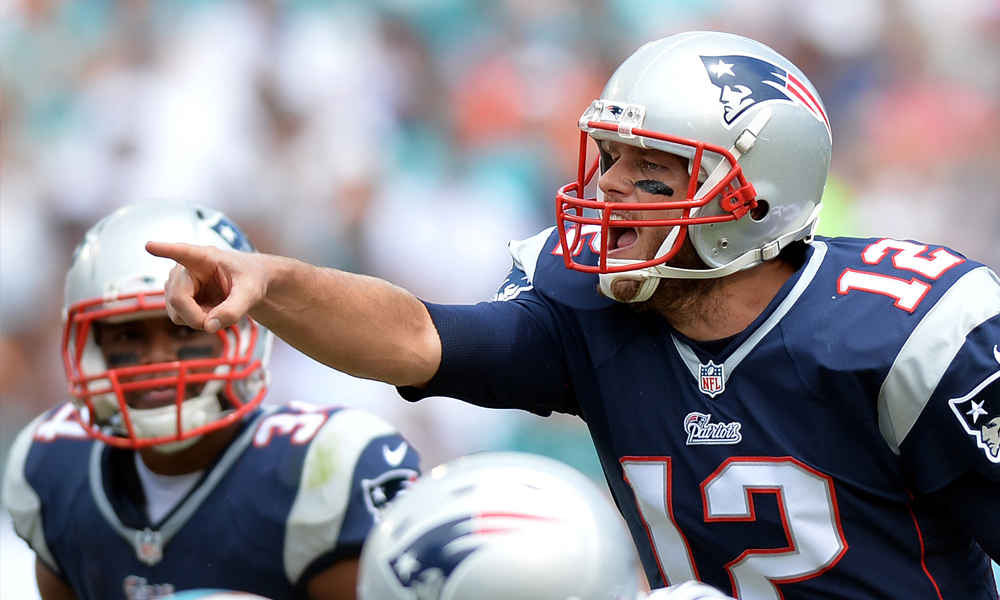 On the night of Sept. 29, the end of an era looked closer than any of us could have fathomed.
Tom Brady was less-than-stellar for the third time in New England's first four games, and downright awful for the second time — both of which were Patriot losses.
With things so far gone and the Pats down 41-7, Bill Belichick threw quarterback-of-the distant future Jimmy Garoppolo into the game. Obviously it was a measure to keep Brady out of harm's way, but it also gave the impression that the Garoppolo Era might come 2-3 years sooner than initially planned.
Now that night feels as distant as the day Brady replaced Drew Bledsoe behind center.
The Patriots have won seven straight since their disaster in Kansas City, and Brady has been on fire in six of those games.
So what happened? Is this simply a case of a guy regaining his "swag?"
No. When you're married to a supermodel, swag is not something you lose. I assume that, of course, never having been married to one myself.
The key to Brady's revival has been doing something we more closely associate with Alex Smith — game-managing.
Brady's arm may not be what it was when he was flinging downfield to Randy Moss, but New England has done well enough running the ball this year to force opponents to respect the ground game.
The Pats are in the middle of the pack rushing, ranking 15th with 113.4 yards per game, and that's enough to set up the play-action game for Brady.
When New England isn't going play-action, it is throwing to targets who aren't traditional deep receiving threats. Tight ends Rob Gronkowski and Tim Wright have combined for 81 receptions and running back Shane Vereen has added 43.
That means 44 percent of New England's 280 receptions have been caught by non-wide receivers. That's comparable to the numbers put up by — you guessed it — Smith and the Chiefs. Smith has thrown 46 percent of his completions to non-receivers.
Still refuse to believe Brady is a game manager? Aaron Rodgers has thrown 75 percent of his passes to receivers.
That's not to disparage Brady. When he's the guy pulling the trigger, the term "game manager" is the furthest thing from a back-handed compliment.
Just look at the results.
Buccaneers admit mistake, boot Aguayo
In the NFL, it's always better to admit a mistake than to compound it. For the Buccaneers, the decision to burn a 2016 second-round pick on kicker Robert Aguayo has proven to be a mistake. The Buccaneers made the definitive admission of their error on Saturday, cutting Aguayo. He exits with $428,000 in fully-guaranteed salary [
more
]
Source: Mike Florio of ProFootballTalk
Powered by WPeMatico
Did Bucs put too much pressure on Aguayo?
After the Buccaneers surprised everyone by taking a kicker with the 59th overall pick in the draft, G.M. Jason Licht explained the move by heaping superlatives on the player. "I was very excited along with my staff and coaches about Roberto for a very long time," Licht told PFT Live in May 2016. "It's not [
more
]
Source: Mike Florio of ProFootballTalk
Powered by WPeMatico
Broncos holding their breath on Derek Wolfe
Only two days after losing Billy Winn for the year with a torn ACL, the Broncos are now sweating out another potentially serious injury along the defensive line. Via multiple reports, Broncos defensive lineman Derek Wolfe was carted off the field during practice on Saturday. It's being described as a right ankle injury by coach [
more
]
Source: Mike Florio of ProFootballTalk
Powered by WPeMatico