TNF's Silver Lining: The Mini-Bye Week
Thursday Night Football provides unique challenges, but it comes with an under-appreciated mini-bye week.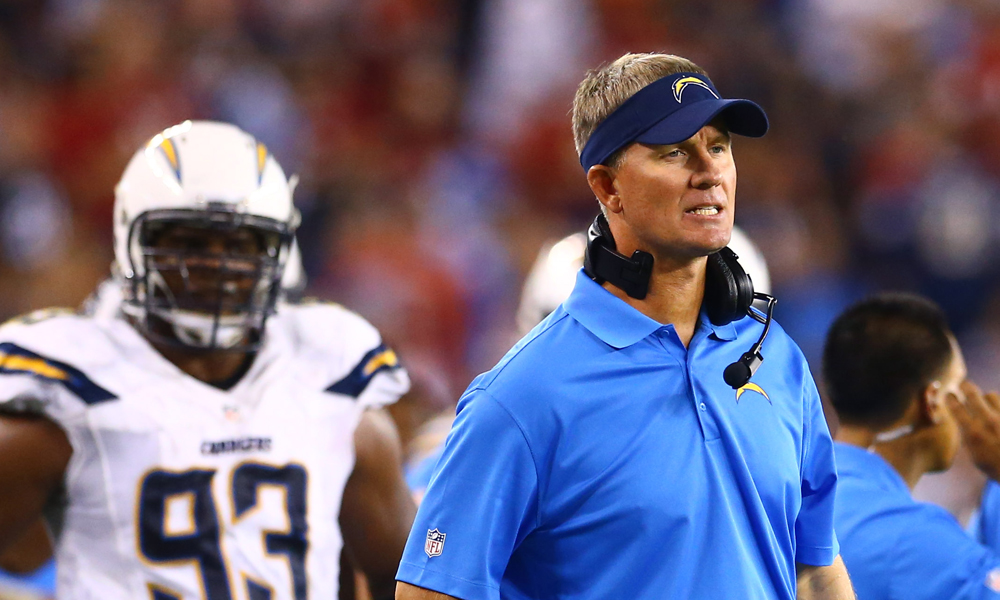 The Chargers and Broncos will collide this week on Thursday Night Football. The short work week provides unique challenges for both teams, especially the injury-riddled Chargers, but it comes with an under-appreciated bonus — a subsequent mini-bye week that allows teams to get some extra rest in the middle of the season.
Thursday Night Football has been criticized by numerous players, including Houston's Arian Foster and Green Bay's Josh Sitton. The complaints share a common theme: the NFL only cares about making money and is hypocritical for preaching safety while forcing players to perform on just three days rest.
For what it's worth, a 2013 study by the NFL found the injury rate on Thursdays (5.2 per game) are just about the same as on Sundays (5.3).
But lost in the noise is this added bonus: teams get an extra three (or four) days rest before their next game, creating a mini-bye week that can be a life saver for banged-up teams in the middle of a long, grinding season.
"We've all been doing it for a couple years now throughout the league and everyone has their own way of doing things," said Chargers coach Mike McCoy.
McCoy's Chargers are the perfect example of a team that will benefit from the mini-bye. San Diego has several players battling injuries, including Ryan Mathews (knee), Donald Brown (concussion), Brandon Flowers (concussion), Jason Verrett (shoulder), Manti Te'o (foot) and Jerry Attaochu (hamstring). All of those players have missed practice time already this week and are in dire need of additional rest.
It puts the Chargers in a tough spot this week, as their inactive list figures to be filled once again by nothing but injured players. But if they can make it through the Denver game, a double dose of rest is on the horizon. San Diego will get 10 days before it has to take the field again for a Week 9 contest in Miami. After that, the Chargers finally get their bye week.
With back-to-back chances for additional rest, San Diego can finally get healthy for the first time since Week 2.
The Broncos will enjoy their mini-bye week, as well. Denver's Week 9 opponent is the Patriots, making for the latest incarnation of the Manning-Brady Bowl. In a matchup between the game's most cerebral player (Manning) and its most cerebral coach (Bill Belichick), Manning will certainly appreciate an extra three days of preparation.
But for now, Denver is more focused on coming out strong on Thursday. In last year's Chargers-Broncos game on Thursday Night Football, Denver came out flat and lost its only home game of the season, 27-20.
"That's something we looked at in the offseason, how to handle it, the schedule, the mindset, all the things you look at and try to improve year to year," said Broncos coach John Fox. "We'll see how it goes this time around.  I think we'll do a better job as coaches and in turn I think our players will respond."
The Chargers (5-2) and Broncos (5-1) kick off on Thursday at 7:25 p.m. EST. The winner of that game will head into the mini-bye week in sole possession of first place in the AFC West.
Did Bucs put too much pressure on Aguayo?
After the Buccaneers surprised everyone by taking a kicker with the 59th overall pick in the draft, G.M. Jason Licht explained the move by heaping superlatives on the player. "I was very excited along with my staff and coaches about Roberto for a very long time," Licht told PFT Live in May 2016. "It's not [
more
]
Source: Mike Florio of ProFootballTalk
Powered by WPeMatico
Broncos holding their breath on Derek Wolfe
Only two days after losing Billy Winn for the year with a torn ACL, the Broncos are now sweating out another potentially serious injury along the defensive line. Via multiple reports, Broncos defensive lineman Derek Wolfe was carted off the field during practice on Saturday. It's being described as a right ankle injury by coach [
more
]
Source: Mike Florio of ProFootballTalk
Powered by WPeMatico
Buccaneers admit mistake, boot Aguayo
In the NFL, it's always better to admit a mistake than to compound it. For the Buccaneers, the decision to burn a 2016 second-round pick on kicker Robert Aguayo has proven to be a mistake. The Buccaneers made the definitive admission of their error on Saturday, cutting Aguayo. He exits with $428,000 in fully-guaranteed salary [
more
]
Source: Mike Florio of ProFootballTalk
Powered by WPeMatico