The Washington Huskies' Hau'oli Kikaha Leads the New Subset of Edge-Rushers
What is a block-defeater and how does that relate to Hau'oli Kikaha? Find out inside.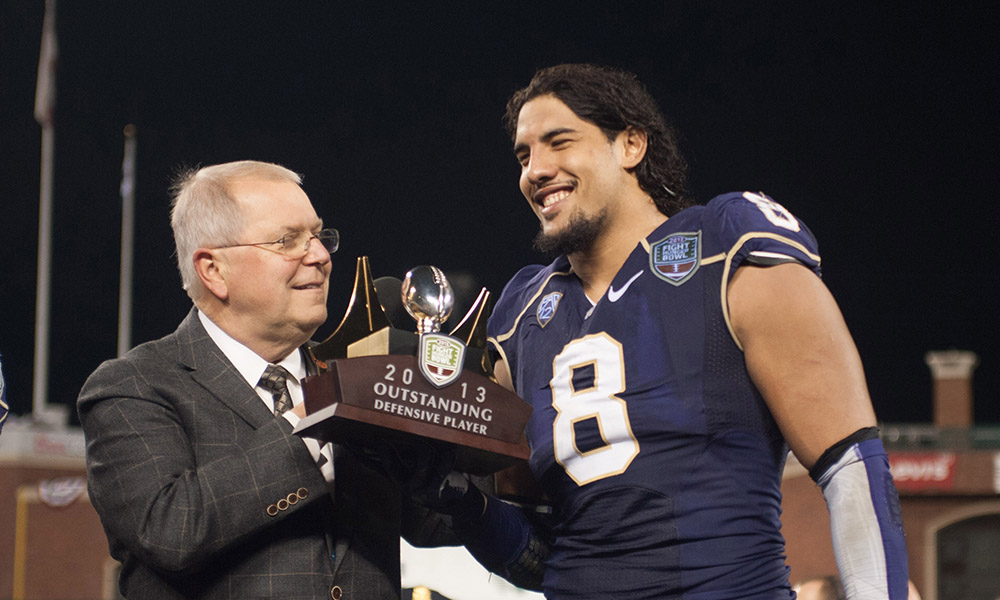 In terms of edge-rushers, players are normally put into one of two categories: speed-rushers and power-rushers. However, what about the players who aren't fast enough to constantly speed around the edge and who aren't strong enough to bull rush a tackle into the quarterback's lap, but still have the ability to constantly put pressure on opposing quarterbacks?
These competitors move with synchronized footwork and hand skills, which allows them to set up and ultimately get around opposing blockers in pursuit of the quarterback. These athletes intelligently each of their pass-rush moves and are intimately aware of the intricacies of leverage and balance. These types of players are best described as "block-defeaters" and the person who best epitomizes this in the 2015 NFL draft class is Washington Huskies defensive end/outside linebacker, Hau'oli Kikaha.
Kikaha isn't a height-weight-speed player; he is listed at just 6-foot-3 and 246 pounds and reportedly ran a 4.72 40-yard dash as his junior day in Washington. Kikaha's height, weight and speed don't paint the picture of a dominant edge-rusher, but that is exactly what Kikaha is. While stats can be misleading, especially in college, Kikaha does have 14.5 sacks, which puts him on pace to break Terrell Suggs' sack record of 24.5 sacks in a single season, to go along with 19.5 tackles for loss. He is not a one-trick pony either as he has recorded sacks from both sides of the defensive line, from standing and with his hand in the ground.
Kikaha's biggest detriments are his size and injury history. Kikaha doesn't have the necessary bulk to be able to survive on the edge in the run game against the strong offensive tackles in the NFL. Kikaha's injury history is very extensive and quite worrisome for his future prospects. He has torn his left ACL on two separate occasions while at Washington and that will be something teams will have to dig into and figure out during the draft process. We have seen in the past that players will be significantly downgraded if they have issues with their knees, Da'Quan Bowers is a testament to this fact.
Despite these two issues, Kikaha has the type of pass-rush skills to be an extremely productive and impactful player in the NFL and that's not something you can just dismiss arbitrarily.
Now, what makes Kikaha so great?
Kikaha's greatest strength is his capacity to defeat blocks with his hands. His ability to use his hands to get off of and around blocks can partially be attributed to his background in Judo. For those not familiar with Judo, one of the main purposes of the sport is to get advantageous grips on your opponent, while not allowing your opponent to get good grips on you, which sounds eerily familiar to what edge-rushers have to do in football. They can't allow opponents to get their hands on them as they try and make their way to the quarterback.
Here is a great example of Kikaha using his hands to not allow opposing blockers to get their hands on him: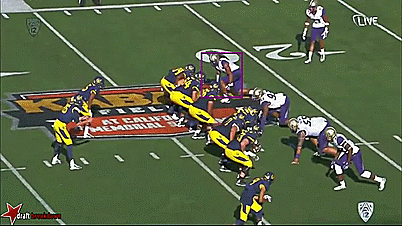 On this play, Kikaha is lined up in a two-point stance as an outside linebacker in Washington's 3-4 scheme. Kikaha's burst off the snap is good, but nothing special. At first glance, it may appear as though Kikaha just ran right around the tackle for the easy sack; however, notice that as Kikaha starts to bend his rush inside toward the quarterback the left tackle tries to engage with him. Kikaha utilizes an exceedingly savvy move by performing a downward chop with his left hand, which doesn't allow the tackle to get his hands on Kikaha. This allows him to veer his rush inside a little bit more as he closes in, makes the sack and knocks the ball out of the quarterback's hands to create a turnover possibility.
Normally when you see a player make a sack like that, it is because of his exceptional quickness and first step off the snap, which allows them to blow by the blocker. Nevertheless, Kikaha gets the same result by using his hands to not allow the lineman to engage with him.
Another aspect where Kikaha's judo background helps is with his incredible balance. In the simplest of terms, Judo is the art of staying on your own feet as you and your opponent try to take each other off their feet, which requires a great deal of balance to be successful. Balance is extremely important because it allows edge-players to get around whatever "trash" there might be on a particular play. Whether it is a lineman performing a cut block or a chip from a running back, it is supremely advantageous for a player to be able to stay on their feet because it gives them the opportunity to still make a play. All too often, you see players who are in a position where they can go and make a play go on to lose their balance from a cut block, which eliminates any possibility for a positive play on their part.
Kikaha's balance is evident in this play: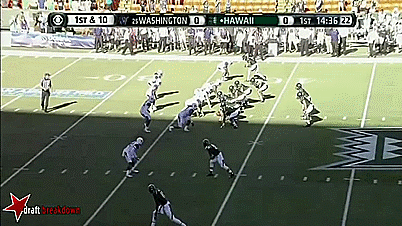 Once again, Kikaha is lined up in a two-stance as a 3-4 outside linebacker on the right side of defense. After the snap, the offensive line slants right, which initially appears to give Kikaha a free run at the quarterback; however, the running back quickly comes downhill and tries to execute a cut block to take Kikaha out of the play. Kikaha performs a quick side step to his right to try an avoid the running back's block; yet, the running back still creates contact at Kikaha's knees. While most players would get off balance when their legs are being hit as they are in midair, Kikaha keeps his balance, stays on his feet and closes in for the sack.
Another positive about Kikaha is his intimate knowledge of such nuanced concepts such as momentum and leverage. If a player knows how to use an opposing blockers momentum against himself, then he will increase his chances to defeat the block tenfold.
Kikaha does a great job of using his opponent's momentum against himself here: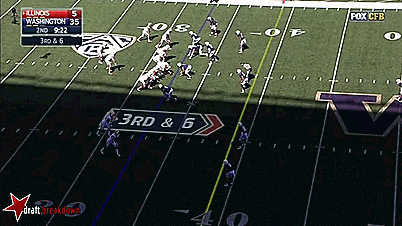 On this occasion, Kikaha is lined up on the left side of the defense in a two-point stance as a defensive end. Much like in the first clip, Kikaha starts up field, attacking the tackles outside shoulder, and uses his hands to get free; nonetheless, the quarterback notices this and steps up in the pocket. Kikaha observes the quarterback stepping up and feels the right tackles momentum carrying him further up field. Kikaha then stops on a dime, keeps his balance, uses his right hand to leverage the tackle even further up field than his momentum was already taking him and made the sack on the quarterback.
There are only a few players that have the intelligence and ability to change their pass-rush plan mid-play and use such a subtle concept as momentum to get it done.
One of the best aspects of Kikaha's game is his ability to win from a variety of positions and with a variety of moves. Thus far, we have seen him win from the left and right side of the defense. We have also seen him defeat blocks with his hands, balance and knowledge of momentum and leverage. The one thing we haven't discussed yet is Kikaha using a bonafide pass-rush move to beat an opposing lineman.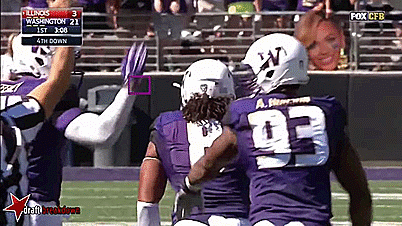 On this play, Kikaha once again begins up field, which causes the tackle to open his shoulders a little bit earlier than he wanted to. This opens up the inside shoulder of the left tackle to be attacked by Kikaha. As the tackle tries to use his punch on him, Kikaha executes a beautiful spin that puts him in great position to make the sack. The left tackle does a great job of recovering and gets to push Kikaha as he lunges toward the quarterback. Even though Kikaha still recorded the sack because his foot tripped the quarterback, his lack of a closing burst hurt him here. He wasn't able to adequately capitalize on his fantastic pass-rush move.
Kikaha's diverse pass-rush skill set is what makes him special-type of player. His graduate-level understanding of how to defeat blocks will allow him to make an instant impact as a pass-rusher at the next level. While his lack of bulk will likely limit his ability to play against the run initially, a player with Kikaha's pass-rush skills is not someone who can be summarily dismissed.
Kikaha's frame best fits the role of a LEO, which is basically a hybrid defensive end/outside linebacker whose main job is to get up field and create havoc in the backfield. While Kikaha's size isn't prototypical of a 4-3 defensive end or 3-4 outside linebacker, he has a slight enough frame to conclude that he can put on another 10-15 pounds without any negative consequences.
Initially, Kikaha will likely be used as a nickel edge-rusher as he adds more weight to his frame. However, Kikaha has the ability to be extremely productive as a rotational edge-rusher early, before developing into a dominant pass-rusher and solid run-defender in his third or fourth year.
In a league that is becoming more and more about the passing attack, a blocker-defeater should be an extremely hot commodity.
Projection: Round 2 (If his knees check out well)
Buccaneers admit mistake, boot Aguayo
In the NFL, it's always better to admit a mistake than to compound it. For the Buccaneers, the decision to burn a 2016 second-round pick on kicker Robert Aguayo has proven to be a mistake. The Buccaneers made the definitive admission of their error on Saturday, cutting Aguayo. He exits with $428,000 in fully-guaranteed salary [
more
]
Source: Mike Florio of ProFootballTalk
Powered by WPeMatico
Did Bucs put too much pressure on Aguayo?
After the Buccaneers surprised everyone by taking a kicker with the 59th overall pick in the draft, G.M. Jason Licht explained the move by heaping superlatives on the player. "I was very excited along with my staff and coaches about Roberto for a very long time," Licht told PFT Live in May 2016. "It's not [
more
]
Source: Mike Florio of ProFootballTalk
Powered by WPeMatico
Broncos holding their breath on Derek Wolfe
Only two days after losing Billy Winn for the year with a torn ACL, the Broncos are now sweating out another potentially serious injury along the defensive line. Via multiple reports, Broncos defensive lineman Derek Wolfe was carted off the field during practice on Saturday. It's being described as a right ankle injury by coach [
more
]
Source: Mike Florio of ProFootballTalk
Powered by WPeMatico