The Top Five Safeties Heading Into Free Agency
A look at the top safeties heading into free agency.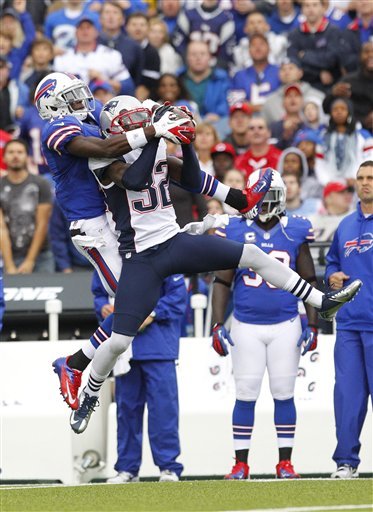 Here, we will rank the top-five free agent safeties heading into the 2015 season.
1. Devin McCourty
Profile
27 years old
4th year
2014 Salary: $4,220,000
Currently on the New England Patriots
5-foot-10, 195 pounds
Devin McCourty is one of the elite safeties in football. His eye for the ball and brisk instincts makes the quarterback second-guess throwing it his way. Being a former cornerback, his route recognition allows him to see certain plays most other safeties wouldn't. With his speed, he is never scared to make a play on the ball. However, he isn't a great tackler due to his lack of size. Entering his prime, expect McCourty to land a big deal.
2. Mike Adams
Profile
33 years old
11th year
2014 Salary: $1,020,000
Currently on the Indianapolis Colts
5'11, 200 lbs
Though 33-years old, Mike Adams is still playing at the top of his game. He is tied for second in the NFL with four interceptions and leads all safeties in that category. Adams also leads all safeties in recovered fumbles. In his first year with the Colts, Adams is on pace to break his single-season record for total tackles, forced fumbles, recovered fumbles, interceptions, and passes defended. He doesn't have great ball skills, but does a tremendous job with run defense. If he keeps up this strong play, expect Adams to get a nice contract.
3. Antrel Rolle
Profile
31 years old
10th year
2014 Salary: $8,000,000
Currently on the New York Giants
6'0, 206 lbs
This veteran still can play the game at a high level. Rolle had his best professional season in 2013 and is only adding to it this year. He is able to line up against both slot receivers and tight ends while being able to manage the deep part of the field. He is on pace for five interceptions and 83 combined tackles. You can always count on Rolle to make the routine plays, but at his age now, he don't expect him to do anything spectacular.
4. Rahim Moore
Profile
24 years old
4th year
2014 Salary: $1,415,313
Currently on the Denver Broncos
6'1, 195 lbs
Rahim Moore, coming back from a devastating injury (compartment syndrome) that forced him to miss the last six weeks and all playoffs games in 2013, is having a nice comeback year. He already has his career-high in interceptions (3) and is a key part of the Broncos' secondary. He does an above-average job playing the ball in the air, but still needs to work on his run defense as he misses tackles. Being so young with so much potential, Moore could land a surprisingly courteous deal.
5. Chris Conte
Profile
25 years old
4th year
2014 Salary: $1,564,400
Currently on the Chicago Bears
6'2, 203 lbs
Yes, the Bears' have a horrendous defense, but Chris Conte isn't one of the reasons why. He is one of the few guys on the Bears' defense that you can count on to make plays and is a true-starter material. Conte, also entering his prime, is on pace to break his single-season interceptions record (despite missing a game this year). He plays the ball in the air well but doesn't have the speed to match up with some of the quicker receivers in the slot.
Here are a few other options
Charles Woodson, Major Wright, Louis Delmas, Nate Allen, Charles Godfrey, Stevie Brown, Dawan Landry, George Wilson, Danieal Manning, Dwight Lowry, Jeron Johnson, Marcus Gilchrist, Patrick Chung, Brandon Meriweather, Taylor Mays, Quentin Carter, Quentin Demps, Ryan Clark, Isa Abdul-Quddus and Ron Parker.
Buccaneers admit mistake, boot Aguayo
In the NFL, it's always better to admit a mistake than to compound it. For the Buccaneers, the decision to burn a 2016 second-round pick on kicker Robert Aguayo has proven to be a mistake. The Buccaneers made the definitive admission of their error on Saturday, cutting Aguayo. He exits with $428,000 in fully-guaranteed salary [
more
]
Source: Mike Florio of ProFootballTalk
Powered by WPeMatico
Did Bucs put too much pressure on Aguayo?
After the Buccaneers surprised everyone by taking a kicker with the 59th overall pick in the draft, G.M. Jason Licht explained the move by heaping superlatives on the player. "I was very excited along with my staff and coaches about Roberto for a very long time," Licht told PFT Live in May 2016. "It's not [
more
]
Source: Mike Florio of ProFootballTalk
Powered by WPeMatico
Broncos holding their breath on Derek Wolfe
Only two days after losing Billy Winn for the year with a torn ACL, the Broncos are now sweating out another potentially serious injury along the defensive line. Via multiple reports, Broncos defensive lineman Derek Wolfe was carted off the field during practice on Saturday. It's being described as a right ankle injury by coach [
more
]
Source: Mike Florio of ProFootballTalk
Powered by WPeMatico