The Time Has Come To Play Manziel
With Cleveland's offense sputtering, it's time to make Johnny Manziel the starting QB.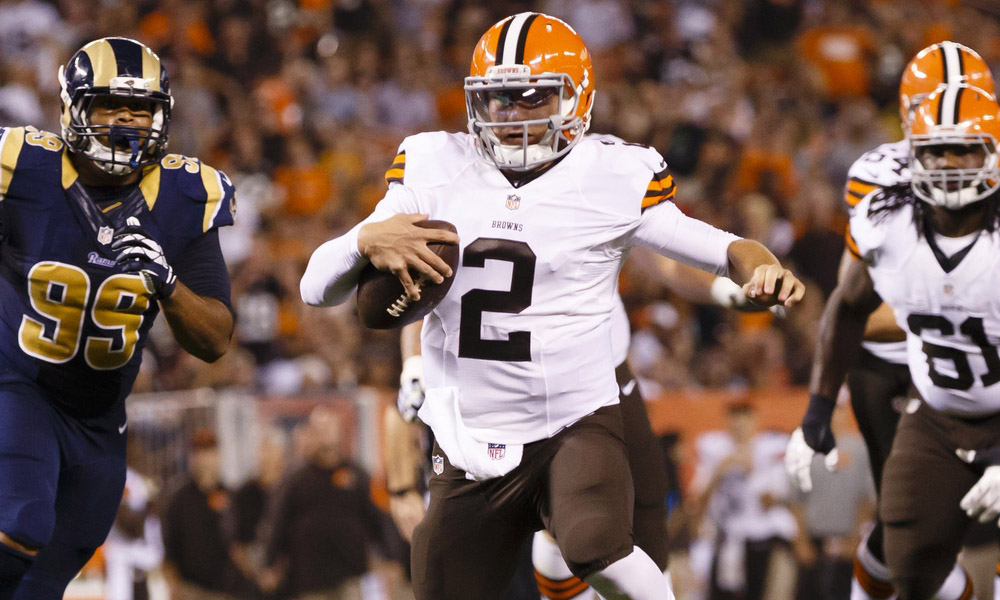 The Cleveland Browns have toyed around long enough by playing quarterback Brian Hoyer. It's time for the future to begin.
After throwing his sixth interception in the past three games, Hoyer was benched in favor of high-profile rookie Johnny Manziel, who directed the Browns' only touchdown drive. Manziel completed 3-of-4 passes for 54 yards and rushed for 13 yards on two carries on his opening series, ending it with a 10-yard scoring run.
"I think Manziel did a good job, man," Browns cornerback Joe Haden said. "He's just not expecting to play and came out there and drove down and got seven. That's really special. I think he did a good job."
Although the original plan probably didn't include having a winning record through three-fourths of the season, the Browns have put off the inevitable long enough. Hoyer knew what the proverbial score was after the Browns drafted Manziel, and he knew at some point the first-round pick would take his job. That time has to be now.
"Not ready to make a decision on that at this point," Browns head coach Mike Pettine said. "Not leaning one way or the other, but there's a lot to consider."
What Pettine has to consider is that Hoyer is an average quarterback on a good day. On his best day, he's a not-so-athletic Alex Smith without the first-overall-pick pedigree. Hoyer did an admirable job to keep the Browns from losing games, but the past three games where he's completed just 61 of 120 throws for 844 yards with one touchdown and six interceptions is more indicative of his true talent level.
Hoyer has won 10 of his 15 starts as a Cleveland Brown going back to last season. With that said, the team is carrying Hoyer more than he is carrying the team and his regression can be attributed to opposing defenses figuring out his limitations.
"We're 7-5," Hoyer said Monday. "That just doesn't happen by luck. It was hard-earned and we've worked to get where we're at. And we're still in it."
Hoyer is right, and he may not be the biggest problem with the Browns. Manziel may not even be an upgrade over Hoyer right now or ever, but he's the first-round pick. The first-round pick eventually plays no matter what the circumstances are or become.
"It's obviously up to Coach Pettine and some higher up people than me in this organization," Manziel said after Sunday's game. "If that is the case and my name is called, then I definitely will be ready… Coach Pettine has done nothing but put us in the right situation throughout the entire year. I don't see that changing any time moving forward. I think he's going to put this football team in the best position to win and whoever does that, that's his choice."
Hoyer may have had a shorter leash than many starters in Cleveland, but that's the cruelty of the game. When a team has an investment in a first-round pick, that's the guy who's eventually going to take over and lead the franchise. Future Hall of Famer Kurt Warner couldn't hold off Eli Manning. The great Drew Brees couldn't hold off Philip Rivers for more than a season despite posting unbelievable numbers. It's reasonable to think that a quarterback with 10 wins in six years will get replaced by the flashy first-round pick who has his jersey donned by a large percentage of the fan base.
Rookies Blake Bortles, Teddy Bridgewater, Derek Carr and Zach Mettenberger all took over starting quarterback duties at some point this season. Although their teams have a combined 10-38 record, those franchises have began their future where the Browns are simply wasting time with Hoyer.
After six years in the league, Hoyer has proven that he's a limited quarterback. It's time for the Browns to find out how good Manziel is.
Buccaneers admit mistake, boot Aguayo
In the NFL, it's always better to admit a mistake than to compound it. For the Buccaneers, the decision to burn a 2016 second-round pick on kicker Robert Aguayo has proven to be a mistake. The Buccaneers made the definitive admission of their error on Saturday, cutting Aguayo. He exits with $428,000 in fully-guaranteed salary [
more
]
Source: Mike Florio of ProFootballTalk
Powered by WPeMatico
Did Bucs put too much pressure on Aguayo?
After the Buccaneers surprised everyone by taking a kicker with the 59th overall pick in the draft, G.M. Jason Licht explained the move by heaping superlatives on the player. "I was very excited along with my staff and coaches about Roberto for a very long time," Licht told PFT Live in May 2016. "It's not [
more
]
Source: Mike Florio of ProFootballTalk
Powered by WPeMatico
Broncos holding their breath on Derek Wolfe
Only two days after losing Billy Winn for the year with a torn ACL, the Broncos are now sweating out another potentially serious injury along the defensive line. Via multiple reports, Broncos defensive lineman Derek Wolfe was carted off the field during practice on Saturday. It's being described as a right ankle injury by coach [
more
]
Source: Mike Florio of ProFootballTalk
Powered by WPeMatico