The Minnesota Vikings' Young Core Gives Them Hope
The Vikings may not be a playoff team, but they have a lot of reasons to be optimistic for the future.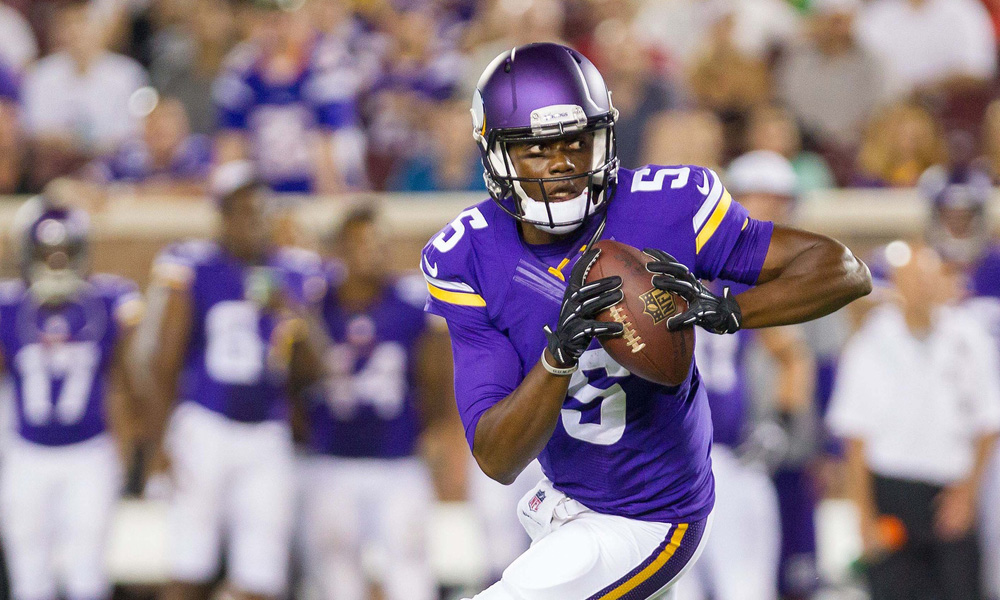 It's not often that you find a team that is 6-7 with a great deal of optimism for the future. Usually, teams with that sort of record are stuck in a type of purgatory. They aren't bad enough to get a top pick in the draft, but not good enough to earn a playoff berth.
Nevertheless, the Minnesota Vikings are one of the exceptions to that rule. They have a wealth of young talent on both sides of the ball and they only need a few more pieces to be in position to vie for a playoff berth.
The most notable name among their young, talented squad is rookie quarterback Teddy Bridgewater. The rookie first-round pick has shown flashes of greatness in the 10 games he has appeared in, but he had some rookie hiccups as well. Thus far, he has thrown for 2,136 yards, 10 touchdowns and eight interceptions while completing 61.9 percent of his passes. Bridgewater has shown a good amount of traits that should make the Vikings excited about their future with the young quarterback.
Bridgewater has exhibited incredible intelligence and feel for the game for such a green quarterback. This was showcased in the Vikings overtime win against the Jets. It was third-and-five at the Vikings' own 13-yard line and Bridgewater saw that the Jets were going to send one of Rex Ryan's notorious blitzes. Bridgewater smartly checked the play into a screen pass, which led to an 87-yard touchdown catch and run for another young and promising player, Jarius Wright.
It is not often that rookie quarterbacks get the leeway to change plays and even if they do, a majority of them don't have the guts to make the switch, especially in overtime.
This isn't to say that Bridgewater hasn't had some mistakes along the way. However, a high percentage of them are due to the fact that Bridgewater has one of the worst offensive lines in the NFL. He has been under pressure on 40.3 percent of his passes (fourth in the NFL), per Pro Football Focus.
Bridgewater's stellar play led to him telling the media after the Vikings' win over the Jets that this is his team.
While Bridgewater's play has been extremely encouraging, there have been other young studs that give the Vikings hope.
Fifth-year defensive end, Everson Griffin, may be the best all around player on the Vikings' roster this year. Through 13 games, he has 49 tackles and 12 sacks, which don't even begin to illustrate the kind of impact he's had made on the Vikings defense. Griffin is one of the few defensive ends who makes a huge impact as a pass-rusher and a run-defender. He does a good job of setting the edge and knifing through his gap to make a play in the backfield depending on his responsibility on a given play.
Griffin looks to be reaching his prime and the Vikings are set to prosper for the foreseeable future.
The next young star on the Vikings lines up next to Griffin on most plays in defensive tackle Sharrif Floyd. The second-year defender has rebounded quite nicely from his disappointing rookie campaign to become one of the best young interior defensive linemen in the NFL. The 2013 first-round pick is taking on the role of Geno Atkins in head coach Mike Zimmer's defense and he has not disappointed, as he has been a disruptive force for the Vikings. Floyd uses impressive quickness coupled with his powerful hands to beat opposing lineman. Floyd has done a much better job with his hands this year, which has helped him into the great season he is having. Overall, he has recorded 36 tackles, 23 stops and 4.5 sacks this season.
While Griffin and Floyd look to grow into one of the best defensive line tandems in the NFL, safety Harrison Smith and cornerback Xavier Rhodes hope to do the same for the secondary.
Smith is one of the most versatile safeties in the NFL. He excels as a blitzer, defending the run and is extremely competent in coverage as well. He has only allowed two touchdowns in coverage, while also having four interceptions and three pass deflections, per PFF. The former first-round pick is an extremely smart player who is rarely out of position on any given play. He can process information extremely quickly and showcases great instincts to make big plays.
On the outside, Rhodes has proved worthy of his first-round selection in 2013, as he has become one of the best young defensive backs in the NFL. The second-year cornerback has great size (6-foot-1 and 210 pounds), length (33.75-inches) and leaping ability (40.5-inch vertical) that allow him to match up with any receiver in the NFL. He has only allowed one touchdown, while he has one interception and 11 pass deflections this year. He has only allowed 0.86 yards per coverage snap (ninth-fewest in the NFL) and only gives up an average of one reception per 13.5 snaps in coverage (eighth in NFL), per PFF.
Rhodes has improved drastically under Zimmer's defense, which plays to his strengths in man coverage more often. If Rhodes continues to develop at the rate he is right now, he will be one of the best cornerbacks in the league in one or two years; he is that gifted.
The Vikings defense is littered with young stars and the last of which is linebacker Anthony Barr.
While the first-round pick was viewed as raw coming into the 2014 NFL draft, he has had one of the most productive and impactful rookie seasons this year. Barr has recorded 70 tackles, four sacks, two forced fumbles and three fumble recoveries thus far in his rookie campaign. For a player that played little in space, Barr has been surprisingly competent in coverage as he hasn't looked out of place at all. While Barr does have a lot of room to improve, especially with his tackling as he has missed 22 tackles this year, but he has shown enough for the Vikings to believe that they have an excellent defender.
While Bridgewater, Griffin, Floyd, Barr, Smith and Rhodes have met or exceeded their expectations, the Vikings still have one young player who has yet to hit his stride in Cordarrelle Patterson. The 2013 first-round pick was supposed to be the explosive playmaker that they have sorely missed since departing with Percy Harvin, but he has been anything but that thus far.
Through 13 games, he has just 30 catches for 350 yards and one touchdown. He has been above average in the return game as he has averaged 25 yards per kick return, which is good for 10th in the NFL. However, you expect much more when you invest something as valuable as a first-round pick on a player. A majority of Patterson's struggles have been due to poor route running, which has hindered his ability to get open. Oftentimes in college, players can get open because of their physical ability, but wide receivers must become good route runners if they hope to have similar production in the pros.
While Patterson's play hasn't really inspired confidence, he still has that rare physical ability. If the former first-round pick hones his craft and becomes a becomes a better technician with his routes, then the Vikings will have one of the most potent quarterback-to-wide receiver combinations in the NFL.
If the Vikings can fix their offensive line issues that have plagued them all year through free agency or the draft, they may be knocking on the playoffs doors as early as next year.
South African social right activist Desmond Tutu once said, "Hope is being able to see that there is light despite all the darkness."
The Vikings' young core is that light and it looks to only be getting brighter.
Buccaneers admit mistake, boot Aguayo
In the NFL, it's always better to admit a mistake than to compound it. For the Buccaneers, the decision to burn a 2016 second-round pick on kicker Robert Aguayo has proven to be a mistake. The Buccaneers made the definitive admission of their error on Saturday, cutting Aguayo. He exits with $428,000 in fully-guaranteed salary [
more
]
Source: Mike Florio of ProFootballTalk
Powered by WPeMatico
Did Bucs put too much pressure on Aguayo?
After the Buccaneers surprised everyone by taking a kicker with the 59th overall pick in the draft, G.M. Jason Licht explained the move by heaping superlatives on the player. "I was very excited along with my staff and coaches about Roberto for a very long time," Licht told PFT Live in May 2016. "It's not [
more
]
Source: Mike Florio of ProFootballTalk
Powered by WPeMatico
Broncos holding their breath on Derek Wolfe
Only two days after losing Billy Winn for the year with a torn ACL, the Broncos are now sweating out another potentially serious injury along the defensive line. Via multiple reports, Broncos defensive lineman Derek Wolfe was carted off the field during practice on Saturday. It's being described as a right ankle injury by coach [
more
]
Source: Mike Florio of ProFootballTalk
Powered by WPeMatico