The Good, Bad and Ugly of 2014
Who is on your "Cheers and Jeers" list?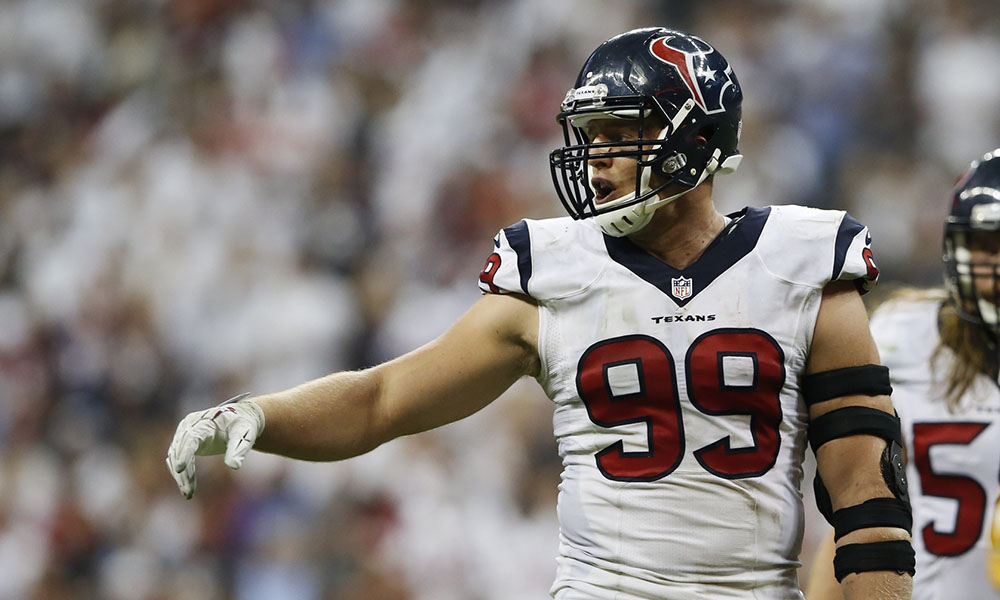 As happens every season, there are situations and efforts the can be considered the good, the bad and the ugly on and off the field of play.  2014 was no different and as we close this regular season and year overall, I would like to give my short list of cheers and jeers.
CHEERS:  JJ Watt.  Watt dominated the NFL from just about every angle possible.  Not sure if he kicked a field goal, but he did everything else with excellence and should be the NFL MVP.
JEERS:  Ndamukong Suh.  Suh is a football player in the mold of Watt, without any of the class and reduces his himself every time he does some dirty, low-life play and tries to make us believe it wasn't on purpose.  He almost ended his season (the NFL should have stood up for its punishment due to previous incidents) and thereby reducing his team's chances of winning a playoff game by stepping on Aaron Rogers' legs multiple times after the ball had been thrown and the QB was laying on the ground.  His reduced punishment to a $70,000 fine does nothing to curb his continued bad behavior.
CHEERS:  Tony Romo.  I felt the embattled quarterback should have been let go by the Cowboys after leading them to three seasons of 8-8 football and a consistent lack of leadership as the stakes grew larger toward the end of the season.  He, along with DeMarco Murray's legs, have propelled his team into the playoffs after a long layoff and shown that he is still a very talented QB if he can stay healthy.  He does need to produce something in the playoffs, however, if he really wants to make a statement!
JEERS:  Roger Goodell.  The NFL Commissioner makes $44 million a year and had more missteps this year than ever.  He should impose a fine on himself, say $100,000, because that would really hurt him and make him improve his performance (sarcasm intended).  He more than stubbed his toe on the Ray Rice situation that still hasn't fully been settled, as well as the Adrian Peterson case.  The aforementioned Suh punishment was weak at best, if better conduct on and off the field was the desired outcome, which is what he has said over the years.
CHEERS:  Kyle Orton.  The 10 year veteran announced his retirement following Sunday's win over the Patriots, citing a decision that he had been doing it (the NFL for 10 years) and a desire to spend more time at home being a dad.  So many guys try to hang on no matter what and end up looking bad in the process.  He finishes his career playing quite well and helping save the Buffalo Bills season from disaster to respectability and can leave the game on his terms, something very few guys are able to say or do!
JEERS:  Johnny Manziel.  The QB with the most hype coming into the season finally got his chance to start a game late in the season and quickly laid a giant egg, followed closely by a pulled hamstring and saying shortly thereafter that he planned to get more serious about the game next season.  This from a guy that was supposed to have overcome his partying nature and reputation this season.  The Cleveland Browns are rumored to be considering their options at QB after drafting Manziel in the first round this year.
CHEERS:  Tom Brady.  After a couple of ugly weeks early in the season for the New England Patriots and plenty of criticism of its aging franchise quarterback, Brady went right back to being Tom Brady and leading his team back to the top of the AFC again.  He has arguably done more with less throughout his career and just renegotiated his contract to give the Patriots more flexibility in their salary cap to continue their domination a while longer.
2014 was a topsy-turvy kind of year on and off the field.  Team's personalities took quite a while to develop and mature, but the playoff chase looks to be as fun as we've seen and I look forward to every one of them and the 2015 draft talk to follow!
Buccaneers admit mistake, boot Aguayo
In the NFL, it's always better to admit a mistake than to compound it. For the Buccaneers, the decision to burn a 2016 second-round pick on kicker Robert Aguayo has proven to be a mistake. The Buccaneers made the definitive admission of their error on Saturday, cutting Aguayo. He exits with $428,000 in fully-guaranteed salary [
more
]
Source: Mike Florio of ProFootballTalk
Powered by WPeMatico
Did Bucs put too much pressure on Aguayo?
After the Buccaneers surprised everyone by taking a kicker with the 59th overall pick in the draft, G.M. Jason Licht explained the move by heaping superlatives on the player. "I was very excited along with my staff and coaches about Roberto for a very long time," Licht told PFT Live in May 2016. "It's not [
more
]
Source: Mike Florio of ProFootballTalk
Powered by WPeMatico
Broncos holding their breath on Derek Wolfe
Only two days after losing Billy Winn for the year with a torn ACL, the Broncos are now sweating out another potentially serious injury along the defensive line. Via multiple reports, Broncos defensive lineman Derek Wolfe was carted off the field during practice on Saturday. It's being described as a right ankle injury by coach [
more
]
Source: Mike Florio of ProFootballTalk
Powered by WPeMatico