With Hoyer Approaching Free Agency, Browns Have Tough Decision
Brian Hoyer is set to become a free agent in 2015. Can Cleveland afford to let him go?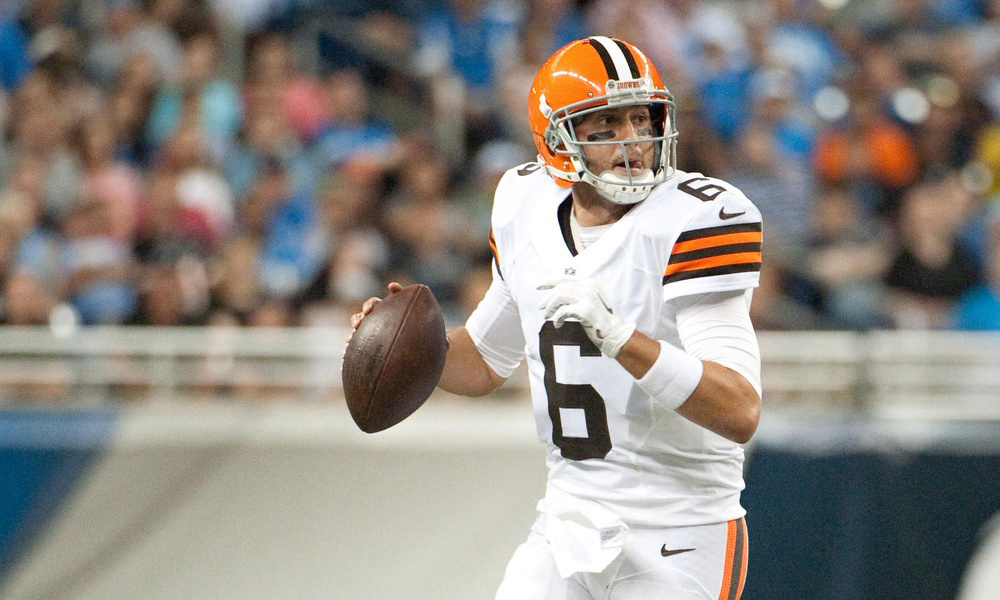 Last year, Brian Hoyer was a breath of fresh air for a flopping franchise searching for an identity, let alone a quarterback. The Cleveland Browns were 0-2 with no light at the end of the tunnel. Then, Hoyer helped turned things around when he led the Browns to three straight wins as the team's starting quarterback. However, in the third win against the Buffalo Bills, the magic was cut short when Hoyer tore his ACL, forcing the Browns to rethink their future. The limited sample size put Cleveland in a tough situation. They could roll the dice and possibly end up with another Derek Anderson or they could use the draft to find their quarterback of the future. After Hoyer went down, the Browns lost 10 of 11 games, finishing the season 4-12 overall.
The temptation to find a long-term solution under center was too much for Cleveland's brain trust to resist this past May when they elected to move up in the NFL Draft and take rookie quarterback Johnny Manziel. It was the third time since 2007 Cleveland used the 22nd overall pick on a quarterback. Brady Quinn and Brandon Weeden were the other two selections. The pair's combined record as starters in Cleveland was a lousy 8-24. Quinn now works in television and Weeden holds the clipboard in Dallas behind Cowboys quarterback Tony Romo. The Browns' track record over the last two decades with quarterbacks has been nothing short of awful. However, Hoyer is different and after eight games he appears to be very capable of leading this team to a winning culture – something that has been sorely missed for a franchise deep in tradition.
This is where the irony rears its ugly head in Cleveland.
The Browns are 6-2 with Hoyer under center and there's finally hope in Cleveland. However, Hoyer is slated to become a free agent in 2015. If the Browns retain him, what does that do to the future of Manziel? And if they let Hoyer walk, what does the do to the future of the franchise if Manziel is a bust? The more Hoyer keeps winning, the more twisted next summer's decision becomes.
Hoyer is a local guy, raised in North Olmsted, OH about 25 minutes from downtown Cleveland. Can the front office let him walk away? That will be tough to do if he continues to win and play at a high level. Remember, this team has not won more than five games in a season since 2007. The Browns are currently 3-2 and look like a legitimate playoff contender in the AFC.
The recent 31-10 dismantling of their division rival Pittsburgh Steelers put the NFL on notice that Cleveland isn't a bottom feeder any longer.
"We trust each other more and more," Hoyer said, referencing his offensive coordinator Kyle Shanahan. "I have a feel for what he's going to call and I think he has a feel for what I like."
Shanahan spent the four previous seasons in Washington coaching the Redskins in the same capacity. The common bond between player and coach is reset in 2015 if Hoyer does not return.
After their latest win, Cleveland's head coach Mike Pettine said, "It is huge, I can't tell that lie. This is a tight team. We could not have done what we've done to date without being a tight group. There are not a lot of cliques in the locker room. They do things together out of the building… You talk about this being a team – they embody that."
So Cleveland keeps winning and Hoyer keeps building confidence in his coaching staff and teammates. It's hard to imagine that this franchise will do an about-face and go in another direction.
"We wanted to build that environment where guys wake up and can't wait to come to work," Pettine said. "We're all in it together. We came in, new schemes and a bunch of no-name coaches, and the guy bought in."
It may not carry the same weight as LeBron James' free agency decision in 2010 when he left the Cleveland Cavaliers, but the next decision in Cleveland regarding Hoyer will bring plenty of heated discussions. It may seem like the Browns finally have found their quarterback of the future, but in reality his days in Cleveland may be numbered.
Buccaneers admit mistake, boot Aguayo
In the NFL, it's always better to admit a mistake than to compound it. For the Buccaneers, the decision to burn a 2016 second-round pick on kicker Robert Aguayo has proven to be a mistake. The Buccaneers made the definitive admission of their error on Saturday, cutting Aguayo. He exits with $428,000 in fully-guaranteed salary [
more
]
Source: Mike Florio of ProFootballTalk
Powered by WPeMatico
Did Bucs put too much pressure on Aguayo?
After the Buccaneers surprised everyone by taking a kicker with the 59th overall pick in the draft, G.M. Jason Licht explained the move by heaping superlatives on the player. "I was very excited along with my staff and coaches about Roberto for a very long time," Licht told PFT Live in May 2016. "It's not [
more
]
Source: Mike Florio of ProFootballTalk
Powered by WPeMatico
Broncos holding their breath on Derek Wolfe
Only two days after losing Billy Winn for the year with a torn ACL, the Broncos are now sweating out another potentially serious injury along the defensive line. Via multiple reports, Broncos defensive lineman Derek Wolfe was carted off the field during practice on Saturday. It's being described as a right ankle injury by coach [
more
]
Source: Mike Florio of ProFootballTalk
Powered by WPeMatico