The Best NFL Teams Now Don't Hoist The Lombardi
The team with the best regular-season point differential rarely wins it all.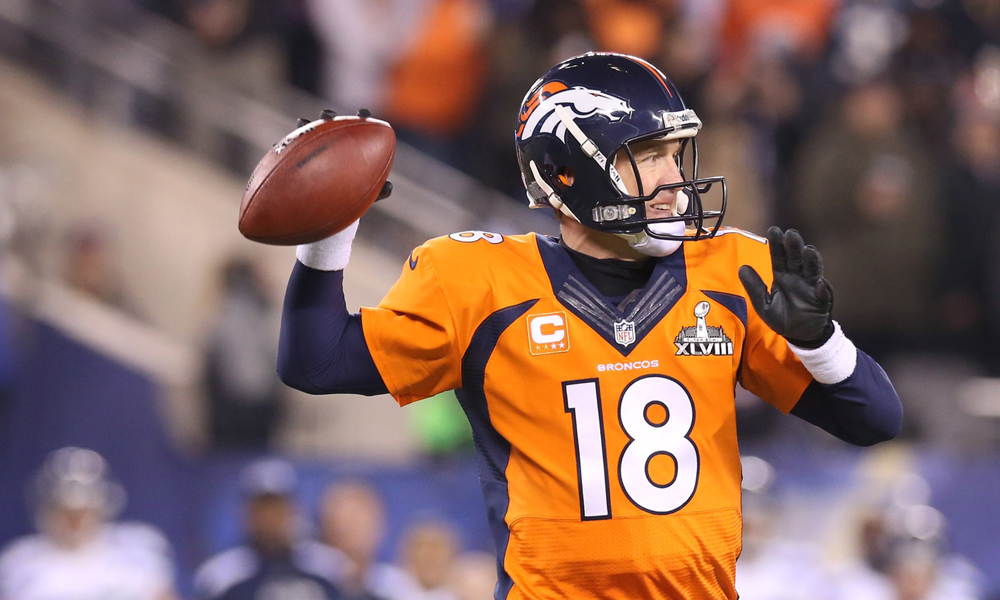 Point differential seems like a pretty effective statistic for culling the great from the good and the mediocre from the lousy in football. But it turns out that is only true to a minor degree.
While the worst team in the NFL is typically the one with the worst point differential, rarely does the team that finishes atop the league in that category end up hoisting the Lombardi Trophy. Since 2000, only two teams that ended the regular season with the best point differential ended up winning the Super Bowl – the 2004 Patriots and the 2009 Saints.
So while this year's potential leaders in point differential all have serious Super Bowl aspirations – Denver, New England, Baltimore, Green Bay and Philadelphia are in the derby thus far – that doesn't mean it will translate in the playoffs.
This is not a recent phenomenon.
Only 13 of the 48 Super Bowl winners have had the best regular-season point differential. It took six Super Bowls for a team to actually have the stat correspond with a title, with the 1971 Cowboys being the first to do it.
Several of the most dominant regular-season teams of all-time have come up short in the postseason. Only half of the top-10 point differentials in NFL history have ended up Super Bowl winners.
2007 Patriots      16-0      +315              Lost Super Bowl

1999 Rams            13-3        +284            Won Super Bowl

1991 Redskins     14-2        +261             Won Super Bowl

1998 Vikings        15-1       +260             Lost NFC Championship

1968 Colts             13-1       +258             Lost Super Bowl

1985 Bears            15-1        +258           Won Super Bowl

1984 49ers           15-1        +248           Won Super Bowl

1969 Vikings       12-2        +246            Lost Super Bowl

1996 Packers      13-3        +246            Won Super Bowl

2001 Rams         14-2         +230            Lost Super Bowl
When it comes to point differential, you're more likely to handicap the Super Bowl champion by picking the team that finishes second-best in the regular season. The No. 2 team in point differential has won 15 Super Bowls, including last year's Seahawks.
Still, the past decade has shown the greatest variance when it comes to a Super Bowl winner's rank in point differential. The 2006 Colts were ninth, the '07 Giants 13th, '11 Giants 19th (!) and '12 Ravens 11th. And that may be the greatest indicator of all that parity has taken over the NFL – any team that gets to the playoffs healthy truly does have a shot at glory.
Did Bucs put too much pressure on Aguayo?
After the Buccaneers surprised everyone by taking a kicker with the 59th overall pick in the draft, G.M. Jason Licht explained the move by heaping superlatives on the player. "I was very excited along with my staff and coaches about Roberto for a very long time," Licht told PFT Live in May 2016. "It's not [
more
]
Source: Mike Florio of ProFootballTalk
Powered by WPeMatico
Broncos holding their breath on Derek Wolfe
Only two days after losing Billy Winn for the year with a torn ACL, the Broncos are now sweating out another potentially serious injury along the defensive line. Via multiple reports, Broncos defensive lineman Derek Wolfe was carted off the field during practice on Saturday. It's being described as a right ankle injury by coach [
more
]
Source: Mike Florio of ProFootballTalk
Powered by WPeMatico
Buccaneers admit mistake, boot Aguayo
In the NFL, it's always better to admit a mistake than to compound it. For the Buccaneers, the decision to burn a 2016 second-round pick on kicker Robert Aguayo has proven to be a mistake. The Buccaneers made the definitive admission of their error on Saturday, cutting Aguayo. He exits with $428,000 in fully-guaranteed salary [
more
]
Source: Mike Florio of ProFootballTalk
Powered by WPeMatico