Tevin Coleman's NFL Draft Breakdown
Tevin Coleman is one of college football's most productive running backs. Find out how well he projects to the NFL.
The value of the running back in the NFL has diminished significantly in the last couple of years. The supply of quality running backs has exceeded the demand, which has significantly diminished the amount of capital that a team has to allocate to fill the need.
No longer do teams have to invest a pick in the first couple rounds of the draft to get a capable and productive running back. They can be found in the later half of the draft or even in undrafted free agency.
Take Broncos running back C.J. Anderson and Texans running back Arian Foster as great examples. Both were undrafted free agents, but both are extremely productive. Anderson is just starting and Foster has been for a very long time.
Furthermore, only one player from the top-10 in rushing was chosen in the first round (Marshawn Lynch), while three (Arian Foster, Justin Forsett and Alfred Morris) were undrafted or picked in the sixth or seventh round.
This means that it will likely take a special type of player to warrant spending significant resources (first or second round pick) on a position has such a surplus of talent.
Tevin Coleman is that type of special player.
Coleman is a 6-foot-1, 210-pound junior running back at Indiana who is in the midst of a truly incredible year. In 11 games, he has 241 carries for 1,906 yards, 7.91 yards per carry and 15 touchdowns. On the surface, those stats are exceedingly impressive, but when you dig deeper, they become even more impressive.
A big problem a lot of players have is being significantly more productive at home than away, but not Coleman. He has played only one more game on the road than he has at home, but he still has seven more touchdowns, 462 more yards, while averaging 0.78 more yards per carry.
Another problem with most running backs is they're only effective in situations that are conducive to running the ball, like on first and second down, but not very productive in situations where the defense knows they are running it. Nevertheless, on third down and less than two yards (an obvious running situation, especially with a player like Coleman), he averages 10.6 yards per carry. That number would be amazing in any situation, let alone one of the most difficult situations to run the ball.
Despite all that, we have discussed in the past how important it is not to get caught up in "box-score scouting" when trying to project a player to the NFL.
Therefore, let's take a look at what traits Coleman displays that make him worthy of a selection in the first two rounds.
The first trait that jumps out about Coleman is his vision. To have great vision a player must have incredible cognitive ability to see the open running lanes or creases and understand where the defenders are in relation to his body so that he can make the best decision, which will allow him to get the most yards possible.
This play is a great example of Tevin's vision: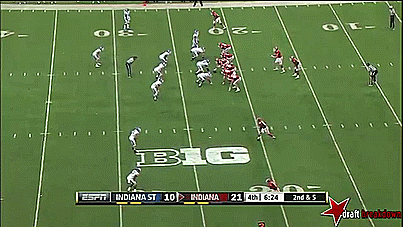 Coleman is lined up in the shotgun to his quarterback's left. When he gets the handoff, he starts downhill; however, Indiana State does a great job of plugging up the gaps where the run was initially set up to go. Instead of just running into the crowd of defenders, he presses the run inside so that the second-level defenders collapse inside. This gives Coleman just enough space to reverse field to his left as he performs to beautiful stiff arms with his off hand, which allows him to get outside the numbers and head up field for the significant gain.
Most running backs would immediately bounce the play outside at the first sign that the original play would be stuffed. However, Coleman showcased the mental maturity to remain calm and press the hole before he made his way to the outside.
Coaches are going to love how Coleman finished the play. Instead of taking the easy route and just going out of bounds, he lowered his shoulder, absorbed the contact and gained seven extra yards because of it. That shows the Coleman is not afraid of the physicality that being a running back brings and that he will fight to get every yard he can out of any run.
Another trait that jumps out when you watch Coleman is his ability to set up blocks. He does a great job moving the defenders with different cuts and varied stride lengths to put his blockers in perfect position to make a block that he can follow or cut off to get into the open field. This requires a great deal of cognitive ability to see the blocker and the defender, figure out the best way to set up the defender and then perform that action that they decide to do all in a matter of a half second.
This play shows Coleman's ability to set up blockers well: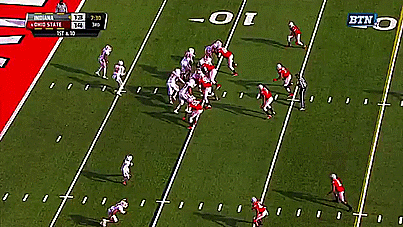 On this play, Coleman is lined up offset to the left of the quarterback, seven yards off the line of scrimmage. At the snap, the quarterback steps to his left and hands the ball off to Coleman. He chops his steps as he comes downhill as to give his pulling guard time to get into the hole, so that he can make the block. Coleman shows incredible vision as he sees the linebacker flow into the hole is supposed to run into. Then, Coleman takes a nifty step inside, which forces the linebacker to commit inside. This gives the guard a great angle to get the block as Coleman continues outside sticks his foot in the ground and cuts upfield into the open field where he shows off his acceleration as gets past the safety and to the end zone for the 90-yard touchdown.
Coleman's false inside step allowed him to get outside, plant his left foot, cut upfield and into the open space where his acceleration and speed took over. He doesn't look particularly fast on that play, but because of his long strides Coleman has deceptive speed that allows him to cover distance quickly.
Another thing that Coleman does extremely well is getting skinny through small holes. In the NFL, running backs don't have huge holes to run through; therefore, they have to manufacture ways to get through those little creases that allow them to get to the second level of the defense.
Here is a great example of Coleman getting skinny through a hole: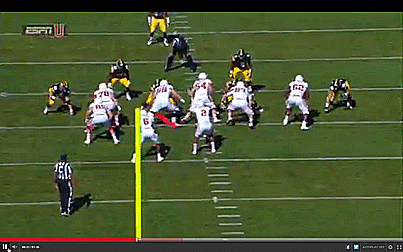 Coleman is lined up in the shotgun to his quarterback's left. When Coleman gets the handoff, there are not any definitive holes or creases for him to run through. Therefore, Coleman starts to head downhill to his right toward the B-gap; however, a linebacker fills that gap so it causes Coleman to make a slight cut to his left to avoid the linebacker. Coleman then lowers his upper body and slightly torques his lower body so that he can get through the small crease between a defensive lineman and the filling linebacker. This allowed Tevin to squeeze through the hole and get into the open field where he showcases his acceleration and long strides as he out runs to Iowa defenders for the 69-yard touchdown run.
This play took a great deal of vision and mental processing to see the defenders in relation to him and realize what he had to do to get through the hole, along with the physical ability to actually complete get skinny through the hole and outrun the defenders.
The last positive trait that we are going to discuss is how intelligent Coleman is as a runner. Coleman has a great understanding of how to run to his leverage on any given play. This means that Coleman runs to where there are less defenders on any given play. This may sound easy, but it's extremely difficult to do. If an outside zone run is designed to go right, but the defense has a majority of their defenders to that side, the play won't likely have a positive result if the running back goes that way. Nevertheless, if he has the intelligence to understand that there are less defenders to his left, he will cut against the grain to the left of the offense where they will be a better opportunity for a positive gain.
This trait is shown here: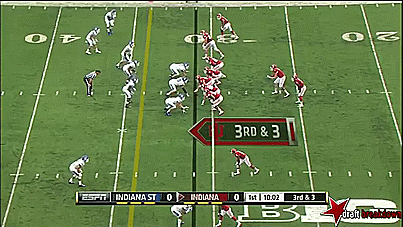 Before the play starts, you can see that Indiana State is lined up in a 3-3 defense with two linebackers and a defensive lineman lined up to the offense's right, one defensive lineman in the middle and a linebacker and defensive lineman to the offense's right. This means that Coleman's leverage would be to his right. Furthermore, at the snap the linebacker on the right side of the offense loops around to the left side of the offense. This presents a problem as the play is designed to go the B-gap on the right side. Nonetheless, Coleman shows the intelligence to understand where his leverage is as he cuts it to his left, which allows him to get to the second level for the first down and more.
Now, Tevin Coleman is not a perfect prospect by any means, he has flaws just like any other player. The biggest of which is his how high his pad level is when he runs. This gives defenders a bigger target to hit when he is running as he exposes his whole body. Players who run with a lower pad level give a smaller target because they don't expose as much to the defenders.
Here is an example of where his pad level hurts him: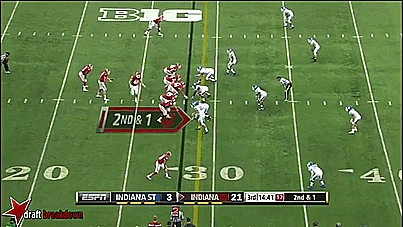 On this play it is second-and-one as Indiana is in a shotgun formation with Tevin to the quarterback's left. At the snap, Coleman gets enough of a start to get a good amount of momentum going downhill; however, Coleman gets stuffed before he can make it to the first down.
Why?
It is because Coleman's pad level didn't allow him to get low enough to win the leverage battle against the linebacker who was significantly lower. This, coupled with Coleman's poor leg drive, allowed the linebacker to make the stop in the hole. If Coleman ran with a lower center of gravity, he would have been able to create more leverage and force, which would have allowed him to get a better push against the linebacker.
If you wanted to nitpick Coleman's game, you would also notice that he is not as decisive when he has to make 90 degree cuts as a player like Duke Johnson is. When he has to make slight cuts that are at a 45 degree angle or less, he looks smooth; however, once he gets beyond that it starts to look choppy and it significantly slows him down.
Gordon has the ability to fit in any scheme as he has the patience and vision to thrive in a zone-blocking scheme and the athleticism, intelligence and toughness to flourish in a man-blocking system. Any system that will allow Coleman to get to the second level will see how truly dynamic Coleman is as a running back.
Now you may be wondering where Coleman stacks up in relation to the other running backs in the 2015 NFL draft class.
While players like Melvin Gordon look to bounce plays outside to get their big yards, Coleman does most of his work between the tackles where he can get to the second level and beyond extremely quickly. This is where Coleman separates himself from Gordon because he has shown the ability to make NFL-type reads and reaction of a more consistent basis that Gordon has.
Todd Gurley's knee injury will knock him down a significant amount, so Coleman should go ahead of him for the simple fact that he is healthy.
Coleman's biggest competition for the best running back prospect at the moment should be Miami's Duke Johnson. Both players have special talents in a variety of areas. Johnson's lateral agility and short area explosiveness against Coleman's vision and ability to set up blocks and be an intelligent runner make it exceptionally difficult to choose. Just based on talent, the two are extremely close as it will likely come down to your personal running back style preference as to which one you like better. Having said that, Johnson has a pretty lengthy injury history as he has missed time for a variety of injury-related reasons, while Coleman has stayed healthy for the majority of his career despite having more physical style of running, which should give Tevin the ever so slight advantage.
In a year where running back is the deepest position in the NFL draft, Tevin Coleman may be the leader of the pack.
Projection: Top-40
Games Watched: Indiana State (2014), Missouri (2014), Maryland (2014), Iowa (2014), Penn State (2014), Michigan State (2014), Michigan (2014), Ohio State (2014).
Buccaneers admit mistake, boot Aguayo
In the NFL, it's always better to admit a mistake than to compound it. For the Buccaneers, the decision to burn a 2016 second-round pick on kicker Robert Aguayo has proven to be a mistake. The Buccaneers made the definitive admission of their error on Saturday, cutting Aguayo. He exits with $428,000 in fully-guaranteed salary [
more
]
Source: Mike Florio of ProFootballTalk
Powered by WPeMatico
Did Bucs put too much pressure on Aguayo?
After the Buccaneers surprised everyone by taking a kicker with the 59th overall pick in the draft, G.M. Jason Licht explained the move by heaping superlatives on the player. "I was very excited along with my staff and coaches about Roberto for a very long time," Licht told PFT Live in May 2016. "It's not [
more
]
Source: Mike Florio of ProFootballTalk
Powered by WPeMatico
Broncos holding their breath on Derek Wolfe
Only two days after losing Billy Winn for the year with a torn ACL, the Broncos are now sweating out another potentially serious injury along the defensive line. Via multiple reports, Broncos defensive lineman Derek Wolfe was carted off the field during practice on Saturday. It's being described as a right ankle injury by coach [
more
]
Source: Mike Florio of ProFootballTalk
Powered by WPeMatico