Success Depends On The Run For AFC East Teams
The NFL may be a passing league but in the AFC East it's run, run, run.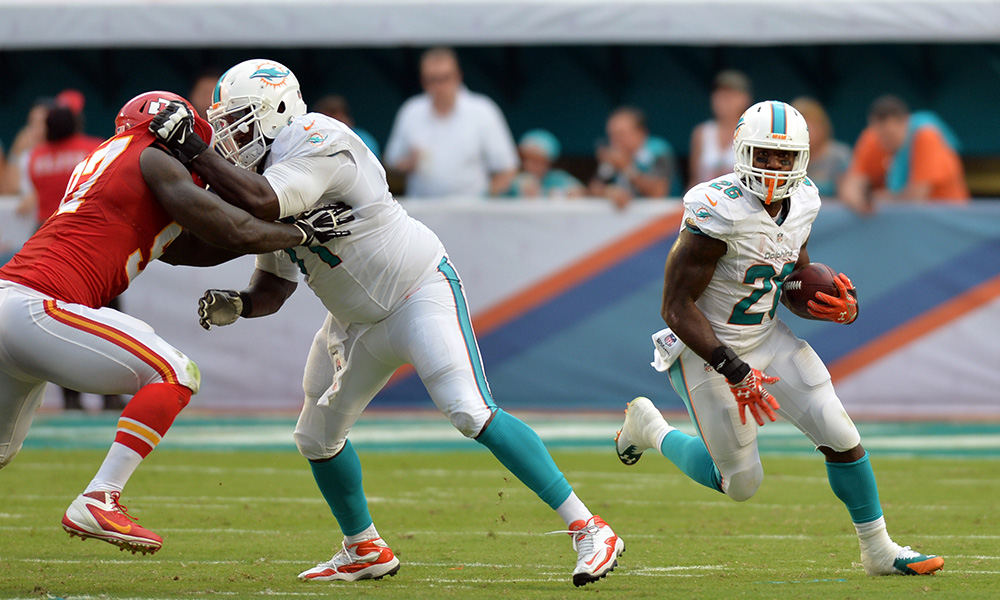 The AFC East standings are a reflection of parity, evidenced by three teams locked in a tie at the top of the division at 2-2, with the New York Jets just one game back at 1-3.
While a majority of the league is slinging the pigskin around gobbling up chunks of yardage through the air, the AFC East has remained grounded, figuratively and literally.
While the quarterbacks in the division have endured their struggles, the success of their offenses, or lack there of, has been determined by the success of their ground games. Just in the head-to-head games within the division, it can be seen how much influence the running games carried.
In the opener between the Miami Dolphins and New England Patriots, the Fins neutralized the Pats tandem of Stevan Ridley and Shane Vereen while the Dolphins feasted on an abundance of wide running lanes with a dynamic duo of Knowshon Moreno and Lamar Miller.
In the Buffalo Bills' Week 2 victory over the Dolphins, Miami lost Knowshon Moreno to an elbow injury and eventually abandoned the run, letting Buffalo's defense pin their ears back and rush the passer, wreaking havoc. Meanwhile on their offensive possessions, the Bills racked up more than 100 yards on the ground with C.J. Spiller ripping off timely runs to extend drives.
In New York, the Jets have out-rushed their opponents every week this season so far. That strong running game has been led by Chris Ivory, who may have started the season as a reserve but is running extremely physical. Ivory is receiving a greater percentage of the carries in his ground game committee featuring former Pro Bowler Chris Johnson, which is well deserved. Even Rex Ryan admitted as much leading up to their Week 4 loss in which Ivory had 17 carries to Johnson's seven.
"Maybe Chris Ivory will get more time," Ryan said. "He's certainly running hard and he's doing a great job out of the backfield. There aren't a whole lot of guys that want to tackle him. He's done a great job."
Either way, the Jets still field a good backfield combo because while Johnson isn't quite the player he once was, he still has some of that signature "CJ2K" breakaway ability, ripping off a long touchdown in Sunday's 24-17 loss to the Lions.
The Dolphins ground game has been rather consistent but abandoned too early in their losses, which is head scratching when factoring in how dominant it's been in their victories. Lamar Miller has really shown some growth the past two weeks while Moreno has been sidelined, running with a conviction he hadn't shown previously.
That consistent ground game helped young quarterback Ryan Tannehill work his way out of his funk and enter the team's bye with some confidence in their 38-17 victory over Oakland.
"That's kind of the offense we want to have, a steady, confident run game and then a pass game off of that, that gets rid of the ball quickly and receivers are getting open downfield," Tannehill said after their victory against the Raiders in London, when asked about offensive coordinator Bill Lazor's play calling.
The Bills fearsome two-some of Spiller and Fred Jackson have had their moments this season, Prompting leadership to get frustrated enough with EJ Manuel's struggles to turn to veteran journeyman Kyle Orton. Buffalo figures to lean more heavily on their running game with Orton under center, as he lacks elite arm talent.
In New England, the offense appears to be missing Logan Mankins and LeGarrette Blount, as their running game is nowhere near as effective as it was last year. That lack of balance in their attack has made Tom Brady look pedestrian while he's consistently unable to beat teams off of play action. Instead, Brady is leading an offense that completely collapsed against the Chiefs on Monday Night.
"We need to do everything better offensively. It's not any one problem," Belichick said after their loss to the Chiefs. "It's a number of lack-of-consistency issues, lack of execution. So, we have to do a better job on everything."
Without Blount, the Pats don't have their power back to compliment Ridley's slashing style, leaving Vereen to be their receiving back instead of a compliment to the fumble prone Ridley. Rookie James White hasn't filled the gap left by Blount's departure as well as the front office had hoped for either and that has contributed to the run games struggles.
With 12 games remaining in the regular season and struggling passing games across the division, the team that can field a consistent running game for the remainder of the year has an excellent chance to be the team to run away with the AFC East crown.
Buccaneers admit mistake, boot Aguayo
In the NFL, it's always better to admit a mistake than to compound it. For the Buccaneers, the decision to burn a 2016 second-round pick on kicker Robert Aguayo has proven to be a mistake. The Buccaneers made the definitive admission of their error on Saturday, cutting Aguayo. He exits with $428,000 in fully-guaranteed salary [
more
]
Source: Mike Florio of ProFootballTalk
Powered by WPeMatico
Did Bucs put too much pressure on Aguayo?
After the Buccaneers surprised everyone by taking a kicker with the 59th overall pick in the draft, G.M. Jason Licht explained the move by heaping superlatives on the player. "I was very excited along with my staff and coaches about Roberto for a very long time," Licht told PFT Live in May 2016. "It's not [
more
]
Source: Mike Florio of ProFootballTalk
Powered by WPeMatico
Broncos holding their breath on Derek Wolfe
Only two days after losing Billy Winn for the year with a torn ACL, the Broncos are now sweating out another potentially serious injury along the defensive line. Via multiple reports, Broncos defensive lineman Derek Wolfe was carted off the field during practice on Saturday. It's being described as a right ankle injury by coach [
more
]
Source: Mike Florio of ProFootballTalk
Powered by WPeMatico