Stopping Russell Wilson Seems Obvious
Former NFL QB Jeff Carlson takes a deeper look at game plans.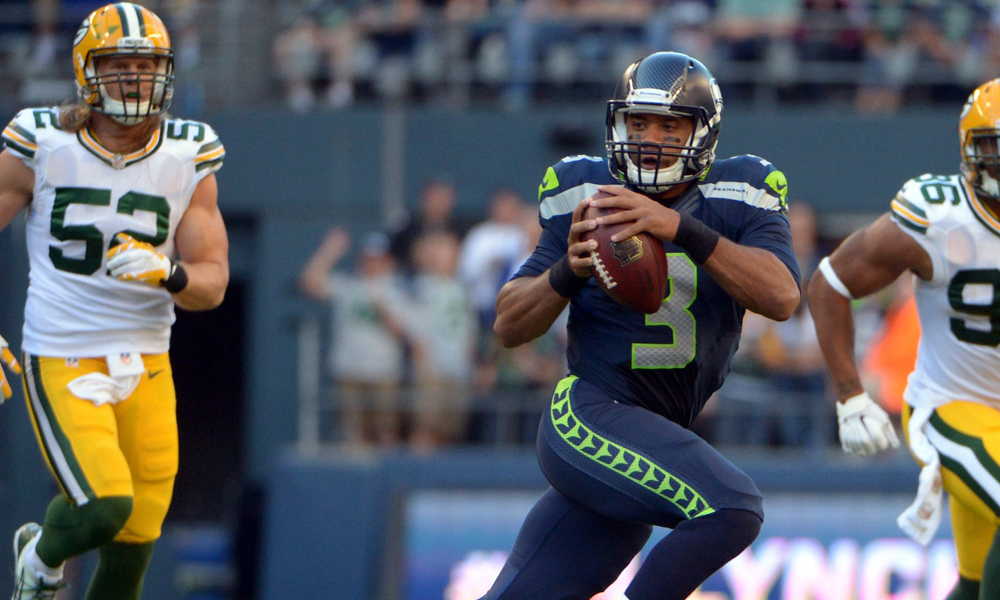 Following Monday night's Seattle Seahawks win over the Washington Redskins, ESPN's broadcasting brain-trust of Trent Dilfer, Ray Lewis and Steve Young came on the screen to analyze the game.  After watching Seahawks' QB Russell Wilson throw for over 200 yards and run for over 100, Dilfer incredulously asked Lewis what the only defense you cannot run against a mobile quarterback was and together all three simultaneously cried, "Man to man!"
Seeing Dilfer's frustration and his questioning of game plans of NFL level coaches was great viewing. It also gave me a chance to take a deep breath and exhale as I continue to be regularly and equally frustrated on Friday nights, analyzing high school games across the Tampa Bay area and also on Sundays as I critically assess the Tampa Bay Buccaneers following each game (both are for Bright House Sports Network).
Football coaches at all levels spend far too much time supposedly developing game plans based on watching countless hours of videotape to find the smallest advantage on the field and far too often are far too close to the action to see the forest through the trees or the most obvious concepts that can either doom their team or raise it to victory depending on what side of the field they're on.
The fact is that game plans rarely change more than five percent week to week.  Teams are going to run the same plays week in and week out regardless of the opponent and may add a special play or two each game.
As they say, everyone has an opinion and I'm sure these coaches that hear it from every angle when things aren't going too well don't appreciate in the least all the "know-it-all's" that have spent a good bit less time thinking about how best to attack the opposing team.
Jon Gruden is best known for the ungodly long hours he kept and Tony Dungy was pretty well known for trying to live a slightly more "normal" life when it came to the time spent at the football facility.  Both are now former coaches, both have Super Bowl rings to show for their respective efforts and both have TV gigs analyzing the guys that are currently burning the candle at both ends, desperately trying to find that winning edge.  So, if both routes lead to exactly the same destination, why not take the road less traveled and enjoy life just a little bit more, which may just inspire better game plans and more creativity for game days!
Buccaneers admit mistake, boot Aguayo
In the NFL, it's always better to admit a mistake than to compound it. For the Buccaneers, the decision to burn a 2016 second-round pick on kicker Robert Aguayo has proven to be a mistake. The Buccaneers made the definitive admission of their error on Saturday, cutting Aguayo. He exits with $428,000 in fully-guaranteed salary [
more
]
Source: Mike Florio of ProFootballTalk
Powered by WPeMatico
Did Bucs put too much pressure on Aguayo?
After the Buccaneers surprised everyone by taking a kicker with the 59th overall pick in the draft, G.M. Jason Licht explained the move by heaping superlatives on the player. "I was very excited along with my staff and coaches about Roberto for a very long time," Licht told PFT Live in May 2016. "It's not [
more
]
Source: Mike Florio of ProFootballTalk
Powered by WPeMatico
Broncos holding their breath on Derek Wolfe
Only two days after losing Billy Winn for the year with a torn ACL, the Broncos are now sweating out another potentially serious injury along the defensive line. Via multiple reports, Broncos defensive lineman Derek Wolfe was carted off the field during practice on Saturday. It's being described as a right ankle injury by coach [
more
]
Source: Mike Florio of ProFootballTalk
Powered by WPeMatico