Shawn Oakman's NFL Draft Breakdown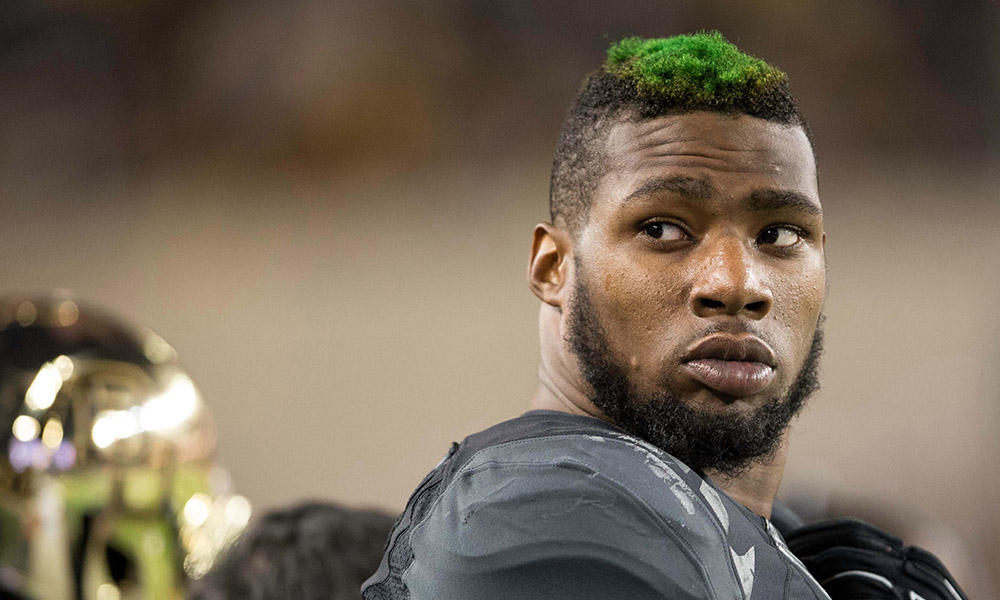 Every year there are a couple of players in the NFL draft that divide the scouting and draftnik communities. Usually when this is the case, there is a disconnect between their potential, size or athleticism and what they've shown on film.
Last year, Chris Borland had great tape as he showed all the necessary traits to translate to the NFL. However, he measured in at just 5-foot-11 and 248 pounds with 29-and-a-half-inch arms to go along with average times in the NFL combine drills caused many to wonder if he would be able to be as effective in the NFL.
This year, there is a player who will be a lightning rod among draft analysts, but in the opposite way of Borland. That player is Baylor defensive end Shawn Oakman.
The most enticing aspect of Oakman is his freakish size. He is listed at 6-foot-9 and 280 pounds with long vines for arms. Oakman has a very muscular upper body to go with a narrow base, which means that he can likely add even more weight to his already ginormous frame.
However, Oakman has been criticized for his propensity to coast through games and not dominate the way a player with his considerable talent should. Oakman's play has reportedly led to multiple sources within teams giving Oakman a day two grade and one general manager even giving him a mid-day three grade per WalterFootball.com.
All this, while many prominent draft analysts have stamped Oakman with a first round grade.
When you have multiple projections with huge variances like Oakman has, it may be confusing as to who to believe. Therefore, let's take look an in-depth look at Oakman and see where is value lies.
The 22-year-old defensive end doesn't have significant experience playing football at the college level. This year, his junior year, is the first time he has been a full-time starter as he was a rotational his sophomore year after he transferred from Penn State where he was dismissed from the team due to a violation of team rules by Bill O'Brien.
Despite this lack of playing experience, Oakman has compiled a great stat line as he has accumulated 81 tackles, 31 tackles for loss and 12 sacks in just 25 games.
The first thing that jumps out when you watch Oakman is how powerful a player he is at the point of attack. When Oakman fires out with good pad level and fires his hands inside with his initial punch, he creates a great deal of movement as you can see opposing lineman's bodies jolt back from the amount of force Oakman has applied on their body.
Oakman's power is showcased well here: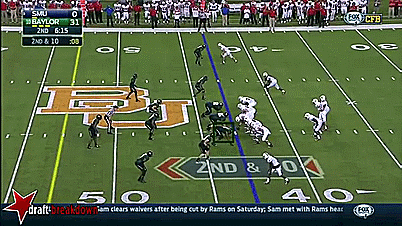 Oakman is lined up in a four-point stance across SMU's offensive tackle. At the snap, Oakman fires out and violently punches the tackle's chest. This knocks the tackle a full yard and allows Oakman to reset the line of scrimmage in SMU's backfield. Oakman does an excellent job of creating separation with his length, which allows him to easily disengage and make the tackle on the ball carrier as he runs by.
On this play, Oakman utilizes his great physical traits and some technical nuance to make a play. The frustrating thing about Oakman is that he is inconsistent with the way he intertwines the two.
This leads to plays like this happening:
Oakman is lined up at the right-defensive end position with an inside shade of Oklahoma's tight end. After the snap, Oklahoma's left tackle pulls and the tight end executes a down block on Oakman. There should never be a time where a tight end gets the better of a player with Oakman's size, strength and length; however, that is just what happens. Oakman makes the mistake of engaging the tight end with his shoulder instead of his hands, which brings him chest to chest with the tight end. This causes Oakman to lose the leverage battle and get pushed back and easily sealed as the running back sprints by for a big gain.
If Oakman had done a better job of positioning his hands or utilizing some of his disengagement tactics, he would have been able to get in a position to make a play. This is where you see some of the rawness in Oakman's play, which is caused by his lack of experience.
Even though Oakman can be inconsistent, he can be nearly unstoppable when he plays disciplined with good technique. This manifests itself the most in the way that Oakman plays the run.
Here is a great example: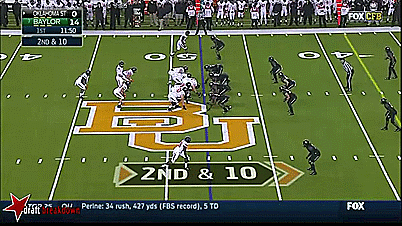 Oakman is aligned at the right defensive end once again over Oklahoma State's left tackle. After the snap, Oakman does a great job of staying square to the line of scrimmage and firing his hands into the tackle and extending his arms. This creates a lot of separation between him and the tackle and would allow him to easily shed the block and make the tackle to either side. Oakman stays disciplined and flows to the outside as the play develops that way.
The running back sees that the linebackers are flowing from the inside-out so he tries to beat Oakman to the sideline. However, Oakman did a great job of staying outside of the ball carrier, which allowed him to easily shed the block and get to the sideline for the tackle.
This play shows a glimpse of the type of player Oakman can be when he plays technically sound football. This is they type of play that will make defensive line coaches foam at the mouth because of the technical nuance and uncoachable traits showcased in one play.
Another uncoachable trait that Oakman showcases is his initial quickness. For a player the size of Oakman, he does a great job of exploding off the ball when he is rushing the passer. He is still raw as a pass-rusher, but he has developed an extremely impressive inside move that he has used to beat blockers on a regular basis.
This play shows Oakman's quick inside move: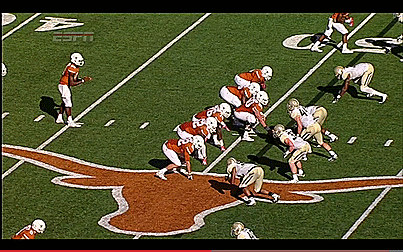 Once again, Oakman is aligned as the right defensive end with an outside shade on Texas' left tackle. At the snap, Oakman comes off the ball with an upfield burst. When the offensive tackle slightly opens his stance to his left, Oakman plants his right foot and explodes across the face of the left tackle. The tackle can't recover to the inside move, so he tries to get his hands on Oakman and push him all the way across the pocket; however, Oakman makes an extremely savvy move. He uses his right arm to rip through the tackle's hands so that the tackle cannot re-engage.
After that, Oakman uses his power to easily absorb the running back's block attempt and easily discards him to get to and sack the quarterback.
Oakman uses the inside move to get to the quarterback, but he also uses it to knife into the backfield and create disruption in the backfield.
The most maddening part of Oakman as a player is how inconsistent his motor is from play to play. On one play, Oakman display fantastic effort as he chases a ball carrier to the sideline to make a tackle and on others, he doesn't even make an effort to even get in position to possibly make a play.
One of the places where Oakman shows a consistently good motor is as a pass-rusher: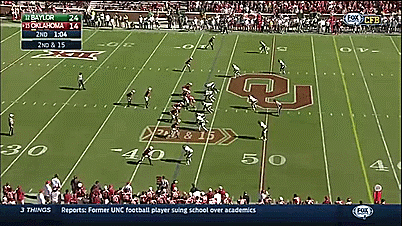 In this play, Oakman does a great job of using his great upfield burst a speed rush to beat Oklahoma's left tackle, Tyrus Thompson, to the outside. However, the quarterback feels the pressure from Oakman to his blind side, so he takes off to try and scramble for some yards. Oakman does a great job of continuing his pursuit and making a big hit on the quarterback for a short gain.
If Oakman's motor consistently ran this high, he would be talked about as one of the top-five prospects in this draft class. However, his motor runs cold too often. This often occurs when the ball goes to the opposite side of the field from where Oakman is: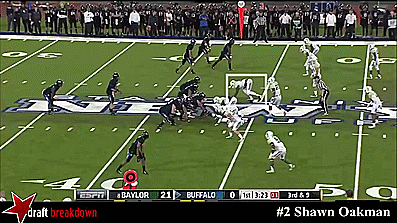 Oakman fires out well and gets into position to set the edge to the defense's right; however, the ball carrier runs to the right and Oakman engages with the left tackle. Now that the ball is on the far side of the field to Oakman, he doesn't make any effort whatsoever to disengage and pursue the ball. Instead, he is content with just getting pushed down the field 10-yards without making any real attempts to get into the play.
The biggest challenge any team is going to have with Oakman will be trying to coax Oakman into giving his full effort on every play. If a team can, they are getting a generational type of talent that has no limit on the type of impact he can make. If they can't, they may get another player who just doesn't live up to his potential.
Overall, Oakman is still a raw player who relies on his physical assets to make plays for the most part. However, he has shown significant improvement with the technical nuances of playing at the defensive end position, which also points to the fact that he should continue to improve once he makes it to the NFL.
Oakman's best fit is likely as a 5-technique defensive end in a 3-4 where he can utilize his considerable strength and length to occupy two gaps, stack and shed to make plays; much in the same vein as the Arizona Cardinals' Calais Campbell. He can slide inside in any nickel packages and beat interior guards with his quickness as well.
Oakman's fit in a 4-3 defense would likely be as a left-defensive end where he could utilize his power and length to set the edge and be a force defending the run.
Oakman is the ultimate boom-or-bust prospect; he can become a perennial All-Pro or wash out of the league in a few years. Players like Oakman don't come around all the time and while he is inconsistent, he has shown flashes of the phenomenal player he can become.
The only thing that looks certain is the Oakman is going to make one segment of the draft community look extremely smart one way or another.
Projection: Early Second Round
Games Watched: Oklahoma (2013 & 2014), Texas tech (2013 & 2014), SMU (2014), Buffalo (2014), Oklahoma State (2014), Kansas (2014), Kansas State (2014)
Buccaneers admit mistake, boot Aguayo
In the NFL, it's always better to admit a mistake than to compound it. For the Buccaneers, the decision to burn a 2016 second-round pick on kicker Robert Aguayo has proven to be a mistake. The Buccaneers made the definitive admission of their error on Saturday, cutting Aguayo. He exits with $428,000 in fully-guaranteed salary [
more
]
Source: Mike Florio of ProFootballTalk
Powered by WPeMatico
Did Bucs put too much pressure on Aguayo?
After the Buccaneers surprised everyone by taking a kicker with the 59th overall pick in the draft, G.M. Jason Licht explained the move by heaping superlatives on the player. "I was very excited along with my staff and coaches about Roberto for a very long time," Licht told PFT Live in May 2016. "It's not [
more
]
Source: Mike Florio of ProFootballTalk
Powered by WPeMatico
Broncos holding their breath on Derek Wolfe
Only two days after losing Billy Winn for the year with a torn ACL, the Broncos are now sweating out another potentially serious injury along the defensive line. Via multiple reports, Broncos defensive lineman Derek Wolfe was carted off the field during practice on Saturday. It's being described as a right ankle injury by coach [
more
]
Source: Mike Florio of ProFootballTalk
Powered by WPeMatico