Sentimental Favorites Are NFL Conference Championship Underdogs
Find out why most of America will be pulling for the underdogs on Championship Sunday.
On Championship Sunday, the majority of America will have a strong rooting interest for a pair of the classiest guys ever to put on pads and cleats.
Of course we're talking about Denver Broncos quarterback Peyton Manning and Arizona Cardinals wide receiver Larry Fitzgerald.
Both players have epitomized greatness and class throughout their respective 19- and 13-year careers. They have combined for 23 Pro Bowl selections, five MVP awards (all Manning), four Super Bowl appearances, but just one title (Manning, 2006).
With Manning in the extreme twilight of his career, and Fitzgerald nearing the end of his, it may be now or never for both of these legends, and a Super Bowl title for either would boost their already Hall of Fame worthy legacies.
Manning already looked forward after Denver's 23-16 victory on Sunday.
"It'll be the Broncos vs. the Patriots," Manning said of Sunday's matchup. "We'll enjoy this one tonight. I think you knew that answer was coming. To kind of quote Bill Belichick, we'll be on to New England. But I'll be talking about them on Wednesday."
Helping America in their rooting interests will certainly be the opponents that the Broncos and Cardinals will be facing.  There's no team that's easier to root against than the smug, sometimes operating around the law New England Patriots.  Although the Carolina Panthers are certainly anything but hate-able, it's easy to bargain with one's self and believe that the great Cam Newton will have plenty more opportunities to hoist the Lombardi Trophy.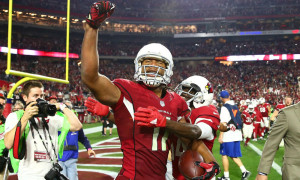 Both Manning and Fitzgerald are two of the most likable players in the history of football, and for all of the right reasons.  Surely you've seen the numerous commercials that each of them do, but it's the behind the scenes stuff when the cameras aren't rolling that makes both of these guys special.
While covering the Pro Bowl in 2009, this reporter witnessed Manning thank, shake the hand and talk to every single locker room attendant and tape guy in Aloha Stadium.  There were no TV cameras around and it was something he didn't have to do.  It was only a few minutes out of Manning's life, but it gave all of those guys in the locker room a story to tell their grandchildren.
Clearly the Manning brothers, including Eli and Cooper were brought up properly by their parents Archie and Olivia.
In the same game, Larry Fitzgerald won MVP honors and he was one of the biggest stars in attendance following his two touchdowns in the Super Bowl just a week earlier.  Despite the agonizing last-minute loss to Pittsburgh, Fitzgerald was gracious to all reporters and fans.
He even let this reporter hold and raise his Pro Bowl MVP Trophy on the field after the game.
Perhaps Fitzgerald and Manning "get it" more than other players due to their lineage.  The 6-foot-3 wide receiver is the son of a journalist, and what's more well known is Manning's father, Archie, who dealt with the fans and media regularly as a 10-year NFL veteran quarterback.
It's going to take a monumental effort to achieve much of America's dream Super Bowl matchup of Arizona vs. Denver.  The Cardinals have to travel to Charlotte, NC to take on a Panthers team that is 16-1 on the season and have won 12 consecutive home games, while beating their opponents by an average of nearly 13 points per game over that stretch.  Carolina's Cam Newton will win the NFL's Most Valuable Player Award and linebacker Luke Kuechly is the very best at his position and seemingly makes huge plays when the team needs them most, reminding many of former Baltimore Ravens linebacker and future Hall of Famer Ray Lewis.
The New England Patriots are getting healthy at the right time and Tom Brady is playing some of the best football of his storied career.  Also working against Manning is his career 5-11 record against the four-time Super Bowl champion.  Brady has played his best football in the biggest spots and the same can not be said of the former first-overall pick in the 1998 NFL Draft.  Manning has a 12-13 career record in the postseason.  The 13 postseason losses are the most in NFL history by a starting quarterback.  Meanwhile Brady has a 22-8 playoff record; the 22 wins being the most in NFL history.
America loves to root for the underdog.  On Sunday afternoon, the two most high-profile players on the underdog Cardinals and Broncos are both guys that you can feel great putting your support behind.
Broncos holding their breath on Derek Wolfe
Only two days after losing Billy Winn for the year with a torn ACL, the Broncos are now sweating out another potentially serious injury along the defensive line. Via multiple reports, Broncos defensive lineman Derek Wolfe was carted off the field during practice on Saturday. It's being described as a right ankle injury by coach [
more
]
Source: Mike Florio of ProFootballTalk
Powered by WPeMatico
Buccaneers admit mistake, boot Aguayo
In the NFL, it's always better to admit a mistake than to compound it. For the Buccaneers, the decision to burn a 2016 second-round pick on kicker Robert Aguayo has proven to be a mistake. The Buccaneers made the definitive admission of their error on Saturday, cutting Aguayo. He exits with $428,000 in fully-guaranteed salary [
more
]
Source: Mike Florio of ProFootballTalk
Powered by WPeMatico
Did Bucs put too much pressure on Aguayo?
After the Buccaneers surprised everyone by taking a kicker with the 59th overall pick in the draft, G.M. Jason Licht explained the move by heaping superlatives on the player. "I was very excited along with my staff and coaches about Roberto for a very long time," Licht told PFT Live in May 2016. "It's not [
more
]
Source: Mike Florio of ProFootballTalk
Powered by WPeMatico