Seattle Seahawks Sputtering into Carolina
The defending champion Seattle Seahawks are at a crossroads.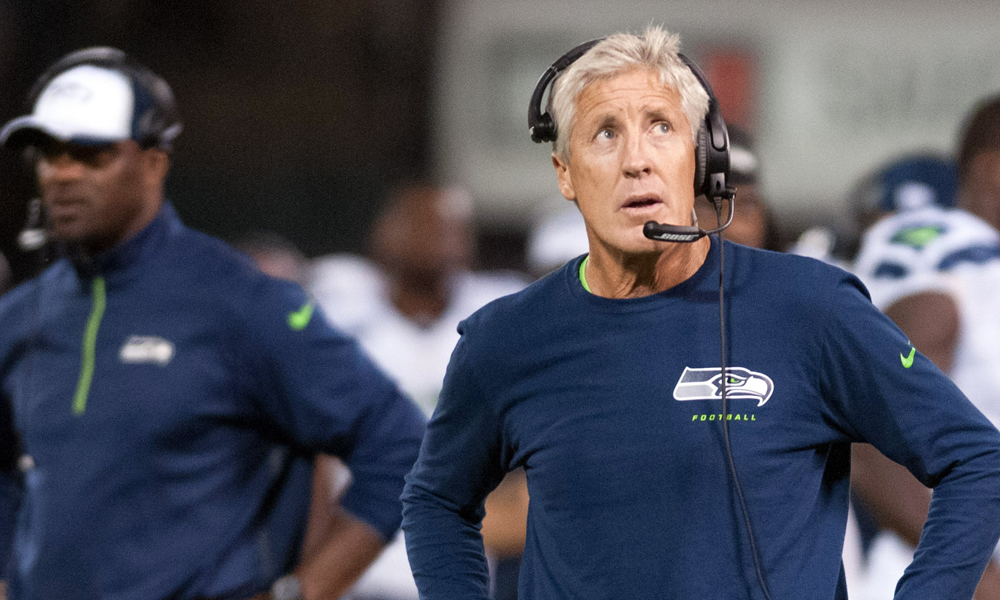 The defending champions are at a crossroads.
Fans and media love to exaggerate the problems of successful franchises. It's a common theme in American sports culture — the desire to will a team to the top and then root for it to fall. Seattle's problems, though, are neither exaggerated nor imagined … this team is in trouble.
"I think the biggest problem that we have in the media is when you lose, everything is magnified, and when you win, everything is covered up," said receiver Doug Baldwin. "That's just the nature of the business. To us in this locker room, we know what needs to be corrected, we know what positives come out of everything and we're going to move forward with that."
There was some concern when the Seahawks lost in San Diego in Week 2, as the much hyped "Legion of Boom" secondary allowed Philip Rivers to complete 28-of-37 passes (75.7 percent) for 284 yards and three touchdowns. Things got more tense in Week 6 when the Cowboys went to CenturyLink Field — where the Seahawks had lost just once in the past two-plus seasons — and rode DeMarco Murray (115 yards and a touchdown) to a 30-23 victory.
Those two losses stung, but were easy enough to explain. Through six weeks of action the Chargers and Cowboys are a combined 11-3, and Rivers and Murray are among the early MVP candidates.
The real look of vulnerability came after the Seahawks traded Percy Harvin to the Jets for a conditional day-three pick in next year's NFL Draft. Seattle felt pressed to move away from Harvin, who was fighting with teammates and unhappy with his role on offense, but that doesn't make the pill any easier to swallow.
Seattle gave up first- and seventh-round picks in 2013 and a third-round pick in 2014 for Harvin. In return, Harvin missed almost all of the 2013 regular season; returned just in time to play in a Super Bowl that would have been a blowout with or without him; then began this season as Dexter McCluster version 2.0. That Seattle got so little in return for Harvin less than two years after acquiring him highlights the disastrous nature of this transaction.
"[Our play calling] doesn't change," said offensive coordinator Darrell Bevell. "We still have an identity and core beliefs on things we want to do. The job I have is always using the personnel I have to the best of my abilities."
Coach Pete Carroll remained confident that, even without Harvin, his team had enough talent to take down the best the league has to offer. It turns out, just days after the Harvin trade, Seattle didn't even have enough to take down a Rams team that came in with a 1-4 record.
The loss in St. Louis was tough to digest for two reasons: 1) it marked Seattle's first back-to-back losses since October 2012; and 2) the Rams are the only team in the NFC West currently looking up at the Seahawks in the standings. If Seattle loses this week in Carolina to the first-place Panthers (possible) and the Rams beat their in-state rivals in Kansas City (also possible), Seattle will officially be in their division's basement.
"Carolina is a very good football team with a tremendous amount of potential on their offense," Carroll said. "Whenever you play Cam Newton you have your hands full. He's done a ton of stuff the last two weeks, he's run the ball more than he had, which just adds to the problem of stopping these guys."
It may be early for panic, but keep this in mind: only 38.3 percent of teams that started 3-3 have made the playoffs (since 1990). Seattle can only lose two more games and still be assured a playoff spot (10-6 wasn't good enough for the Cardinals last season), yet still has two games remaining against both Arizona and San Francisco. There are also some tough games on the road (where Seattle is more vulnerable), including the Carolina, Kansas City and Philadelphia.
Seahawks supporters point to the fact that Seattle still has the league's No. 2 rushing offense (153.3 yards per game) and the No. 8 defense (324.5 yards per game). But if those rankings do not start translating into wins immediately, the team famous for its "12th man" will fail to capture one of the 12 spots in the postseason.
Buccaneers admit mistake, boot Aguayo
In the NFL, it's always better to admit a mistake than to compound it. For the Buccaneers, the decision to burn a 2016 second-round pick on kicker Robert Aguayo has proven to be a mistake. The Buccaneers made the definitive admission of their error on Saturday, cutting Aguayo. He exits with $428,000 in fully-guaranteed salary [
more
]
Source: Mike Florio of ProFootballTalk
Powered by WPeMatico
Did Bucs put too much pressure on Aguayo?
After the Buccaneers surprised everyone by taking a kicker with the 59th overall pick in the draft, G.M. Jason Licht explained the move by heaping superlatives on the player. "I was very excited along with my staff and coaches about Roberto for a very long time," Licht told PFT Live in May 2016. "It's not [
more
]
Source: Mike Florio of ProFootballTalk
Powered by WPeMatico
Broncos holding their breath on Derek Wolfe
Only two days after losing Billy Winn for the year with a torn ACL, the Broncos are now sweating out another potentially serious injury along the defensive line. Via multiple reports, Broncos defensive lineman Derek Wolfe was carted off the field during practice on Saturday. It's being described as a right ankle injury by coach [
more
]
Source: Mike Florio of ProFootballTalk
Powered by WPeMatico