Seahawks' Potential Dynasty Is Fizzling Into A Dud
The Seahawks looked like they could repeat. Now they look like a mess.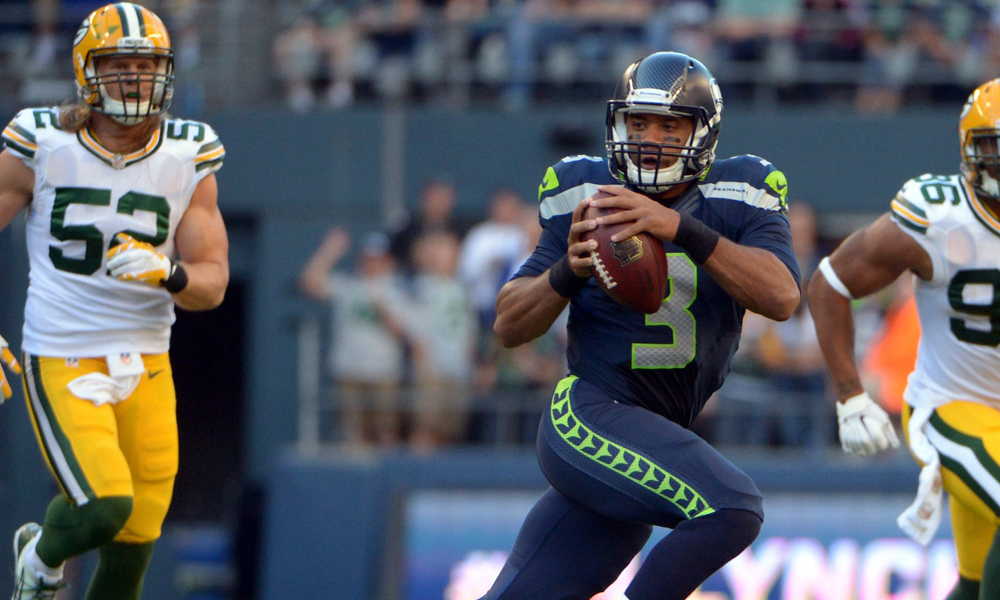 In the preseason, the Seattle Seahawks were a trendy pick to become the first team to repeat as Super Bowl champions since the Patriots a decade ago. Their total domination of Denver, combined with a strong returning nucleus, made the Seahawks look immune to the parity that has become the staple of the NFL's salary cap era.
Now the Seahawks are looking a bit more like the 1985 Bears – a tremendous collection of talent that won't end up fulfilling its potential destiny as a dynasty. In fact, Seattle's championship window may close entirely after this season — if it hasn't already.
As was the case with those mid-'80s Bears, dysfunction is part of Seattle's problem.
We only see a handful of midseason trades each season, and rarely are the deals executed by a contender dealing off a key piece of the puzzle for draft picks. A last-place team like the Jets is supposed to be shipping off a quality player while getting something in return for the future, but the exact opposite occurred when the Seahawks shipped Percy Harvin to New York. That deal simply doesn't happen if a guy hasn't worn out his welcome.
Unfortunately for Seattle, Havin's moody biggest supporter happens to be the Seahawks' best offensive weapon.
Running back Marshawn Lynch seems intent on napalming every bridge out of town in an effort to play somewhere else next year. Virtually every media outlet with sources inside the organization has reported he'll be gone after this year, and nothing about Lynch's recent behavior – the league nailed him with a stiff $100,000 fine this week for blowing off media obligations – seems to indicate he gives a damn about sticking around.
Seattle was already lacking at tight end, and will be doing the same at wide receiver and running back when Lynch departs. If Russell Wilson goes into next season with Doug Baldwin as his most dangerous weapon, you're looking at a team that doesn't even make the playoffs.
Yes, there is still the vaunted Legion of Boom, but a couple of key missing pieces have hurt Seattle's defense this year.
Run-stuffing defensive end Red Bryant was cut in the offseason in a salary cap move and has proven difficult to replace. Even though he is on the downside of his career, fellow end Chris Clemons is also missed for his pass rushing skills. Only the now 1-10 Oakland Raiders have fewer sacks than the Seahawks this season.
Seattle still has a shrewd front office perfectly capable of pulling off some moves that will pry their championship window back open. But right now the Seahawks are in a dogfight to merely get back to the playoffs, much less repeat as champs. And it's not going to get any easier after this season.
Buccaneers admit mistake, boot Aguayo
In the NFL, it's always better to admit a mistake than to compound it. For the Buccaneers, the decision to burn a 2016 second-round pick on kicker Robert Aguayo has proven to be a mistake. The Buccaneers made the definitive admission of their error on Saturday, cutting Aguayo. He exits with $428,000 in fully-guaranteed salary [
more
]
Source: Mike Florio of ProFootballTalk
Powered by WPeMatico
Did Bucs put too much pressure on Aguayo?
After the Buccaneers surprised everyone by taking a kicker with the 59th overall pick in the draft, G.M. Jason Licht explained the move by heaping superlatives on the player. "I was very excited along with my staff and coaches about Roberto for a very long time," Licht told PFT Live in May 2016. "It's not [
more
]
Source: Mike Florio of ProFootballTalk
Powered by WPeMatico
Broncos holding their breath on Derek Wolfe
Only two days after losing Billy Winn for the year with a torn ACL, the Broncos are now sweating out another potentially serious injury along the defensive line. Via multiple reports, Broncos defensive lineman Derek Wolfe was carted off the field during practice on Saturday. It's being described as a right ankle injury by coach [
more
]
Source: Mike Florio of ProFootballTalk
Powered by WPeMatico