Salvation for the Big Ten?
With so many top teams in college football stumbling in the past few weeks, one that seemed dead in the water just a few weeks ago may be in the driver's seat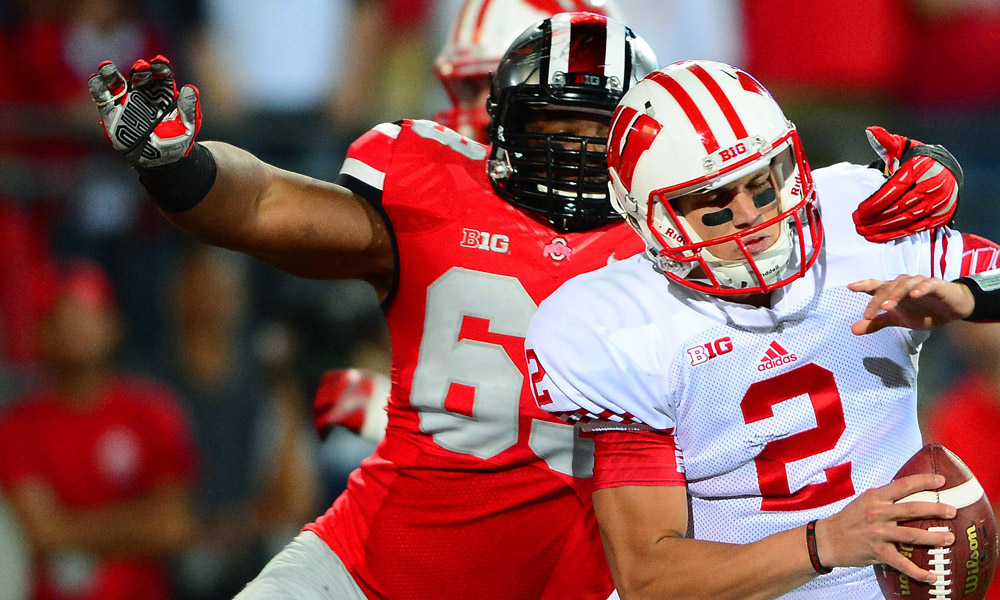 This was supposed to be the year.
After an undefeated season in 2012 was cut short due to NCAA sanctions that banned Urban Meyer's Ohio State football program from postseason play, the Buckeyes won their first 12 games last season, extending their win streak to 24 games.
A 34-24 loss, the program's first under Meyer, to Michigan State in the 2013 Big Ten Championship game snapped the streak and knocked Ohio State out of the national championship hunt. Another defeat, suffered at the hands of Clemson in Orange Bowl in Jan. 3, left Meyer with a 24-2 record in his first two seasons in Columbus.
Despite losing defensive standouts Reggie Roby and Ryan Shazier as well as offensive stars Carlos Hyde and Jack Mewhort, all of whom were selected in the first 60 picks of the 2014 NFL Draft, the return of quarterback Braxton Miller (a Heisman Trophy candidate) and Meyer (arguably the best coach in college football) made Ohio State a favorite to earn a spot in the first-ever College Football Playoff, and possibly a national title, in 2014.
Then, on Tuesday, Aug. 19, the Buckeyes' national championship hopes took a major blow when Miller, who was the Big Ten Offensive Player of the Year in 2013, suffered a season-ending shoulder injury while throwing a short pass in practice.
While Ohio State certainly doesn't lack talent, inexperience along the offensive line – where it lost four starters, including Mewhort, from a year ago – and in the defensive back seven meant that Meyer and his staff would rely heavily on Miller and a defensive front four that is one of, if not the, best in the country.
Enter J.T. Barrett, a 6-1, 225 pound dual-threat quarterback from the class of 2013, who was an early-enrollee, starting classes in January of 2013 and getting acclimated at Ohio State while recovering from an ACL tear suffered during his senior season in high school.
After redshirting as a freshman, Barrett split the first-team reps with sophomore Cardale Jones during spring practice this year, as Miller recovered from a (prior) shoulder injury sustained in the team's Orange Bowl loss.
When Miller was ruled out for the 2014 season, Barrett, a four-star recruit and one of the top-ten dual-threat quarterbacks in his class, was named the starter.
With Barrett under center, the Buckeyes opened the season with a 34-17 road win over Navy. In his first collegiate game, and first live action since Oct., 2012, he completed 12 of 15 passes for 226 yards with two touchdowns and one interception. He added 50 yards rushing and the honeymoon in Columbus had officially begun.
Just a week later, however, Barrett struggled mightily – completing 31 percent (9 of 29) of his passes while throwing three interceptions, including a pick-six near midfield with 46 second left – in a 35-21 loss to Virginia Tech. At home.
Suddenly, it appeared, Ohio State's season was lost as it plummeted out of the Top 10 in both polls, falling all the way to No. 22 in the Associated Press Poll.
Since then, though, Barrett and the Buckeyes have won four straight while outscoring their opponents 224-69 and putting up at least 50 points each game. While none of those wins came against ranked teams (and the first was a 66-0 demolition of a Kent State squad that scored a combined 71 points while starting the season 0-6), Cincinnati, Maryland and Rutgers all received votes in the AP Poll leading up to their match-ups with Ohio State.
Meanwhile, Barrett's play has improved dramatically. During the win streak, he has completed 71.7 percent of has passes for 1170 yards and 17 touchdowns -including a school record-tying six TD passes against Kent State – with just one interception while rushing for 263 yards and four touchdowns on 45 carries.
Somehow, Meyer's team has risen from the national championship picture ashes and finds itself just outside the Top 10 (No. 13 AP; No. 12 Coaches) and within striking distance of a playoff berth.
But is the damage already done?
Virginia Tech received votes, but couldn't crack the Top 25, in both polls prior to beating the Buckeyes – topping out at No. 17 after its win in Columbus. Since then, though, the Hokies have gone 2-4, making what might have been a blip on the College Football Playoff Selection Committee's radar into a blemish on the Ohio State resume comparable to letting one rip on a first date. Probably not going to get you where you ultimately want to get…
With just two games remaining on the regular-season schedule against ranked opponents (at Michigan State, No. 8 AP and No. 5 Coaches; and at Minnesota, No. 24 Coaches), Ohio State has precious few opportunities to impress the committee. Even if the Buckeyes win out, including the Big Ten Championship Game, their schedule might not (probably wouldn't) be strong enough to leapfrog a one-loss team from the SEC, Pac-12 or Big-12.
Florida State sits at No. 2 in both polls and is almost certain to be favored in each of its remaining games, making the Seminoles as close to a lock to make the playoffs as any team in the country and, likely, leaving just three spots to be filled.
Considering that four of the top five teams in the AP Poll are from the SEC, the conference that is home to seven of the last eight national champions, it is nearly a foregone conclusion that, at least one of, Mississippi State, Ole Miss, Auburn or Alabama will occupy a second vacancy.
Working in Ohio State's favor from an SEC standpoint, though, is the fact that each of those teams has two of the others on its remaining schedule.
Regardless of the strength of schedule that comes with playing in the SEC, could the committee overlook a one-loss Ohio State team in favor of a team (possibly a team with two losses) that didn't even win its own division let alone the conference?
The Pac-12 isn't as strong as many (including yours truly) expected it to be, but Oregon is getting healthy along the offensive line and appears to be separating itself from the pack. Should the Ducks handle their business down the stretch, they should get in.
The Big-12 looked like a lock to earn a berth before Oklahoma lost two out of three and Baylor was upset at West Virginia. Now, the conference is wide open and every team has at least one loss.
With Ohio State's defense rounding into shape and Barrett emerging as one of the better quarterbacks in the country, the Buckeyes are starting to live up to their preseason No. 5 ranking.
The question is: is it too little, too late?
Buccaneers admit mistake, boot Aguayo
In the NFL, it's always better to admit a mistake than to compound it. For the Buccaneers, the decision to burn a 2016 second-round pick on kicker Robert Aguayo has proven to be a mistake. The Buccaneers made the definitive admission of their error on Saturday, cutting Aguayo. He exits with $428,000 in fully-guaranteed salary [
more
]
Source: Mike Florio of ProFootballTalk
Powered by WPeMatico
Did Bucs put too much pressure on Aguayo?
After the Buccaneers surprised everyone by taking a kicker with the 59th overall pick in the draft, G.M. Jason Licht explained the move by heaping superlatives on the player. "I was very excited along with my staff and coaches about Roberto for a very long time," Licht told PFT Live in May 2016. "It's not [
more
]
Source: Mike Florio of ProFootballTalk
Powered by WPeMatico
Broncos holding their breath on Derek Wolfe
Only two days after losing Billy Winn for the year with a torn ACL, the Broncos are now sweating out another potentially serious injury along the defensive line. Via multiple reports, Broncos defensive lineman Derek Wolfe was carted off the field during practice on Saturday. It's being described as a right ankle injury by coach [
more
]
Source: Mike Florio of ProFootballTalk
Powered by WPeMatico