RGIII's Unlikely Transformation From Hero to Villain
Once universally loved, Robert Griffin III is now coming off as spoiled and self-centered.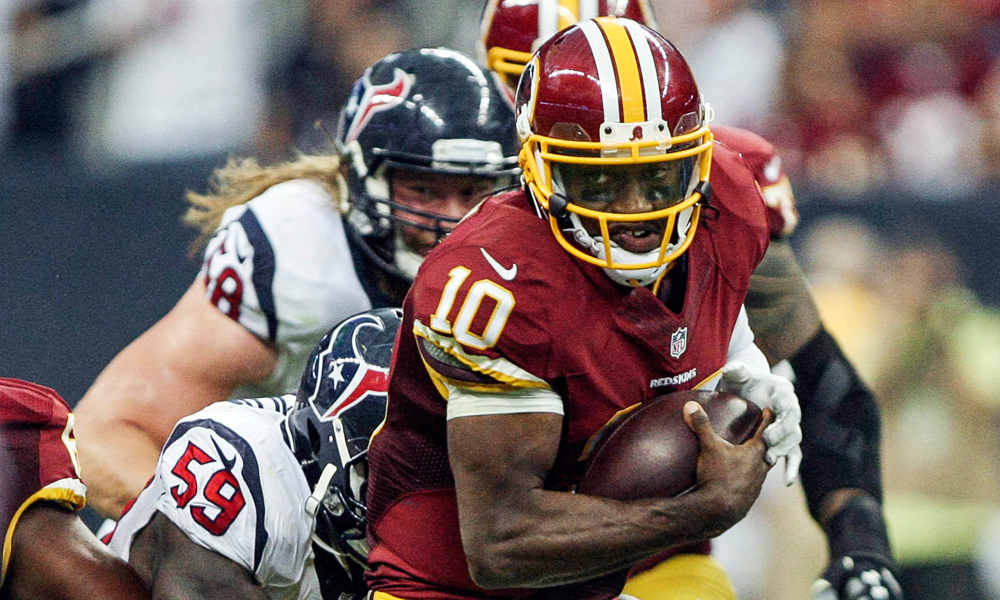 We loved Robert Griffin III, because he was a doer of the impossible.
Make Baylor football appointment viewing? Baylor?! RGIII was exciting enough to do it, and also talented enough to push the Bears from mere entertaining pinball to winning football. That wasn't even his most impressive feat.
After winning the Heisman at Baylor, he was drafted by the Washington Redskins. Somehow, through the sheer power of his perfect combination of charisma, humility and swagger, he turned a team owned by Daniel Snyder into something that wasn't completely loathsome for an average football fan to root for.
The nation had RGIII's back. Critics who said his style couldn't translate to the NFL were shouted down, because we wanted him to be the one to prove them wrong.
When they tried to find any ridiculous thing to nitpick, like when ESPN's Rob Parker went after him for being "a cornball brother," retribution was swift. Perhaps it wouldn't have mattered whom Parker was talking about in that context, but with someone as popular as Griffin as his target, his dismissal from the network was inevitable.
It was only two years ago that this love affair was in full blossom. And had anyone told you then that in the near future RGIII would make a full heel turn and become one of the more unlikable players in the NFL while still being one of its most solid citizens, it would have seemed even more unlikely than his previous feats.
Yet here we are, watching it happen. Griffin, whose coddling by Snyder is well documented, sometimes comes off like a petulant child rather than the guy everyone rallies around. Or, at least he did on Sunday.
"We can't throw knives and stab each other in the back," Griffin said in his postgame press conference before proceeding to stab his teammates in the front.
"It takes 11 men. It doesn't take one guy, and that's proven. If you want to look at the good teams in this league and the great quarterbacks, the Peytons and the Aaron Rodgers, those guys don't play well if their guys don't play well. They don't. We need everybody. I need every one of those guys in the locker room, and I know they're looking at me thinking the same thing."
Actually, that may not be exactly what they are thinking.
DeSean Jackson seemed like he might be pointing back in Griffin's direction when he posted that you "can't do epic [expletive] with basic people" on Instagram later Sunday night.
Coach Jay Gruden didn't have anything veiled to say about Griffin in his Monday presser.
"First of all, Robert needs to understand he needs to worry about himself, number one, and not everybody else," Gruden said. "It's his job to worry about his position, his footwork, his fundamentals, his reads, his progressions, his job at the quarterback position. It's my job to worry about everybody else. Yes, everybody else needs to improve, there's no question about it. It's not his place. His place is to talk about himself. He knows that. He just elaborated a little too much. He'll learn from it. He's 24 years old."
Indeed, Griffin is still just 24. But does that mean he has plenty of time to grow, or plenty of time to continue regressing on the field and in the public eye?
Buccaneers admit mistake, boot Aguayo
In the NFL, it's always better to admit a mistake than to compound it. For the Buccaneers, the decision to burn a 2016 second-round pick on kicker Robert Aguayo has proven to be a mistake. The Buccaneers made the definitive admission of their error on Saturday, cutting Aguayo. He exits with $428,000 in fully-guaranteed salary [
more
]
Source: Mike Florio of ProFootballTalk
Powered by WPeMatico
Did Bucs put too much pressure on Aguayo?
After the Buccaneers surprised everyone by taking a kicker with the 59th overall pick in the draft, G.M. Jason Licht explained the move by heaping superlatives on the player. "I was very excited along with my staff and coaches about Roberto for a very long time," Licht told PFT Live in May 2016. "It's not [
more
]
Source: Mike Florio of ProFootballTalk
Powered by WPeMatico
Broncos holding their breath on Derek Wolfe
Only two days after losing Billy Winn for the year with a torn ACL, the Broncos are now sweating out another potentially serious injury along the defensive line. Via multiple reports, Broncos defensive lineman Derek Wolfe was carted off the field during practice on Saturday. It's being described as a right ankle injury by coach [
more
]
Source: Mike Florio of ProFootballTalk
Powered by WPeMatico